10 Must-Have House Cleaning Products | Usage & Advantages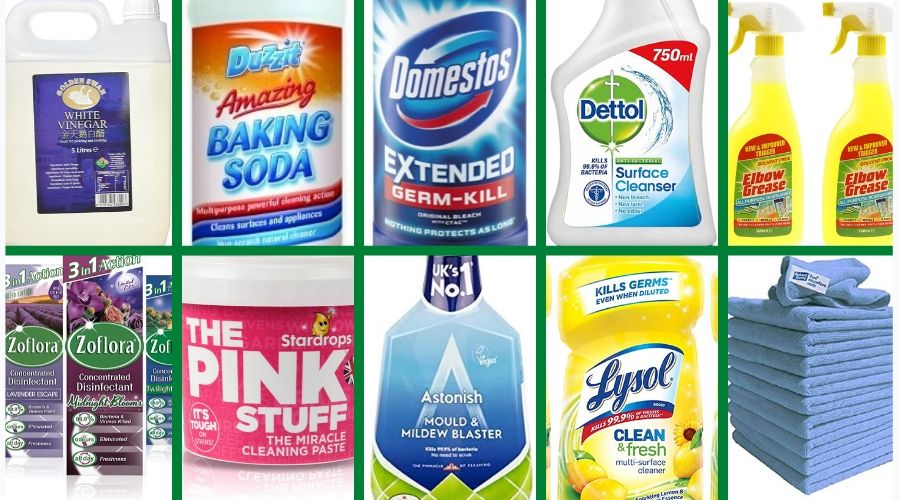 As an Amazon Associate I earn from qualifying purchases.
The key to a clean, hygienic, and environment-friendly house is the perfectly sorted cleaning kit you use for your home. There are a lot of house cleaning products that are useful and effective. The challenging task is to choose the right ones with versatile usefulness and efficiency.
There are various sections in a house; the kitchen, bathrooms, living room, bedrooms, basement, and so on. These are generally the places that often need cleaning and you need to keep them that way to lead a healthy life. To do that, you need products that cover a wide range of cleaning solutions. They must also be effective and resourceful in a way that saves both your time and effort, with no compromise to a complete cleaning job.
10 Must-Have House Cleaning Products | Your Cleaning Partner
In this article, we have put together 10 must-have house cleaning products that are essential for your home. We'll learn about the usage, advantages, concerns if applied, and where to get the products.
1. White Vinegar
White vinegar is probably the most common and handy cleaning solution we use in our everyday life. It is 100% natural, affordable, and easy to apply in a number of situations. It is also safe to use and does not affect the environment negatively.
Vinegar is generally a mild acid, one that is not harmful to human health but useful as a multi-purpose cleaning agent. You can basically use vinegar as a household cleaner in almost every room of your house. It also works as a disinfectant, deodorant, stain remover, mould remover, and so on.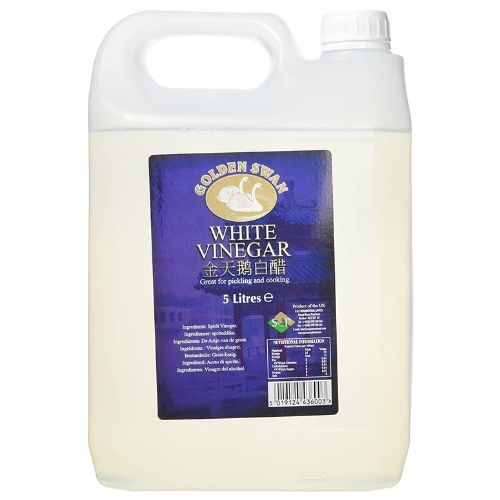 Usage and Advantages of White Vinegar
Out of many benefits and useful ways to use vinegar, let's take a look at some of the points that are helpful in household cleaning.
Vinegar is a natural substance and therefore, has no harm to human health or the environment.
Cleaning solutions made with vinegar can deodorise the place, surface, even your rooms when applied.
Vinegar can be used to clean almost all types of surfaces, both porous and non-porous.
Along with cleaning, vinegar is an effective antibacterial that disinfects the applied surface as well.
Vinegar is excellent to get wax out of the carpet and removing its stains.
You can use it to remove vomit smell, eliminate urine smell from carpet or any other surfaces.
It is also effective in removing nail polish out of the carpet and the hard stains that remain.
Vinegar can be used in cleaning stains from the toilet and cleaning the shower as well.
It is also a powerful solution to remove toxic black mould or any type of mould from your house.
It's easily applied, cost-effective, and adjustable.
You can combine vinegar with baking soda to create a more potent solution to use in difficult cleaning needs.
In essence, vinegar is an all-purpose house cleaning product that everyone should have.
2. Baking Soda
Sodium Bicarbonate, commonly known as Baking Soda, is another multifunctioning house cleaning product we are familiar with. As the name suggests, it is also used in baking and can be used as a laundry detergent. Baking soda is a natural substance that can be processed into a homemade cleaning solution for various types of cleaning needs.
It's easy to get and apply baking soda to any kind of soft and hard surfaces alike. To make a regular cleaning agent with it, just mix half part of baking soda with half of water. It creates a paste-like material that is applicable to almost every section of the house for cleaning.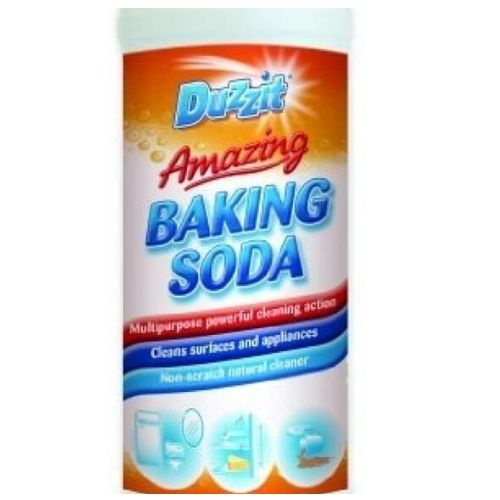 Usage and Advantages of Baking Soda
Baking soda is useful in many ways when it comes to cleaning and it's a great alternative to vinegar. Let's look at some of the notable benefits of baking soda.
Baking soda is natural and non-toxic, hence, it does not harm you or pollute the environment.
It is an excellent odour remover for any kind of surface.
It's relatively easy to apply, just sprinkle baking soda directly on a smelly area like the carpet, clothes, couch, floor, and others to remove the smell and deodorise.
Use it to remove vomit smell, urine smell, or musty smell in the house.
Useful in cleaning tile grout in your rooms and in the showers.
It's a gentle and safer cleaning agent compared to other products.
You can use baking soda to remove mould from the shower, shower ceiling, or any part of the house.
It can also be used to clean toilets and remove toilet stains.
Easily affordable.
Combine baking soda with vinegar to create a powerful cleaner that can unclog the shower drain, kitchen drain, and kitchen sink as well.
Related post: How to Get Rid of Black Mold with Baking Soda
Things to Consider
Baking soda is not an antibacterial, so it doesn't disinfect.
Applying baking soda can leave residues. So you may have to clean the surface with water, cloth, or vacuum cleaner afterwards.
3. Bleach
Bleach is a potent cleaning agent and one of the strongest disinfectants on the market. It can effectively kill germs, viruses, and bacteria in any place in the house. Because of its toxic nature and strong antibacterial power, bleach is best used on hard and non-porous surfaces.
Bleach is more of a disinfectant than a regular cleaner and therefore, can clean and sterilize its way through. It does need certain cautions when you are using bleach for household cleaning.
To use bleach as a cleaner, simply mix ⅓ of bleach with a gallon of water to create a solution.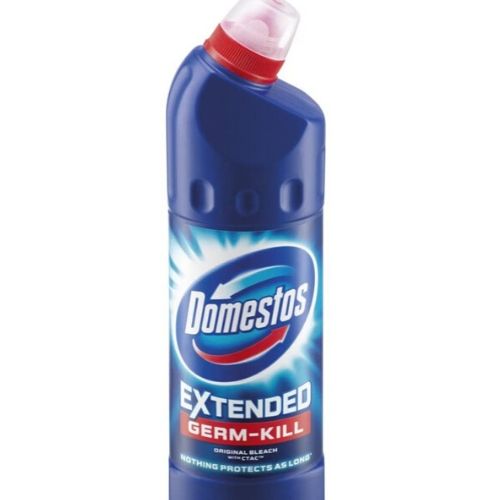 Usage and Advantages of Bleach
Bleach is best in tough situations when you have a stubborn stain, mildew, or harmful substances in your house. Some of the conditions where bleach is useful and ideal for use are given below.
Bleach is affordable, easy to get, and one of the most common yet powerful cleaning products.
It removes and kills germs, bacteria, and pathogens on surfaces and prevents them from growing back.
Bleach is great for killing toxic black mould, or any kind of stubborn mould that grows in your house.
You can apply bleach to clean shower drain, shower grout, or tile grout in your rooms.
For kitchen floors and surfaces that get viscous over time, bleach does an excellent job of cleaning them.
Bleach is also common in cleaning toilets and bathtubs, places that are likely to have germs.
In summary, bleach can get through and remove almost any type of germs, including difficult ones.
Precautions
Never mix bleach with any other cleaning agents, especially Ammonia.
Wear masks to avoid inhalation and ingestion of the toxic fumes of bleach.
Use gloves whenever you are using bleach because it is harmful to human skin.
Consider not using bleach on soft materials like carpets, clothes, and others. It can damage and often decolour the surface.
4. Dettol Spray
Dettol antibacterial spray is a known cleaning product and a very handy disinfectant to use in the house. With the benefit of a spray bottle, you can literally spray the thing all over your home, on various surfaces to keep a sanitary environment. It is mild, easy to apply, and does not harm the surroundings.
There are Dettol household-grade sprayers that are designed to clean and disinfect different sections of a whole house. For instance, the Dettol Antibacterial Surface Cleanser Spray. Let's take a look at the advantages and benefits of having it for household cleaning.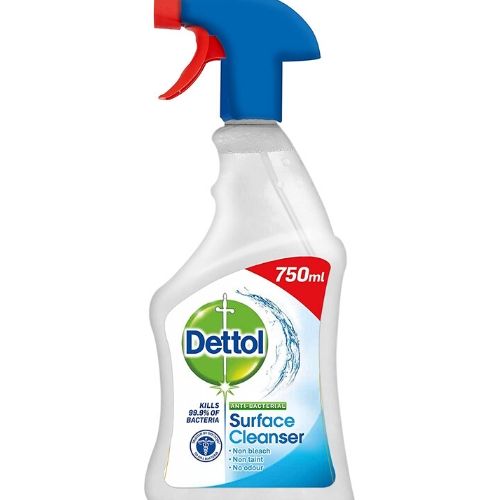 Benefits of Dettol Spray
It is tailored for household cleaning and therefore, safe to use indoors.
As advertised, Dettol spray kills 99.9% of the germs on the applied area.
It does not leave any residue that needs cleaning or rinsing.
It does not bleach materials through decolouring.
Suitable to use on surfaces around food, children's toys, and others.
You can use it to clean and disinfect boards, chairs, mats, bins, kitchen sink, shower taps, fridge, and so on.
Apply simply. Spray, let it sit for around 10 minutes, and then wipe the surface with paper towels or clean cloths.
Things to Consider
Do not mix Dettol spray with bleach, detergents, or any other chemicals.
Not recommended for use on glass surfaces, fabrics, or painted surfaces.
5. Elbow Grease
Elbow grease is essentially a degreaser for any kind of greasy situation in your house. It is described as an all-purpose degreaser, capable of removing grease from your kitchen surfaces or any other indoor place. Not only on hard surfaces; Elbow Grease can also work on porous surfaces like clothes or carpets. It's strong and gentle enough to treat both kinds of materials. So in the case of grease cleaning in your house, Elbow Grease is a must-have cleaning product.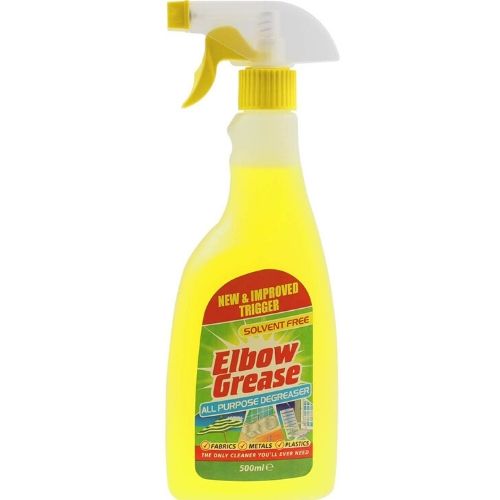 Benefits and usage of Elbow Grease
It is super affordable and easy to apply.
Your kitchen will no longer be greasy on any of the surfaces inside if you have Elbow Grease. Just apply it often and you'll be fine.
For hard surfaces, spray the substance and leave it to work for 3-5 minutes. Then use a scrub brush to easily remove the grease. Afterward, rinse the area with water.
As for porous surfaces like fabrics, spray Elbow Grease and let it sit for 5 minutes. Then wash it in a regular manner.
Since grease tends to produce in the cooking areas mostly, Elbow Grease is essential for your kitchen cleaning.
You can clean off grease and oily substances from kitchen appliances, cupboards, the floor, the fridge, and anything.
You can also clean your car engine grease to run it smoothly with Elbow Grease as well.
Precautions
Avoid contact with Elbow Grease because it can affect human skin and do not inhale. Wear gloves and a respirator when you're using them.
Wear eye protection because it can cause eye damage.
Elbow grease is not suitable to use on wood, painted surfaces, and similar places.
6. Zoflora
Many of us have pets in our home and it is no secret that they generate a certain unpleasant odour, not to mention the occasional house getting dirty. Zoflora is the perfect solution in this case. It is a powerful disinfectant, pet odour remover, and a cleaner for the house; making Zoflora a multipurpose cleaning product. With over 22 different flavours; Zoflora offers a clean, bacteria-free, and fresh household environment with a long-lasting fragrance.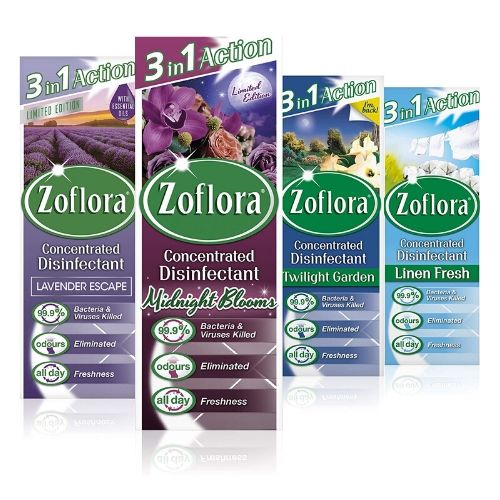 Benefits of Zoflora and its Usage
Zoflora is a versatile disinfectant you can use almost anywhere in the house for cleaning.
It is excellent for removing pet odours and keeping your home fresh.
It is specially produced to be tolerated by the pets' since they have a keen sense of smell.
To clean pet items and eliminate the smell, simply create a cleaning solution from Zoflora with diluting. Mix 4 cups of Zoflora with 1.5 litres of water and use the mixture to wipe your pet appliances.
You can also use the same Zoflora solution to disinfect the kitchen, bathrooms, study, vehicles, or any other places that need sanitising.
Use Zoflora as a deodorant and apply it to remove any type of unpleasant smell in the house.
Use undiluted Zoflora directly on stubborn germ situations such as the toilet or drains.
Things to Consider
Undiluted Zoflora can cause irritation on the skin so wear gloves when you are using it.
Undiluted Zoflora is also flammable, so remember not to expose it to open flames or heat.
Wash your hands thoroughly after use.
7. The Pink Stuff (Paste)
The Pink Stuff, known as the miracle cleaning paste, is a strong cleaner that can be used to remove any kind of stains from almost anywhere in the house. It goes on both hard and soft surfaces, making it an essential cleaning product to get rid of stains and grimes.
The Pink Stuff is made of natural ingredients so it is also eco-friendly. Let's learn about the usage and convenience of The Pink Stuff.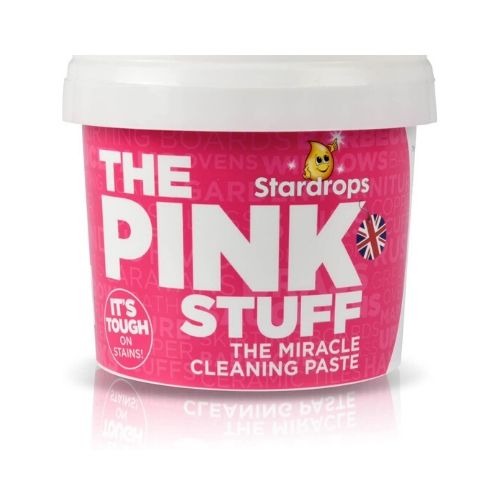 Usage and Benefits of the Pink Stuff Paste
The Pink Stuff is a tough cleaning paste that can remove hard stains from surfaces easily.
At the same time, since it's made of natural elements, the paste is also gentle and does its work on soft or porous surfaces as well.
It is incredibly easy to apply and affordable.
The Pink Stuff is ideal for cleaning saucepans, barbecues, tiles grout, furniture, UPVC materials, and so on.
It is great for cleaning rust off metals such as your tools, shower taps, etc.
You can also clean your kitchen cupboards, sink, and glass materials with The Pink Stuff.
In stubborn spot situations, The Pink Stuff is the perfect way to go.
In essence, it is a great all-round cream cleaner.
Things to Consider
When you are using The Pink Stuff, make sure to apply it gently. Otherwise, its abrasive nature can scratch the very surface.
Always use it when the surface is at regular or cool temperatures. Avoid hot or warm surfaces.
Don't use The Pink Stuff Paste on plastic.
It is recommended not to use it on thin glass materials.
It is better to test the paste on an outlying area before applying it.
8. Astonish Mould and Mildew Spray
Astonish Mould and Mildew Remover is a strong disinfectant that kills and prevents mould from growing back. It is seriously effective and kills 99.9 % of bacteria on the applied surface. It is developed with a bleach action to amplify its power to remove even the toughest fungi that grow on various corners of your house.
Mould, mildew, and toxic black mould can damage the indoor environment and hamper human health. In the long term, it can even bring serious diseases. This is why the Astonish Mould and Mildew Remover spray took place in our suggestion of must-have household cleaning products.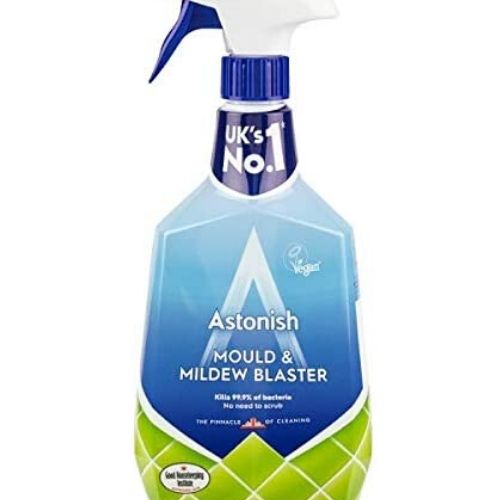 Usage of Astonish Mould and Mildew Blaster
Apply Astonish Mould and Mildew Blaster and get rid of harmful mould in a matter of minutes.
It is affordable and easy to use. Just spray the mould affected area and leave it to work for a few minutes.
Its active formula does not only kill the mould but also prevents it from growing back again.
Astonish Mould and Mildew Remover can be used on various surfaces inside the house for effective mould cleaning.
It is ideal for use on tiles, grout, walls, shower silicone, shower ceiling, kitchen sink, basement, and basically anywhere the mould can grow.
Regular application will stop the return of mould and fungi in the house.
Precautions
Wear gloves and respirators before use because it can cause skin and eye irritation.
It May cause allergic reactions.
Do Not mix with any kind of acids or other disinfectants.
Overall, apply, and use carefully.
Read next: HG mould spray review
9. All-Purpose Cleaner Lysol
The name itself says it all. Lysol All-Purpose Cleaner is one of the most famous, widely used, and versatile house cleaning products on the market. It cleans, disinfects, degreases, and deodorises applied surfaces. So whenever you are in need of cleaning, or your kitchen cabinets need to be degreased, or even when you have to kill bacteria; Lysol All-Purpose Cleaner will serve you well. Let's look at some of the key uses and benefits of Lysol.
Usage and benefits of Lysol All-Purpose Cleaner
Lysol All-Purpose Cleaner is affordable, easy to get, and effortless to apply.
It kills 99.9% of bacteria, viruses, and other pathogens.
It also removes greases, grimes, and oily substances from various surfaces.
Upon application, it provides long-lasting freshness and deodorises the area as well. Lysol comes in three different flavours.
It can be used on hard and non-porous surfaces. Greatly effective against stubborn bacterial, greasy, or mouldy situations.
Based on the usefulness, you can use Lysol All-Purpose Cleaner almost everywhere in your house for cleaning purposes. It can be the kitchen, bathrooms, walls, garbage cans, and other areas of the household.
Applying the Lysol is fairly easy. Just spray or apply it with a piece of cloth over the infected surface. Leave it for a few minutes and then wipe or scrub away the area, depending on how difficult the situation is.
Things to Consider
Remember to rinse the applied area once you're done cleaning.
Do not mix Lysol with ammonia or any other cleaning agents.
Wear gloves and a respirator while using because Lysol can cause skin and eye irritation.
Avoid using it on porous surfaces or materials like fabric, wood, rubber, carpet, and others.
10. Microfibre Cloths
For our last suggestion of this session, we look at Microfibre Cloths. It's not necessarily as cleaner as other cleaning products go, but it sure does offer effective cleaning solutions in many cases. Microfibre cloths are pieces of cloth that are made with microfibres. That's obvious enough, isn't it? Well yes, but why use microfibres? How does it help with cleaning?
Since these clothes are made with millions of fibres, they have the ability to hold and absorb dirt, grime, liquids, and even bacteria effectively. Let's look at some of the significant uses and advantages of microfibre cloths.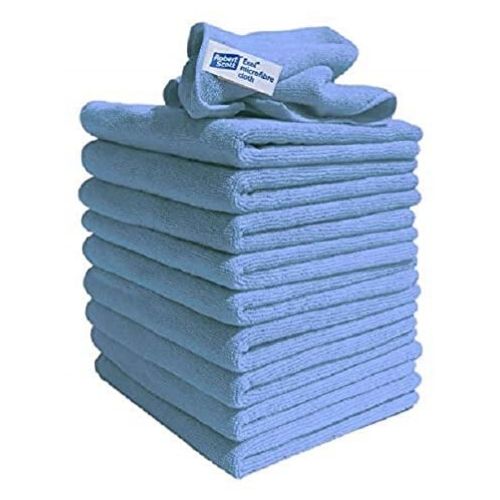 Usage and Advantages of Microfibre Cloths
Millions of microfibres of these cloths collect dirt, liquid, and grease from the applied surface easily.
It is suitable for all kinds of surfaces, making it essential as a household cleaning product.
It's soft and safer to clean, and in no way harms the environment.
It is super absorbent due to fine microfibres and therefore, can take up a lot. Even the smallest of debris is absorbed when cleaning.
Microfibre cloths are easily affordable and the easiest to apply.
It can clean steel, cabinets, cars, glasses and mirrors, tables, tiles and marbles, windows, showers, and basically anything with a plain surface in your house.
To clean with microfibre cloths, just wipe the surface gently with the cloth. It will absorb dust, water, germs, and so on.
For difficult cleaning needs, you can use vinegar or other cleaning agents to wipe with microfibre cloths for a more effective cleaning job.
Things to Consider
Rinse and wash the microfibre cloth after each use for future reuse.
Consider buying lint-free microfibre cloths, it will help more in cleaning needs and it won't leave any residue.
Do not use bleach or fabric softener to wash microfibre cloths.
Frequently Asked Questions (FAQs)
Why is it important to use natural cleaning products?
Natural cleaning products do not contain any harmful chemicals that can cause health hazards. Using natural cleaning products for your house ensures a healthier and safer choice. Also, there are no intoxicants so you won't be troubled by harsh chemicals in toxic cleaning products.
What is a household cleaning product?
Household cleaning products refer to the cleaning products that are meant to use for your home. It can be soaps, detergents, bleaches, and laundry additives used for cleaning. Also, these products help to clean fabrics, utensils, and household premises.
What is bleach used for?
Bleach can be used to remove any stubborn stain from the fabric. Usually, people use bleach to clean toilets or bathroom floors. It is an effective stain remover, but it discolors fabrics.
Can you use bleach to clean glass?
Yes, you can. Except for fabrics, bleach can be used for nonporous surfaces. So not only glass, but you can also clean stainless steel, plastics, ceramics, porcelain, and other materials using bleach. But make sure about your safety and do not touch it with your bare hand.
What is dish soap used for?
Dish soap is used for cleaning dishes. Sometimes, it can also give mild cleaning to the floorings and less stubborn dirt. You can use dish soap to clean your tableware as well.
Read next: Mr. clean magic eraser extra durable review
Wrapping Up
These are the 10 must-have cleaning products you should have for your household cleaning needs. Every one of them has its own usefulness and advantages, but together they cover the cleaning solution for an entire house. If you are in possession of these products, you needn't worry about cleaning any part or area of your home. And if you aren't, well; then read our review and follow our guidelines to collect them all. If you have any questions, feel free to ask.
As an Amazon Associate I earn from qualifying purchases.