Sonicscrubber Household Electrical Cleaning Brush Review
As an Amazon Associate I earn from qualifying purchases.
For a relatively small and lightweight tool with its easy use, Sonicscrubber Household Electrical Cleaning Brush does an incredible job. In your everyday cleaning needs that require tough efforts to delicate touches, the Sonicscrubber electrical cleaning brush is an excellent choice. It has a medium-sized spoon and comes with different cleaning heads that can tackle any type of situation. Don't take our words for it, just check the reviews and recommendations of this product!
Cleaning legend Mrs Hinch herself recommended this cleaning brush as an effective tool for removing grime, dirt, and stains and cleaning out the toughest corners and all.
Sonicscrubber offers three different types of electrical brushes for cleaning purposes. In this article, we're going to take a look at the Household electrical cleaning brush, its features, and how to use it.
Sonicscrubber Household Electrical Cleaning Brush | A Game Changer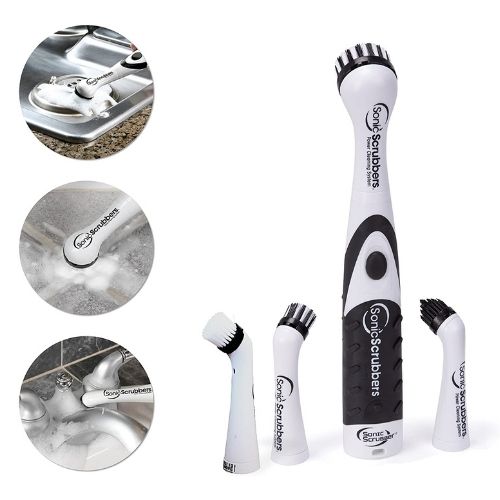 As the name suggests, Sonicscrubber Household Electrical Cleaning Brush is especially effective for household cleaning needs. With a tight grip, small size, and 4 different cleaning heads, this tool can get into any corner on any surface. Cleaning out hard-to-reach areas with ease, the electrical feature comes in handy and is effective compared to regular brushes. Its lightweight and amazingly compact design make this tool easy to maneuver and store.
The four different cleaning heads that come with the box consists of solutions to all kind of cleaning needs. There are medium to large scrubbing heads, soft scrubbing heads, and even cone-shaped heads to get into tight corners easily. Think of it as a large electric toothbrush, only instead of cleaning teeth, it can clean dirt, grime, and stains of any kind.
The versatility of the Sonicscrubber electrical cleaning brush simply cannot be overstated. To increase its efficiency, you can use additional cleaning agents like Elbow Grease, Pink Stuff, or Vinegar. But even without any help, it does an incredible job with its oscillating scrubbing system. The electric head can move about 10,000 times per minute to provide an outstanding output to your efforts. It's powered by 4 x AA batteries that last a long time even in regular use.
Technical Details
43 x 13.72 x 2.79 cm in dimension
320 g in weight
White+Black color
Quality plastic build
The package includes 4 brush heads, 1 cleaner handle, and a hanging loop
What we like
Ergonomic user-friendly design
Comfortable and tight grip handle
Super lightweight and compact
Electric cleaning brush with oscillating action
Improves cleaning time up to 57%
No need to assemble
Easy to use with just one button function
4 different brush heads right out of the box
1 medium and 1 large scrubbing head, 1 soft cleaning head, and 1 cone-shaped brush head
Reaches gaps, corners, and hard to reach areas for effortless cleaning
Multi-purpose cleaning solution for the bedroom, bathroom, kitchen, living room, and everything
Water-resistant design for durability
Great value
What we don't like
Not recommended for cleaning large areas
Read next: HG mould spray review
How Does a Sonic Scrubber Work
Sonicscrubber Household Electrical Cleaning Brush works a whole lot like an electric toothbrush. Its battery-powered oscillating brush head rotates 10,000 times per minute, saving you valuable time and effort in the process.
Whatever the cleaning need and the surface area, you can always use the Sonicscrubber with cleaning agents. Learn about how the Sonic Scrubber works in the following.
Firstly, apply the cleaning solution to the area you want to clean. It can be your taps, cookers, tile grout, joints, crevices, bathroom corners, and essentially everywhere in your house. Remember to apply the cleaner suitable to your situation, like Elbow Grease to remove grime.
Install your batteries into the Sonicscrubber and you're ready to go! At the push of a single button, start using the brush head onto the surface and use the cleaning solution to apply gently. Its grippy handle and long head will assist you in getting into any corners or hard-to-reach areas. Use the brush head suitable to the job; such as for cleaning corners, attach the cone-shaped head to the brush for efficiency.
Cupboard corners, kitchen tops, dusty sink pipes, washing machine drawer, tile grout; basically any place you find hard to clean and usually leave to fate, there's no excuse anymore. This electrical cleaning brush can take care of all, and remove dirt, grime, mold, and grease with efficiency.
The tool works best with additional cleaning agents for specific purposes. For example, you can use:
How Do You Change the Batteries on a Sonic Scrubber
The SonicScrubber electrical cleaning brush uses 4 AA batteries to power its cleaning job. You can either use rechargeable batteries or standard AA batteries to make it work. To change the batteries, remove the battery cap using both dots at the base of the handle. Pull the cap off and take out the used batteries. Insert new batteries (replace all 4 in case of standard AA battery) according to the direction given inside the handle. That's it, just reattach the battery cap and push it all the way towards the dots until you hear a clicking sound.
Sonicscrubber electrical cleaning brush will last up to 3 hours with standard 4 x AA batteries on continuous use.
Frequently Asked Questions (FAQ)
What is a sonic scrubber?

The Sonic Scrubber is an electric cleaning gadget for multi-purpose cleaning needs. Its best feature is the compact design, easy to use, and ideal for all types of surfaces.
Which Sonic Scrubber does Mrs Hinch use?

Cleaning sensation Sophie Hinchliffe, AKA Mrs Hinch uses Sonicscrubber Household Electrical Cleaning Brush and she highly recommends the tool for regular household cleaning.
What is the best electric scrubber?

According to our recommendation, the electrical cleaning brush from Sonicscrubber is the best electric scrubber in the market because of its versatility and effectiveness.
How do I clean the corners of my bathroom?

You can use Sonicscrubber electrical cleaning brush to clean the corners of your bathroom, around the tap, sink pipes, tile grout, and everything.
How do you put batteries in a Sonic Scrubber?

Remove old batteries by taking off the battery cap from the handle base. You can simply squeeze both dots on the upper handle to remove the cap. Insert new batteries (4 x AA battery) according to the direction given and secure the cap.
Wrapping Up
By using the Sonicscrubber Household Electrical Cleaning Brush, it's possible to clean all the dirt, grime, grease, stains, or mold very quickly and efficiently. This amazing cleaning tool is versatile, effective, a time-saver, and overall a game-changer for your household cleaning. For the price and compactness, it offers a lot more and leaves you a shiny indoor experience from even the slightest angles.
As an Amazon Associate I earn from qualifying purchases.