Daily & Weekly House Cleaning Schedule for Working Moms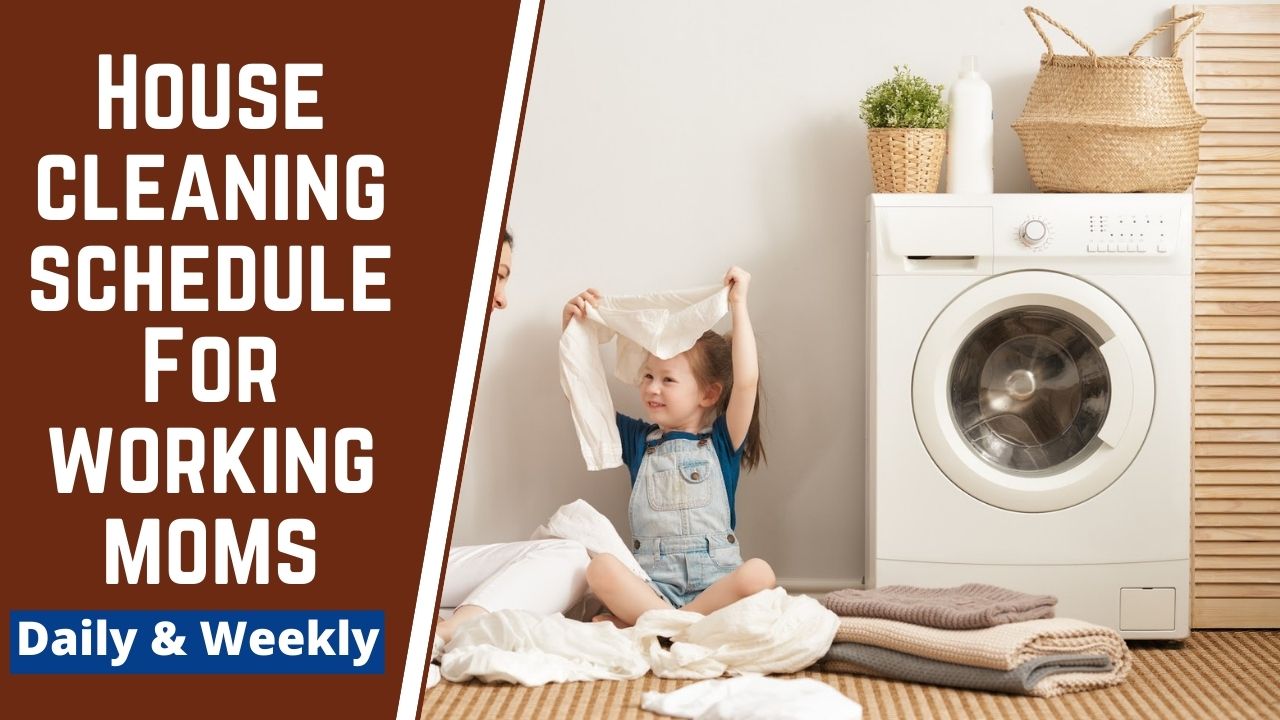 As an Amazon Associate I earn from qualifying purchases.
House cleaning is a full-time job, but when we make a cleaning schedule for a working mom, we have to separate the duties into different segments. Working moms get only a few hours to spend at home. As a working mom, if you want to keep your house clean without any housekeeper, you must have to be very smart to make the cleaning schedule.
First of all, you should divide your household cleaning tasks into daily and weekly categories. Take an idea of how long each task might take to complete. Now sort the tasks into daily and weekly categories according to your free time and importance. If you are going to do it the first time, this content will guide you to make your plan practical and useful.
Daily house cleaning schedule for working moms
A regular house cleaning schedule is an essential part of a working mom's life. Literally, you cannot design your weekly and monthly cleaning schedule without creating the daily cleaning schedule. There are a few specific tasks that you have that must be done daily, like laundry, bed making, kitchen cleaning, etc.
To correctly maintain your house, you need to complete the below-listed tasks daily. Remember that we have made this list for in general, your home may need some more or less.
Make your bed
To give your bedroom a clean and organized look, making the bed is essential. So start yours with making your bed.
Complete one load of laundry
Try to wash and dry your laundry in the morning, fold the dry cloth and organize them in the closet in the evening. This way, you can reduce your work stress in the morning.
Wipe down the kitchen counter
The kitchen counter is one of the most usable parts of the house. Keep your kitchen clean by wiping off immediately after each use so that things do not get a chance to dry and become tough to remove.
Organize your living space
Kids spend most of their time in the living space. That is why this part of the house is the most random and messy. Declutter toys, arrange the cushions and organize furniture and upholstery.
Clean high traffic areas
Declutter the high traffic areas. High-traffic areas like the entryway get messy and dirty often. So you should pay some extra attention to them. It is better if you can vacuum after one day.
Sweep or vacuum the floors
To remove loose dirt, you should sweep the floor at least once a day. You can keep this work in your evening task.
Weekly cleaning schedule for working moms
There is some specific task in a house cleaning schedule, which is enough to do once a week. Like bathroom cleaning. If you are a working mom, you make a weekly working schedule to keep your house clean with a minimum effort.
Try to complete your weekly work according to your routine. It will help you to minimize your daily working hassle. You can keep the below-listed task in your weekly cleaning schedule.
Give some extra effort to your kitchen
The kitchen is the place that needs to be cleaned regularly, but there are some duties which you can meet once a week. Wipe down kitchen cabinet doors, knobs, and surfaces. Check the pantry and remove leftover food from the refrigerator and clean the inside of the fridge, oven, and other electronic kitchen appliances.
Clean your bathrooms
Bathrooms are another high-traffic area of the house. So, you need to put extra effort into it at your weekend: clean all surfaces, mirrors, showers, and knobs. Fold the hanging towels. Check if any empty can of consumer product then replace it.
Dust your house
Wipe the dust from furniture, upholstery, and other surfaces of the house. Dust the windows and corners of the room. Do not forget to clean the door and knobs also.
Vacuum and mop the floor
It is also an essential weekly task. Only sweeping cannot remove fine dust completely. You should vacuum the floor at least once a week and mop the floor immediately after.
Change bedding and wash them
You should change your bedding at least once a week. Remove used bedding and replace it with a new, clean one. Wash and dry them. You should also rearrange your closet.
How to keep a clean house while working full time
Sometimes keeping a clean house with working a full day seems like a dream, but if you can maintain a proper cleaning schedule and some smart tips, you can do it well. A well-organized plan can help you to make this impossible possible.
Create a working schedule
It is very important to create a working schedule for those moms who work full time. A well-planned daily, weekly, and monthly working chart can make life much more comfortable. These schedules will help you to keep everything organized.
Cleaning a little each day
Don't ever try to run a deep clean your entire house in one day. It will be almost impossible when you are a working mom. Do a little each day. It will be better if you make your daily cleaning schedule and follow it.
Use your pocket of times
Make great use of your free minutes whenever you get them. Your food needs 5 minutes more in the oven? Wipe down the kitchen countertop. Is worm water not ready to take a bath? Wipe the knobs and shower. Are kids not prepared yet for school? Unload the dishwasher instead of waiting.
Take help from cleaning supplies
You must have cleaning products so that you can accelerate your cleaning work. It will also reduce your labor and stress. Make a list of all the cleaning products that you may need during cleaning work. Arrange them before so that you can use them whenever you need them.
Remove unwanted stuff
Do not allow to make a clutter of unwanted stuff. The more things you have, the harder and longer it will be your cleaning work. Throw away old clothes, broken toys, and furniture that will not be recycled.
Ask for help from your family
Family participations are a great support for a working mom. So, ask bits of some help from your family members. For example, ask your kids to organize toys after their playtime. Allow your spouse to cut vegetables when you are cooking.
Read next: How to keep the house clean with kids
Wrapping up
A working mother gets very little time to spend with her family, and therefore she needs to maintain a well-planned cleaning schedule. In this way, you can finish your cleaning task quickly and get some free time to relax. A working mom bears a mental load of office responsibility and motherhood. So, you need to take care of yourself, and it is essential to find some time to relax and take a rest. A realistic cleaning schedule can help you with this.
As an Amazon Associate I earn from qualifying purchases.