Tineco Floor One S3 Cordless Hardwood Floors Cleaner Review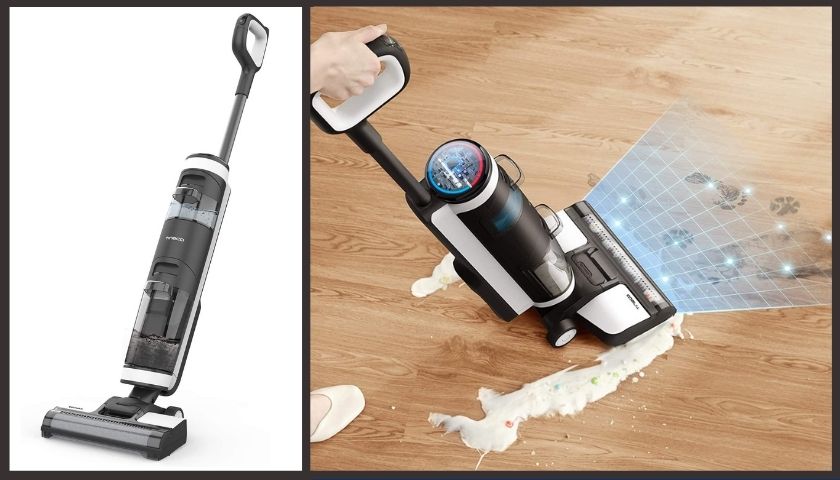 As an Amazon Associate I earn from qualifying purchases.
Cleaning the floor without a gadget is genuinely a back-breaking task. First, vacuum the whole apartment, and then go all over again with a mop. Many working people claim it as a time-consuming chore, and it affects their busy schedule. What happens if you can vacuum and mop at the same time!
This sounds really great. If you can accomplish vacuuming and mop together, it will save you lots of time and your back too. Thanks to the Tineco Floor One S3 cordless hardwood floor cleaner. It is a lightweight, handy and dual cleaner that is going to update your floor cleaning experience. Now, we are exploring the features, specs, and ease of usage of the cleaner. Keep scrolling to determine if it is worth your money.
Features of Tineco Floor One S3 Cordless Hardwood Floors Cleaner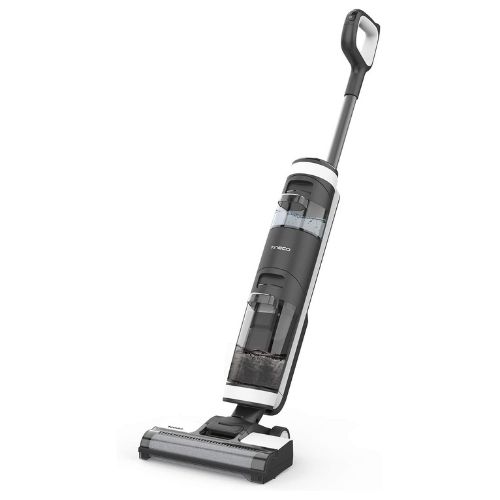 Tineco Floor One S3 is a hard floor cleaner and it can clean any wood, sealed, and laminated floor. It is not designed for carpet, so you have to take additional steps for carpet cleaning.
This 2-in-1 cleaner is the best for a busy family as it is vacuumed and mopped in one step and it is going to save lots of time. It is a great choice for working people. Moreover, if you own kids or pets in the home, then this cordless floor cleaner is excellent. Because you know how tiresome it is to clean the mess frequently, created by the kids and pets.
What is in the box?
This cordless mopping machine comes with necessary accessories and they are:
A description manual 

Charging base and holder

3-in-1 cleaning tool

2 HEPA Filter

Charger

Cleaning solution

The 2-in-1 mop cleaner parts
The machine comes in parts and you need to assemble it to operate. The assembling process is so easy following the included manual.
Exclusive Features
Tineco One S3 contains intelligent sensors and optimal power to make the cleaning process easier and faster. Here are the special functions:
1. iLoop(TM) Smart Sensor Technology
The intelligent iLoop(TM) Smart Sensor Technology is a unique summation of the vac machine. It is also the major selling point of the brand. In reality, this technology is a combination of a wide array of sensors that are incorporated into the floorhead.
This sensor mainly detects the dry and wet spots and waste. If there is dry debris on the floor it automatically adjusts suction power and sucks the debris. If there are wet spills on the floor, it detects the spills and adjusts the water flow, and cleanses the mess.
This technology monitors and fastens your cleaning process as you don't need to adjust the power. It is also helpful to maintain the power with accuracy and no battery power wasted, resulting in long battery life.
2. One-Touch Self-Cleaning System
On the upright handle, you will find a button with a water icon. The button activates the self-cleaning cycle. It ensures hand-free maintenance. You need to start the cleaning process while you are leaving it to the charging base, but be sure you empty the dirty water tank and the clean water tank is about 40% full.
The cleaning system scrubs the rollers, flushes the water lines, and cleans the nozzle if there is debris. The self-cleaning mode keeps the mop odor-free and ensures a flawless cleaning. Cleaning the traditional mop is quite nasty but here you don't need to even touch the dirty water. Be sure you remove the wet brush roller head and dry it completely before going to the next cleaning session.
3. Voice And App Assistant
The dual vac includes a voice control assistant and it keeps updating you about the real-time performing status. It gives you every information, for example, the power level, cleaning status, blockages, and others. If you want a quiet operation, you can turn off the voice assistant by long-pressing a button on the back of the machine.
You can also connect the machine with the Tineco App and monitor real-time cleaning performance. The machine connects the app through wifi. It also provides much information such as cleaning reports, water flow, tech support, reminders, troubleshooting, and more.
4. LED Digital Screen
There is an LED digital screen to monitor the suction power and cleaning status. It is located on the handle and it is clearly visible while cleaning with the machine. It has a colorful rim that turns red while detecting dirt and debris and becomes blue while the surface is fully clean. You can know the battery power, mode, and other information with a glance at the display.
5. Up To 35 mins Battery Life
Tineco Floor One S3 gains too much popularity for its extended battery life. It is equipped with a 4000 mAh battery that lasts for up to 35 mins. This battery life is enough to clean the whole house quickly. It moves quickly and cleans faster. Many cordless devices are lacking at this stage but this mopping cleaner won't disappoint you at all.
This vacuum takes a maximum of three hours of charging time to reach the highest battery capacity. This non-stop cleaning is more impressive than other cordless cleaners on the market. Moreover, you need to just place the machine on the charging dock and it will be charged. Though the battery is big enough the weight feels a little bit heavy.
6. Cordless Design
Tineco S3 contains a cordless and portable design that is very cool to maneuver. You don't need to search the power outlet every time you're cleaning. Whether you are cleaning downstairs, upstairs, or other hard-to-reach areas, you can operate the mop in less time. This portable mopping device is only 9.9 pounds which is very effortless to take everywhere.
It has also a self-propelling system to rotate its back slowly to clean every type of mess more quickly. This feature allows you to clean under the furniture and or narrow spaces.
7. Easy to use
Probably the Tineco S3 is one of the most convenient vac-mop cleaners at present time. After complete assembling, you need to charge it up and it will be ready to clean the surface. There are two water tanks: a clean and dirty water tank. The clean water tank can hold 0.6 liters while the dirty water tank can hold up to 0.5 liters of water. The water tanks are quite big to clean a wide area.
According to the users, the machine cleans on average 550 square feet with a single water tank.
You need to add the included cleaning solution with the clean water for the expected result. Tineco recommends using its own cleaning solution for the machine to ensure long-term usage. Otherwise, there will be corrosion or damage to the machine. Detaching and inserting the water tanks are also simple.
8. Performance
The cleaning machine delivers 30W of suction power which is optimal for ultimate cleaning performance. It cleans the floor without any residue or streaks. Only you will get a spotless and fresh surface. There is hardly any debris after cleaning the floor with the machine. It also provides quiet performance which is a premium experience for the users.
The HEPA filters also ensure healthy air and the environment. The included spare filter and brush roll are conveniently stored beside the charging dock and can be easily replaced.
Pros
Cleans the floor without any residue or streak
Superior cleaning at less time
LED display, voice, and app monitoring support
Special iLoop technology
Super easy to use
Self-cleaning system
Cons
Self-cleaning systems consume a lot of battery power
Need to clean the brush and water tank immediately to avoid bad odor
Read next: Tineco ifloor3 Cordless Wet Dry Vacuum Cleaner Review
Frequently Asked Questions (FAQ)
Can I use Tineco Floor One S3 on the carpet?
Tineco Floor One S3 is designed for the hard floor, you can not use it on the carpet. It is suitable for marble, laminated, or hardwood floors. 
Can I use Tineco Floor One S3 without water?
If you want to remove dry debris from the floor, you use the dry mode of the machine without the water. As it is a dual machine, you can vacuum the surface without water. 
How does long Tineco Battery last? 
Tineco has a big battery capacity of 4000 mAh that allows running the machine for up to 35 minutes. This is suitable runtime to clean a small apartment at a stretch.
How long does it take Tineco to charge?
Tineco takes a maximum of 3 to 4 hours to be fully charged. If you charge about 3 hours, you can expect 35 minutes of the runtime of the machine.
Are Tineco mops any good?
Tineco mops provide a spotlessly clean surface in less time. This cordless vacuum gives satisfying battery life, cleaning performance, and monitoring system. Undoubtedly, it has good features and specs.
Final Words
Tineco Floor One S3 is an impressive device to clean the hard floor quickly. Whether the spill or dirt is the cleaner can clean the floor without any residue. Even it effectively removes the sticky mess from the surface. Furthermore, the functions and sensors make it more worthwhile for the money. So you can put on an endeavor and enjoy a new level of cleaning experience.
As an Amazon Associate I earn from qualifying purchases.