I Cleaned My Carpet and Now It Smells Like Urine | Why & How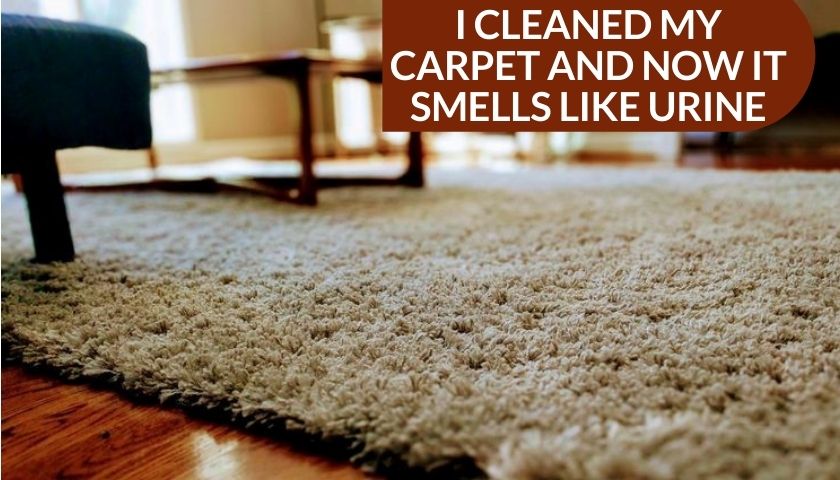 As an Amazon Associate I earn from qualifying purchases.
Have you ever noticed that the carpet smells like urine even after cleaning? We clean our carpet at home or call a professional; we only want to make our life easier. But sometimes it can go wrong. A foul smell like urine can grow on the carpet after running a deep cleaning.
After doing a troublesome job like carpet washing, we expect a new and fresh look, but it often creates a terrible odor. However, if you are running from the same situation, then calm down, take a long breath and think about how you can get rid of this odor. You will be glad to know that some home remedies help you remove the bad smell from the clean carpet. Stay with us and come to see the process of eliminating this nasty odor.


Why does my carpet smell like urine after cleaning
Carpets are one of the most used things in the house, and they are prone to get dirty quickly, especially in the high traffic areas of the house. But accidentally, sometimes a carpet smells like urine after cleaning. It is essential to know the reasons for appearing urine smell on the carpet to get rid of it. The reasons are:
The carpet does not clean appropriately
People can often not clean carpets at home; they have to depend on a professional carpet cleaner. Suppose your hired cleaning company is not an expert in cleaning or hiring a budget-friendly company; their service maybe not admirable. There can be a chance that they end their work with a smelly carpet.
A cheap cleaning service is a significant reason for the occurring bad smell in the carpet after cleaning. Maybe the cleaning person removes all the leftover water from the carpet and leaves it soaking wet.
Do not dry completely
It is another main reason why carpets smell like urine after cleaning. The lower part of the high pile carpet cannot come in contact with the air and light. As a result, it takes more time to dry completely. You must know, excess moisture is how much harm to the carpet.
It can create mold and mildew smells. Over time, it can grow mold and damage your carpet. You should take immediate action to get mold out of the carpet. Moisture is the prime reason for creating a musky smell in the carpet. Even if your carpet is located in a place where is less sunlight and air circulation, then your carpet will dry slower. That means the more time your carpet will remain wet, the higher chance of developing a bad smell.
Tough stains
Another big reason for smells like urine on the carpet is the old stubborn stains. Sometimes the old stains become so though we have to go for the carpet's deep cleaning. Even the stains can be as tough as you may need to call for a professional cleaning service.
If it is a high pile carpet and the stain soaked up till the last layer, then a deep clean may fail to remove it completely. Most often, after a deep clean, few stains are still found along with the smell.
Few more reasons
A padded carpet can absorb cigarette smell quickly. If you are habituated to smoking inside the room regularly, then a professional deep cleaning cannot help you remove this smell completely.
If your pet is not well trained and often makes a mess on your carpet, then you should more careful in cleaning it. Pet urine is quite smelly and also hard to remove. Even home remedies are sometimes not enough to remove them. They need professional deep cleaning.
How to remove smell like urine from a cleaned carpet
Removing the smell of urine from a clean carpet is quite annoying. Here we discussed some easy methods that are quite effective in removing bad smells from a clean carpet.
Use of white vinegar
White Vinegar is an item that is used in most of the house cleaning work. Even you can use it for removing awful smells from a cleaned carpet. Make a solution with equal parts of white vinegar and lukewarm water. Take a soft carpet brush and apply the solution to the whole area of the carpet. This solution will kill the growing up mildew along with absorbing the odor.
Use of baking soda
Baking soda is another widely used item in our kitchen. Take some baking soda and sprinkle it all over the carpet. Leave it until the urine smell of the carpet blows away. Now vacuum the excess baking soda.
Use of Borax
Identify the smelly areas of the carpet. Pour some Borax on these areas. Take a soft brush or broom and spread Borax all over the carpet. Arrange one or two dehumidifiers in the room. You also need a space heater to soak up the humidity
Take help from professional
If the above-listed, methods fail to remove smells like urine from the cleaned carpet; then you may go for a big step. Search for the best professional who is trusted and qualified in removing carpet smell.
Read Next: Vax compact power carpet cleaner review
Frequently Asked Questions (FAQs)
How long should I leave baking soda on the carpet to remove the urine smell?
To avoid further damage, you should use 15 minutes.
Can I use any carpet freshener to reduce odor?
Yes. There is various carpet freshener available in the market. These airy sprays are specially formulated for use on the carpet.
Is it possible to remove the smell from the wet carpet?
If your carpet creates a smell due to excess moisture, you need to dry it properly. First, follow the above-listed methods to remove the smell. Then vacuum a couple of times to remove cleaning agents, then dry it completely.
Can vinegar damage my carpet?
No, not at all. If you apply vinegar mixed with water, it will work like a natural disinfectant. But vinegar is not as effective as a carpet cleaning solution.
Wrapping up
Carpet cleaning itself is a tough job. Sometimes it goes wrong, and the carpet smells like urine after cleaning. The smell can create if you cannot clean the carpet properly or leave it wet and so on. Try to find out the actual reason and follow the above-listed methods to remove the smell. If a single method does not work, then repeat it or apply another method. All the best.
As an Amazon Associate I earn from qualifying purchases.