Mr. Clean Magic Eraser Extra Durable Review & Different Uses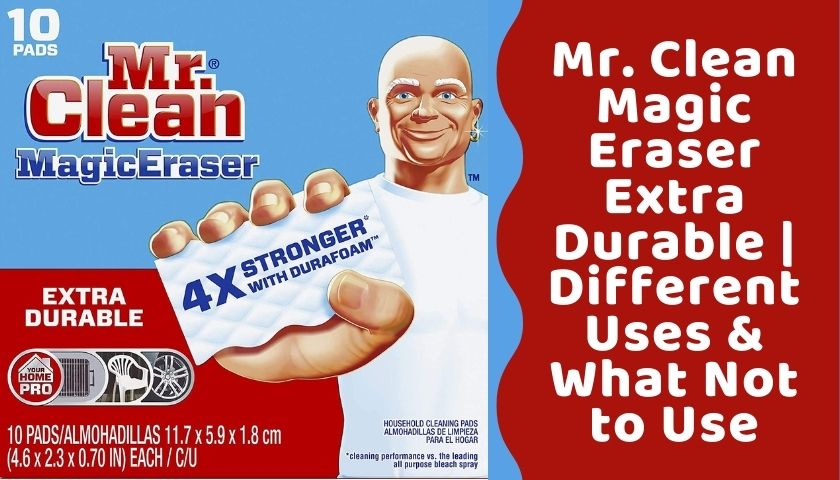 As an Amazon Associate I earn from qualifying purchases.
Magic eraser is a prevalent ingredient for household cleaning. If you are the responsive person of your house regarding cleaning, you must be familiar with the magic eraser. It is a cleaning kit and is widely used in US households. Mr. Clean is a popular and most used brand.
The magic eraser is made from melamine foam along with some other chemicals. It gently works on almost all surface and efficiently remove stains. People love this product because it can remove most stains like a pencil eraser and erase leads without soap and other chemicals. Remove stains from various surfaces magically only possible with the magic eraser.
Product description of Mr. Clean Magic Eraser Extra Durable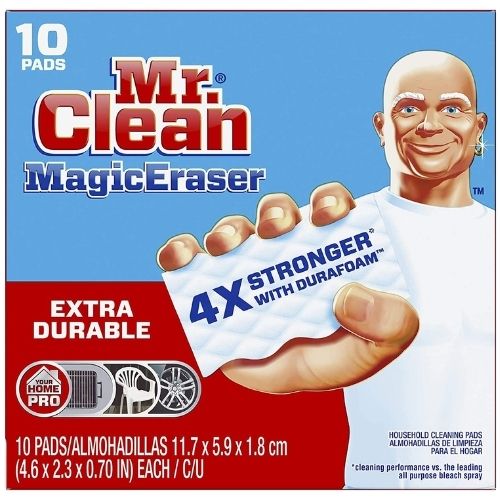 Mr. Clean Magic Eraser is much stronger than other cleaning products available on the market. The product dimension is 5.12 x 5.2 x 4.96 inches, and the weight is 0.8 Ounces. It's one kind of scrubber and strongly tough on dirt and stains all around the house.
It is a surface cleaner, bathroom cleaner, bathtub cleaner, wall cleaner, oven door cleaner even it can successfully erase marks from doors, light switches, and much more. The use of the eraser is very simple. You just need a small amount of water to activate the magic eraser, and it will provide you with powerful cleaning.
The old and impossible stains of marker, crayon, or scuff marks can now be magically removed with a magic eraser. You can also remove all kitchen grime and backed-on grease faster than you think. Even you can now return the shine of the bathroom, sink, and grout also.
Different uses of Mr. Clean Magic eraser Extra Durable
Mr. Clean Magic Eraser has hundreds of uses in household cleaning. Just wet, squeeze, and it is ready to clean uncountable stains from all around you. If you have to deal with the toughest stains, then you should Mr. Clean Magic Eraser Extra Durable cleaning pad with Durafoam, which is four times stronger on stains than the original version. Here are some of the amazing uses in the household cleaning of a magic eraser.
Clean your kitchen sink
The sink is one of the most used parts of a kitchen, and it loses its sparkle and shiny look within a few uses. But now you can revive the loose beauty of the sink with a magic eraser. Just scrub your sink with a magic eraser and give it a spotless shine like a new one.
Remove scuff marks from the wall
Scuff marks are a common and familiar household problem. Have you ever thought, how can you get rid of it? Now it is not a mystery at all. Magic eraser will do it for you. A few movements on scuff marks and get a better-looking wall instantly.
Remove stains from a coffee mug
Regular use of tea or coffee mug contains tons of dirty radish stains. Fortunately, you can easily remove these stains with a magic eraser. A wet scrub will do it immediately for you.
Clean glass windows
There are many common ingredients to clean window glass like vinegar, soapy water, or any other glass cleaner, but no one can do it like the magic eraser. It works well on most glass surfaces. Moreover, perform better for removing stuck-on bugs from the windscreen.
Remove rust
Rust comes on metals like shower hinges, cooking pans, and various appliances. It looks ugly and unhealthy also. A magic eraser is also effective in removing rust.
Remove nail polish stains
Accidentally spilled nail polish can create a dirty stain on the carpet. It is quite stubborn to remove. Do not worry; only a wet magic eraser can successfully deal with such stubborn stains.
Remove sticker residue
Removing the sticker from the used jar sometimes becomes impossible as it leaves a sticky sticker residue. No more losing energy on scrubbing this stubborn residue. Let it do the wet magic eraser for you. It takes only a few seconds to remove the stickiest labels.
Remove stains from fabric
Sometimes we have to deal with such stains of fabric that cannot be removed by rubbing with soapy water only. In that case, the light use of a magic eraser can show you a much better result.
Clean the pet marks
If you are a pet owner, you must be familiar with the problem of removing pet marks. Probably you have already used plenty of cleaners and homemade solutions, but most of them have failed to reach your target. A damp magic eraser will take a few seconds only to remove pet marks.
Clean dirty grout
Grout cleaning is not an easy task at all. You need proper knowledge and appropriate tools to clean the grout. In this regard, many experts advise using a magic eraser to clean the grout.
Clean the toilet
A toilet is such a part of our house which get dirty sooner. That is why scrubbing the toilet bowl is one of the regular jobs for a house cleaner. Some people claim that putting a magic eraser into the toilet tank can help you to keep your toilet bowl clean for longer. Each flash will do it for you. Well, you can try it, and share your experience with us!
Revive white furniture
Dirt and stains become more prominent on white surfaces. The magic eraser can help you to revive the white furniture by removing the stains deeply.
Carpet stain remove
Carpet gets dirty frequently, especially if you have pets, kids, or parties at home. On the other hand, carpet cleaning is one of the trickiest jobs in the entire house cleaning work. You can use a magic eraser to remove the carpet's toughest stains to make easy the carpet cleaning work.
Remove soap scum
There is no match for magic cleaner in cleaning soap scum. Though you can remove soap scum right with a sponge or cleaning cloth, a magic eraser can simply wonder.
Clean kitchen after cooking
After any cooking session, your food preparation leaves plenty of food stains around the kitchen counter. During de-seeded pomegranate or roasted beets, lots of stains create around. This magic sponge can easily remove all of these stains instantly.
Remove pen, marker, and crayon marks
Kids are always ready to mark here and there, all around the house. Wall, bedding, table, and other furniture surfaces easily become a drawing board for your baby. You don't need to panic at all; the magic eraser is able to lift all these marks on almost any surface.
Clean cabinet doors
Kitchen cabinets often get dirty with cooking splashes. Also, evaporation is another vital reason for making dirty kitchen cabinets. These stains are sticky and hard to remove. A magic eraser is a good way to clean these stains.
Clean the microwave
A microwave is a regular kitchen appliance and gets dirty soon. Like its name, this eraser is able to remove stains from microwaves magically.
Clean leather
We are often confused about how to maintain leather items as they are a little bit sensitive. They need more care than other furniture or upholstery. Moreover, there are not many options regarding clean leather items. A magic eraser is a wonderful solution to removing the stain from leather items.
Clean granite
Granite needs more care to maintain it accurately. Because it is prone to absorb stains, if your normal scrubber cannot remove stains from granite, surface then take help from the magic scrubber.
Keyboards
Whenever your hand comes in contact with the keyboard, it leaves some stains on the fingerprint. These fingerprints turn into stubborn stains over time. To make your keys spotless, use a magic eraser gently on them.
Remove hair dye stains
Sometimes accidentally split hair dye leaves a dirty stain on the bathroom floor. You may be worried about how to get rid of it. Do not worry; a magic eraser will remove these stains immediately.
What not to use magic eraser extra durable on
A magic eraser can do real magic on plenty of stains, but there are few such stains where you should not use it. Let us know where not to use the magic eraser on.
1. Some Countertops
Some specific materials like marble and granite are a little bit sensitive, and you should not use a magic eraser on them.
2. Stainless steel
You can use a magic eraser on stainless steel, but you have to be very gentle. If you become hard, it may leave scratches on stainless still appliances.
3. The exterior of the car
A magic eraser works well in removing stains from the car's dashboard and cup holders. But it can be harmful if you use it to polish the exterior of the car.
4. Nonstick pans and pots
Generally, a magic eraser feels like a soft sponge, and there is nothing to harm, but it's not true. If you apply force, it can make scratches on the nonstick pots and pans surface.
5. Wood surface
It is also not appropriate for cleaning stains from the wood surface. It can damage the polish of wood paneling and other finished wood surfaces.
6. Glossy paint
The magic eraser can also damage the painted surface, which has a glossy finish. So be careful to use it on the painted surface.
Frequently Asked Questions (FAQs)
How many times can I use a magic eraser
It will depend on you, and how much you use it at a time. But generally, you can get many uses out of one.
Is a magic eraser safe for us?
Yes, it has already been proven that a magic eraser is non-toxic. But as it contains some chemicals also, you should keep it away from the reach of children and pets.
Is a magic eraser safe for skin?
No. Though this scrubber feels quite soft, it can create irritation on your skin. So, you should wear gloves during the use of a magic eraser.
Is the magic eraser smells bad?
No, not all. The bath and kitchen version of a magic eraser comes with different scents.
Can it remove lipstick marks from the wall?
Yes. It is quite effective in removing lipstick marks from walls.
Wrapping up
Mr. Clean Magic eraser is really a magical product for overall house cleaning work. It is quite simple to use, and anytime almost anywhere, you can apply it. There are only a few things where you should not use a magic eraser; otherwise, it is a great product for versatile cleaning. As a precaution, do not forget to wear gloves before using them and store them in a safe place. Enjoy your cleaning!
As an Amazon Associate I earn from qualifying purchases.