How To Clean Grout On Tile Floor | 5 Best & Effective Ways
As an Amazon Associate I earn from qualifying purchases.
Have you ever faced a problem with dirty grout on the tile floor? Even after mopping, your floor can still look messy with dirty grout. Some clean grout on the tile floor becomes quite annoying.
Dirty grout can also tarnish the beauty of your expensive tiles. Knowing how to clean grout on the tile floor is essential for getting a sparkly clean house. Usually, the synthetic surface of the tile is resistant to stains and dirt, but the grout line is porous and easily absorbs spills, grime, and grease that come into contact.


Grout cleaning can be difficult, especially when you want to clean it without harming the tile. Fortunately, using some household products, you can easily clean grout, so your floor looks brand new again.
5 best ways to clean grout on a tile floor
Though there are many ways to clean grout on a tile floor, here we will discuss some of the easiest processes. Some of the very common ingredients in your kitchen can help you to get rid of dirty grout. Just read how you can clean dirt and grime from the grout using household products easily.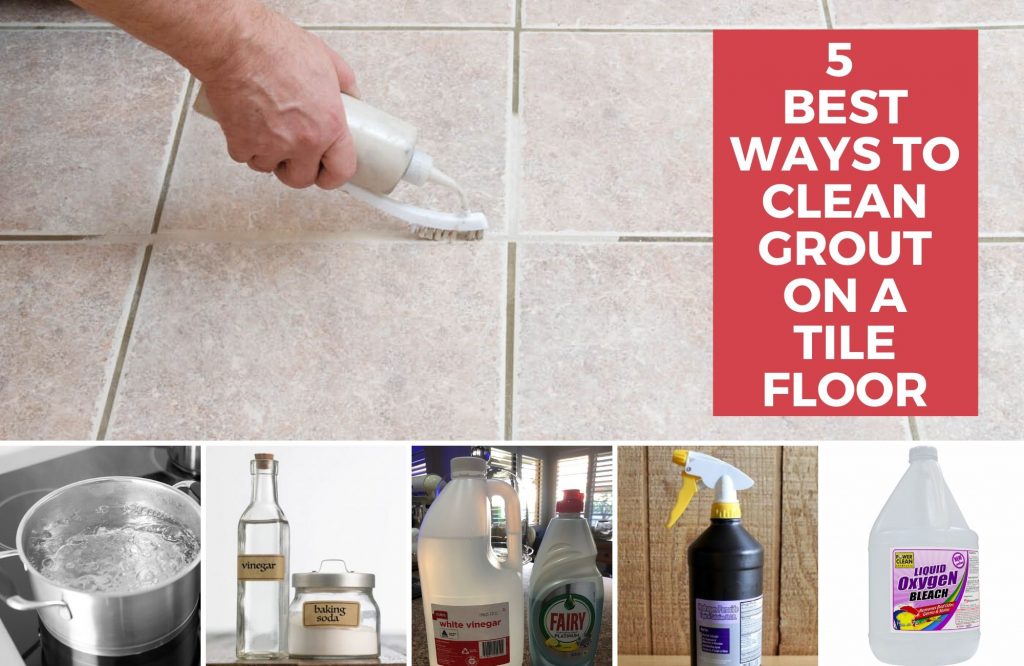 1. Hot water
Step one
Yes, only hot water can be a good solution for cleaning the grout of the tile floor. It is the easiest way to clean your floor. Hot water will loosen the extra dirt and grime of the grout so that you can easily scrub out stains. Directly pour some hot water on a section of the floor, and wait for a few minutes to loosen the dirt.
Step two
After a few minutes, take a nylon bristle brush and scrub the grout. Hopefully, you will find the dirt moving away from the grout line.
Step three
Take a soft towel or mop and wipe the water from the floor to dry it. If there are still some noticeable stains, you can repeat the process. If stains are more stubborn, then you can apply some advanced formula. You can go through the following cleaning process.
2. Hydrogen Peroxide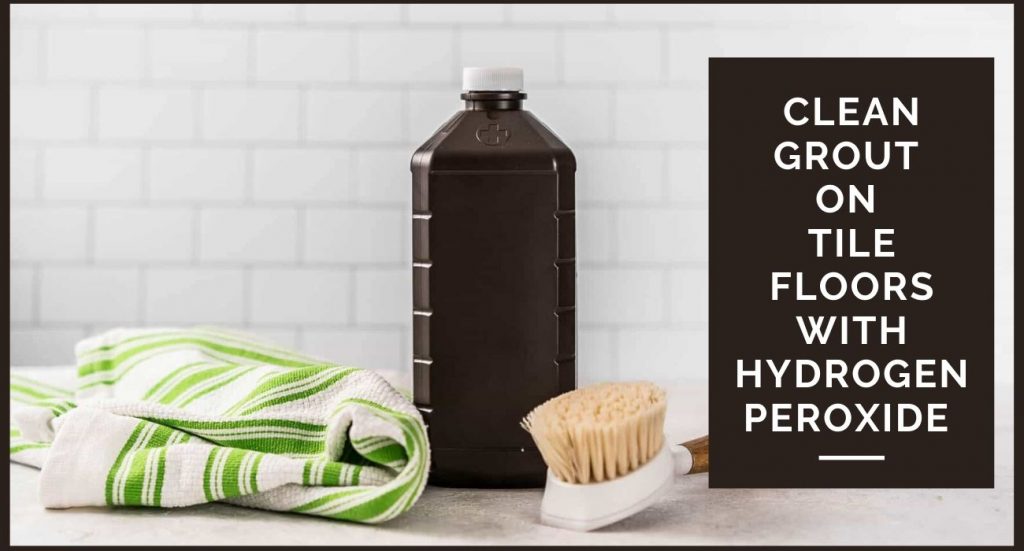 Step one
Make a paste with one-fourth cup of hydrogen peroxide, three-fourth cups of baking soda, and one tablespoon of dish soap. This paste is highly effective to clean the grout. Baking soda is a powerful cleaning agent which works as a natural abrasive to clean grout.
The hydrogen peroxide has a chemical reaction with baking soda. On the other hand, dish soap helps to remove grease and loosen stubborn dirt.
Step two
Take a bristle brush for clean grout and apply the paste to the grout with it. Make sure the paste covers all the grout between all tiles around the floor. Let it sit for at least 15 minutes to work wonders and then scrub with this bristle brush superbly.
Step three
Take some hot or warm water and pour a small amount onto the applied paste. Now rinse the paste off the grout. Take a towel and gently scrub the floor if there is any paste left on the grout. You can use a rag or soft towel to remove the paste.
Step four
Finally, mop the floor using clean water to ensure that no paste or residue is left behind. Thoroughly wipe the floor with a sponge or cotton mop. To get a clean and sparkling finish, wipe the floor by changing the water.
Caution: The chemical reaction of this paste can affect the colored grout. So it will be best if you test it on a hidden corner before applying it to the entire floor. Be careful to use water on the tile floor as it becomes very slippery.
Related post: Best tile grout cleaners and brushes
3. Dishwashing detergent and Vinegar
Step one
Make a solution with a half cup of white vinegar and one tablespoon of dishwashing detergent. Vinegar and dishwashing detergent both are potent cleaning agents, and they work great on any stubborn dirt and grime on the grout.
Step two
Take an empty spray bottle and pour the solution into it. Shake the bottle to mix the ingredients well. Spray the solution on the grout and let it sit for 5 to 10 minutes.
Step three
Take a brush and scrub it on the grout. Pour some water on the floor and rinse. To dry the floor completely, now use a mop or towel. You can repeat the entire process if you find some stains still now.
4. Baking soda and Vinegar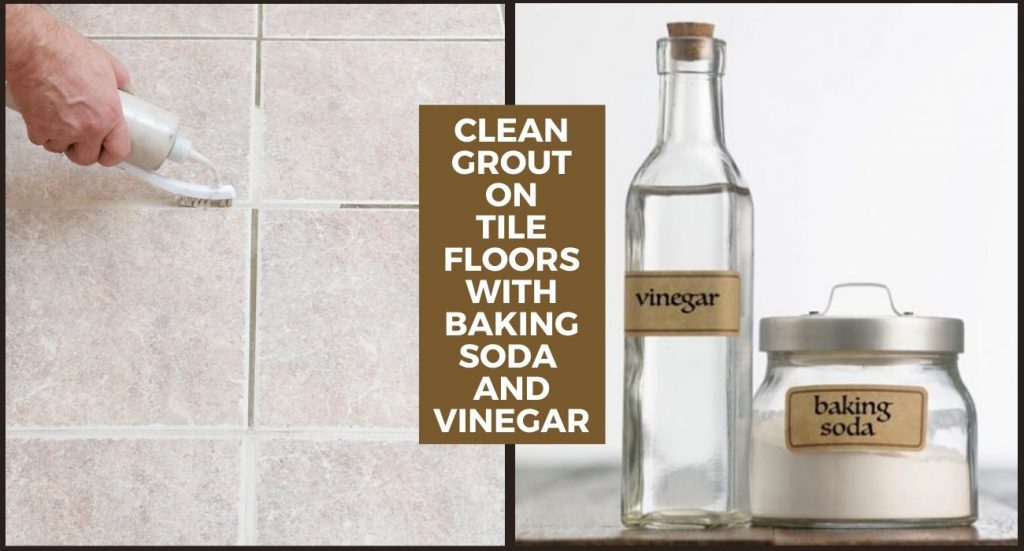 Step one
You need to make a thick paste, so take 3 parts of baking soda and one part of water and mix them well. You can use this paste on all color grout without any risk of damage. But vinegar sometimes becomes harmful to some natural stones like limestone or marble.
Step two
Wear rubber gloves and apply the paste to the dirty grout line with your finger. The rubber gloves will protect your hand from any skin irritation while using baking soda. Though baking soda is not harmful, you should wear gloves as a precaution.
Step three
Take an empty spray bottle and fill it with a solution of 1:1 white vinegar and water. Spray the vinegar solution on the baking soda paste that you have already applied to the grout. You will see it start babbling, which means the cleaning process has begun.


When vinegar mix with baking soda, a chemical reaction occur and brake the dirt and grease layer. This mixture is best for some stubborn stains, and it is also great for killing some living bacteria on your tile floor.
Step four
Wait for some time to stop bubbling. It may take a few minutes only. When bubbling stops, it means the chemical reaction is done. Now take a nylon bristle scrubbing brush or an old toothbrush to scrub each grout between tiles. Give extra attention to the edges and corners to make them dirt-free as well.
Step five
Take plain water and a mop to remove the mixture from the floor. Rinse the mop and change frequently the water during mopping. Look, your floors are now completely dirt-free and shiny.
Related post: How to get urine out of tile grout
5. Oxygenated Bleach
Step one
Take two cups of warm water and add 2 tablespoons of oxygenated bleach to make a solution. For the best result, make this solution just before you will start your cleaning work. Mix perfectly the solution to fully activate the oxygen bleach.
You should be careful to use oxygen bleach because the bleaching powder damages the color of the grout. But do not worry, it is gentle enough for any type of tile.
Step two
Apply the oxygen bleach solution to a hidden corner to test the colorfastness. It will prevent you from any major floor damage. If it is all right, then pour the solution onto the grout. Pour enough amount of solution so that the grout line covers completely.
Step three
Do not wet the entire floor at the beginning. Clean a small part of the floor at a time. Now leave it to sit on the grout for a few minutes to get the best result.
Step four
Take a nylon bristle brush and scrub the grout carefully. Give a little more effort to scrubbing in corners and the floor's edges where grime and dirt tend to accumulate.
If there is still any stain that is more noticeable, or darker then dip your brush directly into the oxygen-bleaching powder. With this, the cleaning power will increase much more.
Step five
Pour some clean water on the floor and wipe with a mop or a dry towel.
Frequently Asked Questions (FAQs)
What do professional grout cleaners use?
It may sound insane, but professionals often use household solutions to clean grouts. They suggest using white vinegar and water with a 1:1 ratio. Also, as we tried, this solution worked better than many commercial cleaning solutions. So you can try it out!
What is the best homemade tile grout cleaner?
You can make your tile grout cleaner by mixing 1/2 cup of baking soda, 1 tsp dish soap, and 1/4 cup of hydrogen peroxide together. Then you have to pour the mixture into the areas where you can see the grout. Leave the area for 10 minutes, and then rinse it with warm water.
Is vinegar safe for cleaning grout?
Vinegar can be effective in cleaning the grouts, but at the same time, it may discolor the tile making it less shiny. So, if you have options to use commercial cleaners, you can go for those.
How do you clean discolored grout?
Hydrogen peroxide and baking soda mixture work great to clean discolored grout. Mix these two ingredients in a bowl until they turn into a thick paste. After making the paste, use it on the grout and a toothbrush to scrub it all. Leave it like that for 10 minutes after scrubbing, and then rinse the area.
Wrapping up
Cleaning grout on the tile floor can become a tougher job if the stain is more noticeable and darker. But do not worry, we hope the above-listed methods will help you to get rid of this problem.
Apart from these methods, you can also use some ready cleaner like Pro-Kleen Tile Grout Cleaner or hire a steam cleaner to get a prompt result. Whatever method you follow to clean the grout, be sure to take the necessary precautions. Stay clean and safe.
As an Amazon Associate I earn from qualifying purchases.