How to Clean a House Professionally | Reduce Time & Cost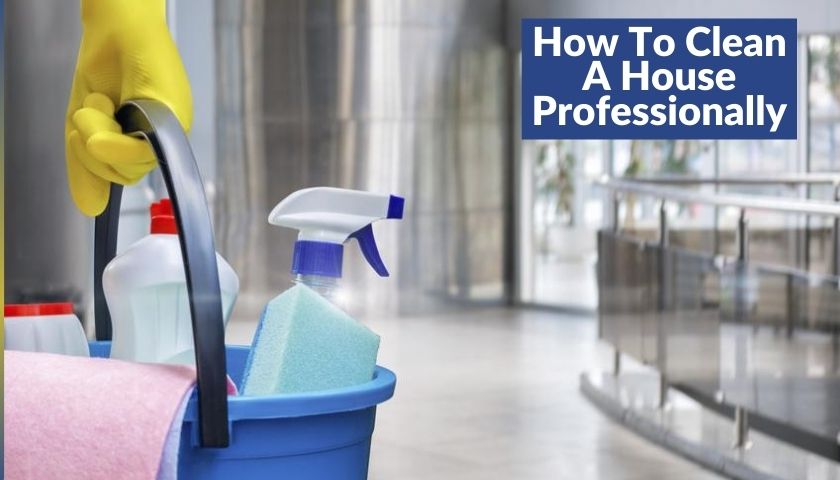 As an Amazon Associate I earn from qualifying purchases.
House cleaning is a regular job, but have you ever cleaned your house professionally? It is quite different from regular house cleaning work. You can hire a professional house cleaner, but they are quite expensive, especially if you have kids, pets, or a larger space. If you want a clean house without breaking your savings, you must have to be a little bit tricky.
You should also know the use of proper house cleaning supplies and some smart and practical tips from house cleaning experts.
Expert tips on how to clean your house professionally
With useful guidelines and accurate household cleaning products, you can also get a clean and dust-free house. Go ahead to discover such charismatic tips and expert guidelines to clean your home like a professional.
Prepare yourself first
Cleaning a house like a pro is not an easy job at all. Prepare yourself first both physically and mentally. Ask yourself if you actually want to take such a big responsibility or not. Stand by someone from your family member or friends to give support if you need it. Make a plan for the entire cleaning procedure. Start your work with the easy one.
Arrange necessary materials and equipment
When you want to clean a house like a professional, you will need a large number of cleaning products and tools. These cleaning supplies may vary depending upon your particular task. Here is a list of cleaning supplies that you may require.
Rubber gloves
Vacuum
All-purpose cleaner
Microfiber mops
Grout mop
Microfiber pads
Floor cleaner
Granite cleaner
Glass cleaner
Stainless steel cleaner
Brooms
Dustpan
Scrubbing pads and sponge
Mild, pH-neutral liquid soap
Stiff bristle toothbrush
Detail towels
Start with dusting
Dusting is one of the most annoying tasks in house cleaning. But a proper dusting of the overall house is the easiest way to give your house a better clean look than the average home.
Starting with dusting is good enough when you decide to clean a house professionally because you will get the opportunity to perform the house's basic tidying. For example, make the bed, fold blankets, pick things and toys up from the floor, fluff cushions and pillows, etc.
Move furniture or items, if possible, before dusting. It will help you to clean each corner of your house.
Often people forget to dust the window sill while cleaning other essential parts of the house. Raise curtains or all blinds when you dust window ledges.
Dust your ceiling fans also. Use a footstool or chair to reach the fans to dust them quickly.
Dirty baseboards never allow you to give a clean look to your house. If you get your baseboards truly dirty, you can clean them with a vacuum or a damp mop.
You should also clean your light switch plates and doorknobs. Take a few drops of cleaning product on a damp cloth and quickly wipe down these areas.
Entry doors and patio doors are also an important part of dusting.
Go to your bathrooms
The bathroom is the most usable part of the house which gets dirty quickly. So you should focus your energy on cleaning this place. Who doesn't want a clean and tidy bathroom? Let's see where you need to pay special attention when cleaning your bathroom.
Start your bathroom cleaning work with the toilet. Make sure to clean the toilet bowl, tops, fronts, lids, bases, and around the seat where maximum dirt can store.
Mirror usually catches stains quickly. It gets dirty with fingerprints, watermarks, soapy water, etc. Use proper glass cleaner and wipe out stains with a soft microfiber cloth.
The bathroom contains plenty of fixtures like the shower curtain rod, towel and toilet paper rack, shower knob, etc. Clean all of these fixtures along with the lights. Clean lights when they are turned off. Do not forget to clean the sink and tub also.
Check towels if there is any dirty one then replace it with a clean one. Fold all towels and arrange them on the rack. Remove all empty cosmetic bottles.
The wall of the bathroom also tends to stain. It also catches watermarks, soapy water, etc. Use appropriate cleaner according to wall material and clean all stains.
Clean your kitchen
The kitchen is a messy place and has lots of things to clean. You may have to spend maximum time cleaning the kitchen. When you clean your kitchen, we advise you to start with the stove and fridge.
Wipe your stove and countertop with a mild dishwasher. It will help you to remove stickiness easily.
Remove the leftover food from the refrigerator. Wipe down the door panel, shelves, outer surface, top, and fridge handle.
If you do not wipe the oven regularly, it creates a nasty smell inside. Take a soft microfiber cloth and wet it with cleaner. Now wipe down the interior and exterior of the oven. Do not forget to wipe the top of the oven.
The kitchen usually contains various shelves and cabinets. Clean all fingerprints and grime from the exterior of the cabinet. Wipe also the doors, cabinet boxes, drawers, and whole interior.
Clean other small appliances like coffee makers, grinders, toasters, etc.
Wipe down the outer side of the dishwasher.
Clean under the sink and the garbage area. Wipe the sink bowl, faucet, and around the sink.
Don't miss our: Ultimate kitchen cleaning checklist
Vacuum your house
Vacuuming can be a big job depending on the size of your house. But for thorough cleaning of your home, vacuuming is essential. If you dust well, then vacuuming will be going to be easy for you.
If possible, move furniture like couches, bedside table, and chairs and vacuum the underneath.
Rugs and carpets tend to get dirty quickly. There are various carpet stain removers available on the market and can effectively remove even old stains. Use them to clean the carpet.
If you have fireplace and wood stoves, then vacuum them carefully because ashes can easily blow around the room, even other parts of your house.
Rearrange your closet and vacuum both inside and outside of it.
Do not forget to vacuum your kitchen. Especially under the toaster, cutlery drawer, or the bread drawer to vacuum up the crumbs.
Your house may have some upholstery and decorative item, which can also store dust. Vacuum all of them.
Read next: Dust or Vacuum first when cleaning
Finish with mopping
Many people think the vacuum is enough to make their house dust-free. But we always recommend mopping your house to remove the last number of dust and give your home a shiny look. Before mopping, you need to carefully check your floor and then pick the best floor cleaner that best suits your floor.
Use a rag mop and start your mopping with the baseboard. If your baseboard is dirty, then your house also looks dirty no matter how clean your home is. So try to clean the entire at once.
There are various floor types like tile floors, hardwood floors, laminate floors, etc. Pick the specific materials for the floor and mop it. Do not forget to dry the floor completely.
Frequently Asked Question (FAQ)
Should I clean the windows also?
Yes. Windows are the part of a house where ventilates the most. As a result, it contains plenty of dust, debris, and the window sills also tend to create cobwebs. So, it is necessary to clean the windows when you clean your house.
Can I use homemade cleaner to clean bathrooms?
Yes. In fact, there are plenty of common ingredients in our kitchen, which really work excellently in house cleanings such as baking soda, vinegar, and lemon juice.
Is the cleaning checklist really helpful?
Yes. A perfect cleaning checklist can guide you to clean your house just like a professional.
Can I use dish soap to clean the mirror?
Yes. Though there are lots of glass cleaners available in the market, you can also use dish soap. Take a soft and wet microfiber cloth and pour a few drops of dish soap on it. Now wipe down the mirror.
What is the best day to clean your house?
It entirely depends on your free time or physical or mental condition. Personally, we will suggest you clean your house Saturday or Sunday.
Wrapping up
Clean a house professionally is undoubtedly a tough job. Our above-listed tips and checklist will guide you to meet your target easily. You can ask any of your family members or friends to help you to finish your work quickly. Just make an effective plan and arrange all cleaning supplies before you start your cleaning work. Start from the less dirty part of your house then proceed gradually.
As an Amazon Associate I earn from qualifying purchases.