Ultimate Kitchen Cleaning Checklist | Daily, Weekly & Monthly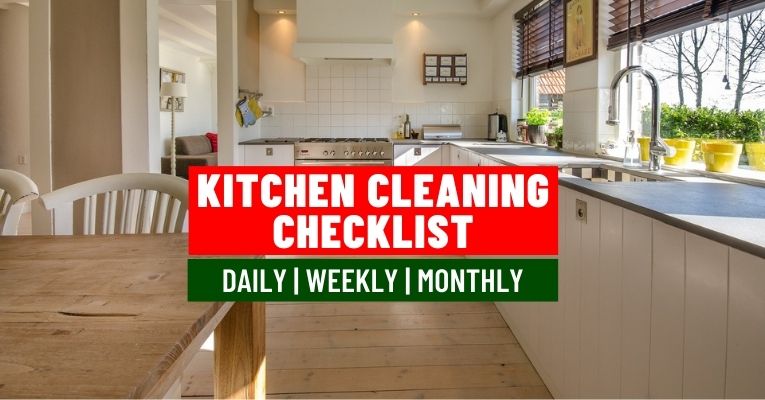 As an Amazon Associate I earn from qualifying purchases.
Every day we waste a lot of time cleaning the kitchen. But following an appropriate Kitchen Cleaning Checklist, we can do this very quickly. The kitchen is the messiest part of our house.
Including making breakfast in the morning, lunch, or dinner along with week-food-centric get-togethers, and week-night meals, there are many other types of work in the kitchen. As a result, it produces germs along with plenty of garbage.
A simple cleaning routine can keep your kitchen neat and clean day-to-day. If you are new in the kitchen, make a kitchen cleaning checklist based on a daily, weekly, and monthly cleaning basis to clean it easily. Use the following kitchen cleaning checklist ideas and make your own.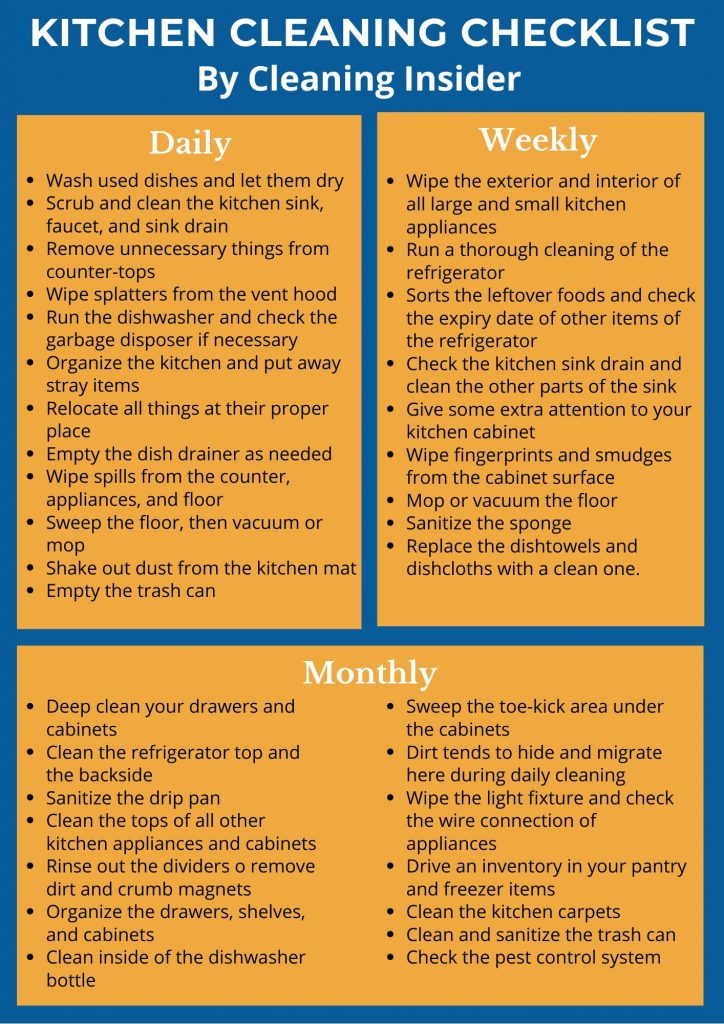 Daily kitchen cleaning checklist
Only a few minutes of regular cleaning can keep your kitchen clean and organized all time. To reduce your next workload, you can include the below listed daily kitchen cleaning checklist in your daily work schedule.
As soon as possible, wash used dishes and let them dry.
Scrub and clean the kitchen sink, faucet, and sink drain.
Remove unnecessary things from countertops and range tops and wipe them.
Wipe splatters from the vent hood.
Run the dishwasher and check the garbage disposer if necessary.
Organize the kitchen and put away stray items.
Relocate all things in their proper place that doesn't belong in the kitchen.
Empty the dish drainer as needed.
Wipe spills from the counter, appliances, and floor.
Sweep the floor, then vacuum or mop also.
Shake out dust from the kitchen mat.
Empty the trash can.
Don's miss: 10 Must-have house cleaning products
Weekly Kitchen Cleaning Checklist
If you can take our daily cleaning task a little bit deeper once, a week, it will be easy to maintain a sparkling and well-organized kitchen all the time. Make a weekly schedule for a deep clean while you are free. Make a weekly kitchen cleaning checklist and follow it for a better cleaning result.
Wipe the exterior and interior of all large and small kitchen appliances like the microwave to the coffee pot.
Run a thorough cleaning of the refrigerator along with the door to inside shelves.
Sorts the leftover foods and checks the expiry date of other items in the refrigerator.
Check the kitchen sink drain and clean the other parts of the sink.
Give some extra attention to your kitchen cabinet. Wipe fingerprints and smudges from the cabinet surface. Clean also the doors and drawers along with the cabinet boxes and inside shelves.
Mop or vacuum the floor. ( If you do not have kids and pets, it is enough to mop the kitchen floor once a week)
Sanitize the sponge.
Replace the dishtowels and dishcloths with a clean ones.
Related post: 10 Effective Ways To Clean A Kitchen Sink Drain Instantly
Monthly Kitchen Cleaning Checklist
A monthly kitchen deep-clean will help you to keep fresh and clean your kitchen space. Even it will reduce your daily cleaning work also. Turn your attention a little bit from daily and weekly cleaning to monthly cleaning to do the work which you miss on previous days.
Deep clean your drawers and cabinets.
Clean the refrigerator top and the backside by pulling a little to the front. Sanitize the drip pan also.
Clean the tops of all other kitchen appliances and cabinets.
Rinse out the dividers o remove dirt and crumb magnets. Organize the drawers, shelves, and cabinets.
Clean the inside of the dishwasher bottle.
Sweep the toe-kick area under the cabinets. Dirt tends to hide and migrate here during daily cleaning.
Wipe the light fixture and check the wire connection of the appliances.
Drive an inventory in your pantry and freezer items and make a list of which things need to be restocked.
Clean the kitchen carpets.
Check the pest control system.
How often should you clean your kitchen?
Sometimes you may get confused about how often you should clean your kitchen. In fact, it is the most common question asked by housewives to us also. As the kitchen is the most usable space in the house, it is very important to keep it clean.
How often you should clean your kitchen will depend on some factors like how much you use it or how many ways you use it.
For example, if you make your food more than once a day, you should clean your stove, countertops, and utensils after each cooking. In addition, if you use your kitchen space for eating also then you should wipe the top of the table and floor after each use too.
Besides this, our sight and sense of smell trigger and indicate that you should clean something in our kitchen.
Some specific things that you should clean frequently
Countertops and stovetops
You should wipe both of them after each use. A mild dishwasher or a kitchen spray will help you to get rid of any stickiness.
Sponges
You should clean sponges after vigorous use or at least once a day. Just use only soap and water and give it a good rinse, that's all.
Mop head
If you try to clean your floor with a dirty mop, then it will be a waste of time only. Moreover, it can spread dirt and bacteria around the surface. So like your sponge, you should also clean the mop head after each use. After finishing our mopping, wash the mop head along with the cleaning cloths. You can use a machine if it is a detachable mop head.
But if your mop head is not detachable and you do not have a washing machine, here is an easy cleaning tip for you. Take some hot water in a bucket and add a few amounts of dish soap. Just manually scrub the mop head and rinse it. Let it dry under the sun.
Kitchen towels
Hand towels, dish towels, and microfiber cleaning cloths are used for many purposes in the kitchen. So it is essential to clean and sanitize them frequently. You should replace these towels with clean ones every 24 hours or a few more depending on how often you use them.
It will be great if you have a surplus amount of towels. Set aside a pile of fresh towels and a bin for used towels. Keep the used towel in the bin and take a new one from the fresh collections. Once the bin is full of the used towel, clean them immediately to make them ready for the next use.
Cabinet doors and appliances
Wipe the spills from appliances and cabinet doors at least once a week. Otherwise, the spots become too stubborn to remove.
Frequently Asked Questions (FAQs)
What should be cleaned daily in a kitchen?
Your daily kitchen cleaning should include cleaning the dishes first. Then you have to clean your sink. After wiping the sink, move to emptying and cleaning the dishwasher. If you have a stove, clean it using a towel. Also, wipe the floor using your cleaner, and you will be all good to go!
What is the difference between a deep clean and a standard clean?
Regular cleaning includes doing the dishes and cleaning the regular stuff you use daily. However, deep cleaning means cleaning everything thoroughly. That means you have to give special attention to the often neglected and hard-to-reach spots you don't clean regularly.
How long should it take to deep clean a kitchen?
Deep cleaning your kitchen does not take days. You can deep clean your kitchen within 2 hours. If you maintain a good regular cleaning routine, the deep cleaning will require even less time.
How much should a cleaner get done in 2 hours?
In two hours, a cleaner should almost do everything considered deep cleaning. S/he should be able to mop the floors and clean the counters alongside the dishes.
Wrapping up
Apart from the above kitchen cleaning checklist, also check your kitchen doors and windows regularly. In fact, you should make a habit of inspecting each part and corner of your kitchen at least once a month to run a thorough cleaning.
Do not forget to clean the ceiling corners and fans of the kitchen also. Be habituated with kitchen cleaning for a healthy family. Stay clean and safe.
As an Amazon Associate I earn from qualifying purchases.