What Causes Yellow Stains On Toilet Seat & How To Clean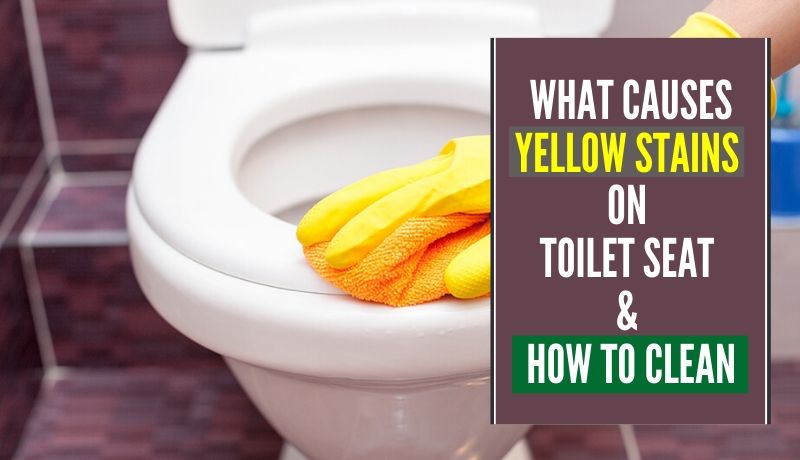 As an Amazon Associate I earn from qualifying purchases.
Yellow stains on the toilet seat are one of the most unpleasant experiences in the household. You may feel uncomfortable with this situation in a restaurant, school, office, hospital, or even at your own home. There are very few people of us who do not have to face this problem regularly.
How much protein when cutting bodybuilding, protein when cutting muscle | Дмитрий Кожевников nandrolone phenylpropionate dosage websites for male enhancement pills bodybuilding forums penis enhancement == dinhduongchobe
To avoid having a yellow stain, you should take proper care of your toilet. It is not possible to change it with a new one anytime by spending a lot of money.
So, you should consider cleaning it regularly, and you can do it in several different ways using only a few simple steps. Today's discussion topic is what causes yellow stains on the toilet seat and how you can clean it easily.
What causes yellow stains on a toilet seat
You may be surprised when you first find a yellow stain on your toilet seat, but it is a very common and often occurring problem. Maybe you are very careful and have enough hygiene also, but a yellow stain can come for many reasons on the plastic toilet seat. Some causes of yellow stains are:
1. Overtime
It is a very common cause of stubborn yellow stains on the plastic toilet seat. The bathroom is the most usable part of our house.
No matter how frequently you clean it, the color of the seat can be changed over time. It can be brown or light yellow. This stain can spread on the bottom of the bowl and below the rim of the water level.
2. Hard water
Don't be surprised; hard water can be another cause of the yellow stain. These stains are created from minerals that originate from hard water that may be at your house.
Hard water can damage your toilet seat as well as sinks by leading to yellow stains. These stains are so stubborn that they seem impossible to remove. This water includes iron, magnesium, and calcium, which stick to the surface and create a yellowish layer.
3. Sunlight
This is rare but can happen with your toilet also. Sunshine can also make your toilet seat yellow from white. We know that UV light is harmful to us, but it is also harmful to our toilet seats. It can be a cause of sunburn for both you and your toilet seat.
You may feel uncomfortable that the seat is dirty, but truly it just changed color caused by the UV light.
Most of the toilet seats are made from plastic materials while a few are wooden. Whatever your toilet seats are made of, these are the ideal places to pick up yellow stains. This uncomfortable stain can ruin the entire look of your bathroom.
4. Unclean urine
Another common cause of yellow stains on the toilet seat is unclean urine. Dealing with human urine stains is problematic and embarrassing.
If the toilet does not flash out properly, and people continue to use it, a pale stain starts creating on it. Within a few days, it becomes horribly yellow and smelly. In this stage, it becomes tough to remove.
The yellow spots on the toilet seat tend to fall for a very simple reason. However, although the causes are common, the spots can sometimes be very stubborn, but you can get rid of them in just a few simple steps.
Read next: How to remove blue stains from toilet seat
How to clean yellow stains on a toilet seat
Whatever the cause of the yellow spots on the toilet seat, this problem can become more pronounced due to your unconsciousness and lack of precision care.
However, if your regular cleaning method fails to remove these ugly stains, maybe our following cleaning formulas can show you the path.
Arrange these cleaning supplies before you start your work:
Vinegar
Baking soda
Coke
Bleach
Toilet cleaner
Bathroom cleaner
Bucket
Sponge or toilet brush
Sanitary wipes
Rubber gloves
Sanitary wipes
Old toothbrush
Paper Towel
5 Easy formulas for cleaning yellow stains on a toilet seat

1. Use of vinegar

Vinegar is a very powerful cleaning agent and works great to remove yellow stains from the toilet seat. It is a common household ingredient that does not have any harsh chemicals.
Take about 3 cups of vinegar and apply directly to the affected area. Leave it as long as possible. It will be better if you leave it overnight. Now scrub the stain with a brush and flash out the dirty yellow stains.
2. Use of bleach
Bleach is an excellent disinfectant and sanitizer also. It is specially used for cleaning various toilet stains. Take one-fourth measured cup of bleach and spread it over the stains.
Now fill a bucket with water and add one-third of the bleach to make a solution. Remove the seat to dip into the solution. Let it soak for 10 to 15 minutes.
Take a toilet brush and scrub until the stains are removed completely. Flash out all the stains and replace the seat carefully. You can repeat the procedure if needed.
On a positive note: You can also use the most effective cleaning product "CLOROX" which contains bleach instead of solid bleach.
3. Baking soda and warm water
Baking soda is a powerful disinfectant and stain remover. Sometimes baking soda alone is not enough for stubborn stains. You can use warm water with it.
Take one-quarter cup of baking soda and make a paste with 50 ml of warm water in a bucket. Smear the paste on the spots and let it sit for 10 to 15 minutes.
Take a toilet brush or scratch-free sponge and scrub the stain. Rinse perfectly with clean water and wipe with a paper towel. We hope the seat starts sparkling with a fresh smell. Repeat the formula if needed.
4. Use of coke
Don't be surprised! Coke can also help you to get rid of horrible yellow stains on toilet seats. Phosphoric acid is one of the major ingredients. In large quantities, it can work as a cleanser for removing stains.
Take a bottle of Coke into a small bucket. Take a towel or small piece of cloth and soak it in it. Place the damp towel on the toilet seat and leave it for 10 to 20 minutes. Scrub with a toilet brush and remove stains.
5. Toilet cleaner
You will find plenty of toilet cleaners in the market. Some of them are made from citric acid, which is highly effective in cleaning toilet stains. Popular brands include Clorox Toilet Wand, Scrubbing Bubbles, Lysol, etc.
They can clean your toilet seat just like the above-listed formulas can do. If your toilet stain's cause is urine, you should apply any of the above-explained methods along with these toilet cleaners.
Frequently Asked Questions (FAQs)
Can you clean the toilet seat with Clorox wipes?
Yes, you can clean your toilet seat with a Clorox wipe.
What is the best toilet seat that won't stain?
Bath Royale premium toilet seat
BEMIS 7800TDG 000 Commercial Heavy Duty toilet seat
How do you get urine stains out of a plastic toilet seat?
Mix ¼ cup of baking soda and an equal amount of vinegar into a bowl
This mixture will create foam at the beginning
The mixture consistency should be like a foamy paste
Take an old toothbrush to apply the paste to the toilet seat stains. Let the paste stay on the seat for 10 minutes
Take a wet cloth and wipe out the paste along with the stains
Wrapping up
Yellow stain on the toilet seat is the most common problem in the bathroom. Sometimes, it can be quite challenging to remove it. That's why we come up with 5 easy as well as powerful formulas to help you clean that yellow stain.
Moreover, any type of stain or red mold can also be removed with this guidance, and we tried to deliver precisely.
So by following one or more above instructions, you can get a stain-free and hygienic toilet. And keep yourself safe, nice, and clean.
As an Amazon Associate I earn from qualifying purchases.