What Causes Mold in Bathroom Ceiling & How to Remove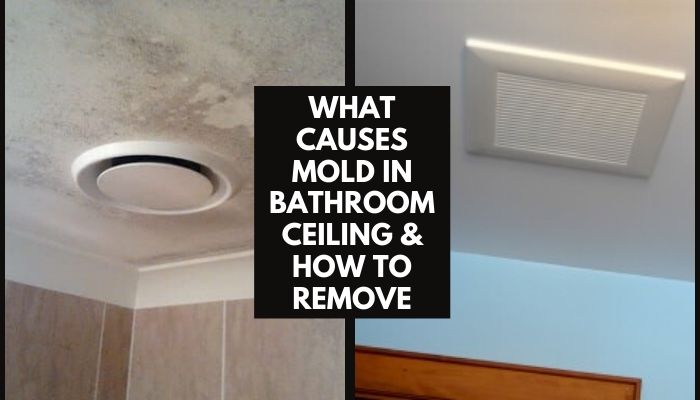 Bathrooms are one of the most common places for mold growth in a house. Aside from the shower, grout, tiles, and drains, the bathroom ceiling can be an ideal place for the fungus to grow. It is unsightly, harmful for health, and comparatively a bit challenging to get rid of.
In this article, we're going to take this challenge and make it easy. Let's take a look at what causes mold in the bathroom ceiling, why and how it is harmful, and how to remove mold from the bathroom ceiling.

What Causes Mold in Bathroom Ceiling
Mold in the bathroom ceiling can be generated in different ways, but the obvious reason is the humidity. Mold and fungi generally grow and spread through airborne mold spores. These spores can reproduce in a friendly environment that usually has moisture and high humidity. Some of the key reasons for mold growth are:
Moisture
High humidity
Low lighting
Insufficient air ventilation
Food source
Dampness
Warm temperature



We can see that almost all of the listed reasons are common with bathrooms. Mold can grow in 24-48 hours in its ideal surface. Due to the high humidity caused by shower and steam, water vapor gets trapped in the bathroom ceiling. Since bathrooms are not usually well-ventilated, the steam can't get out easily.
It results in producing moisture on the ceiling, the corners of the ceiling where it meets the walls, and ceiling damages if there are any. These make a well-suited environment for the molds to grow.
On the other hand, the lighting system in the bathrooms is usually focused on the basin, shower, toilets, and other. Leaving less light and shadows in the bathroom ceiling, especially in the corners, can invite molds to grow excessively. To sum up, the high humidity, moisture, and low ventilation that showers produce are what causes mold in the bathroom ceiling.
Harmful Effects of Mold in the Bathroom Ceiling
Not only the mold in the bathroom ceiling is displeasing and gross, but it also can ruin the indoor environment and hamper human health in the long run. There are several reasons why is mold in the bathroom ceiling harmful, and it mostly includes your respiratory responses.
Airborne mold spores from your bathroom ceiling can attach themselves to your skin and clothes. Since you're more exposed while in the shower, ingestion and inhalation of mold can seriously affect you. Some of the common symptoms and effects of mold are mentioned below.
Asthma
Allergies
Wheezing
Itchy eyes
Chronic cough
Chronic obstructive pulmonary disease (COPD)
We are talking about regular kinds like green and white mold in the bathroom ceiling and the house. If there's black mold in the bathroom or your home, the effects are more toxic and it can leave dangerous consequences on your health. Learn more about the effects of black mold and how to get rid of it.
Recommended post: 10 Must-have house cleaning products | You should have
How to Remove Mold From Bathroom Ceiling
Removing mold in bathroom ceiling can be a bit complicated because, well, it's in the ceilings. But with a little caution and proper guidelines, there are a number of cleaning solutions you can use to remove and kill off molds. In the following, we are going to share some of the most effective methods to remove mold from the bathroom ceiling.



How to Get Rid of Mold in Bathroom ceiling with Bleach and Detergent
Bleach is a strong disinfectant that can kill mold and also prevent it from growing back again. With a little help of detergent, you can combine the bleach with water to create an effective mold removal solution. To use bleach for the process, you will need a few things first.
Goggles
Gloves
Respirator
Detergent
Bleach
Water
Clean cloths or towels
Scrub brush
First thing's first, cover your eyes with goggles and wear a respirator as bleach can induce toxic fumes that can damage human health. You should as well wear gloves when you're about to handle bleach.
Before you move on to cleaning mold off your bathroom ceiling, remember to open the bathroom windows for maximum ventilation. Close the bathroom doors so that mold spores can't travel anywhere else in the house through the cleaning process.
When you're ready, mix detergent with warm water to create a primary solution. Take to solution in a bowl and apply it on the ceiling using a piece of cloth. Remember to establish secured support to go up while you're treating the ceiling so that you don't fall off in the middle. A portable ladder should do the trick.
After the application of detergent, let the surface dry. Then take one cup of bleach and a gallon of water to create your cleaning agent. Mix them well and take the solution in a bowl to apply it to the mold. Rub the mold affected area of the ceiling with the bleach solution using an old piece of cloth or a towel. Once you have covered the surface, let it work for a few minutes.
Afterward, use a scrub brush to remove mold from the bathroom ceiling. The bleach should have done its job by now and the mold should come off easily. If it doesn't come off completely at the first try, repeat the bleaching process. And once you're done with cleaning the mold, it's better to leave the applied surface as it is.
Don't rinse or clean the ceiling, it will allow the bleach to continue preventing mold from growing again.


How to Remove Mold From Bathroom Ceiling with Hydrogen Peroxide
Hydrogen Peroxide is another effective cleaning solution that is anti-bacterial, anti-fungal, and an alternative solution to bleach. Because hydrogen peroxide is non-toxic, it does not have any side effects like bleach and it doesn't hamper the environment. To apply hydrogen peroxide as mold removal, gather the necessities first.
Goggles
Gloves
3% Hydrogen Peroxide
Spray bottle
Scrub brush
Dry towel or cloths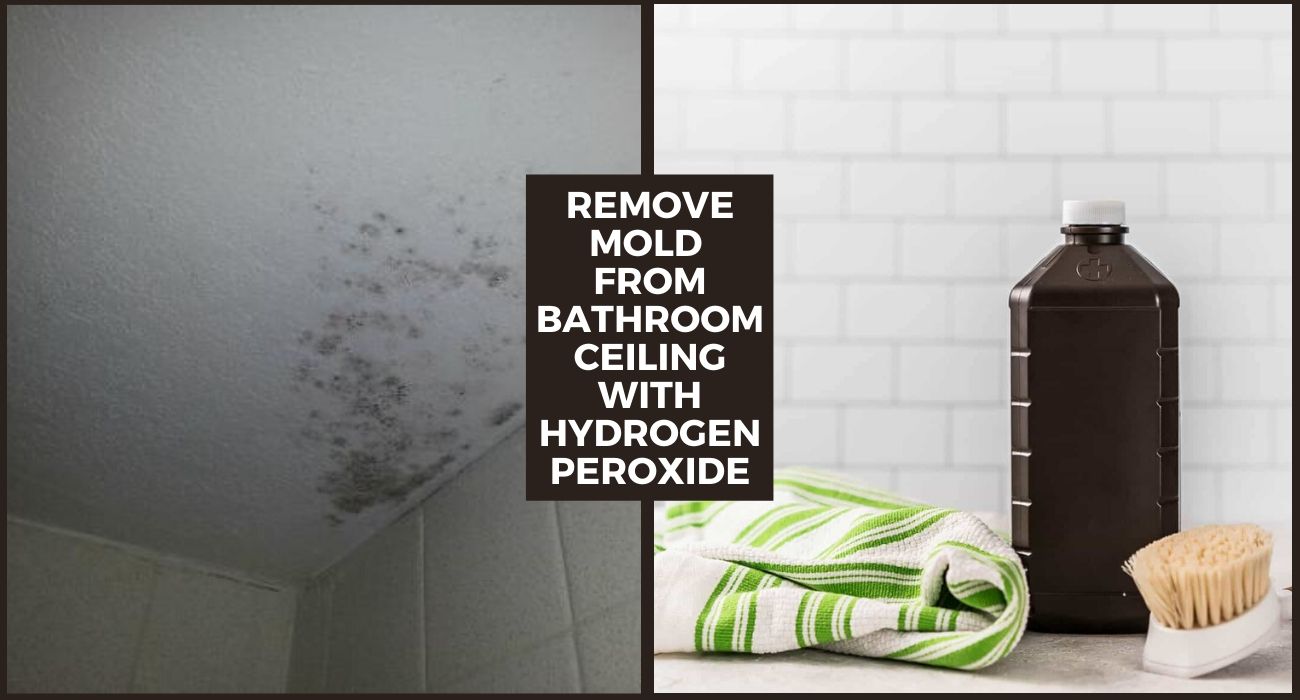 Wear gloves, goggles, and be extra careful when you work with hydrogen peroxide in your bathroom ceiling as it can be harmful to human skin. Get a bottle of 3% hydrogen peroxide from your local drugstore and pour it in a spray bottle. Detect the mold affected area of the shower ceiling and apply the cleaner over the surface. Remember to make the place wet for the solution to work properly.
Once your spraying is done, let the hydrogen peroxide work for about 10 minutes. Afterward, use a brush to scrub the surface and remove mold from the ceiling. If there are any existing mold, repeat this simple process to effectively take them off.
After it's all clean and there is no remaining mold in the bathroom ceiling, rinse the area with water. Wash off the hydrogen peroxide and dry the place with a towel to give your bathroom ceiling a fresh and clean look.
You may be interested in: How to get rid of black mold in shower
How to Kill Mold in Bathroom Ceiling with Ammonia
Ammonia is a strong disinfectant that can effectively kill mold on hard surfaces like the bathroom ceiling. It's useful and easy to apply with proper care. Remember not to mix ammonia with other cleaning agents, especially NEVER with bleach. To use ammonia for removing mold in the bathroom ceiling, you need certain precautions and gears.
Goggles
Gloves
Respirator
Ammonia
Water
Spray bottle
Scrub brush
Dry towels or cloths



Before anything, wear goggles, gloves, and a respirator or a mask to stay safe because ammonia is a toxic substance. Mix one part of ammonia with one part of water to create your mold removal solution. Pour the solution into a spray bottle to use.
Notice the mold affected surface and apply the ammonia over the place. Carefully spray it and cover the whole moldy area. Once you are done with that, leave the cleaner to work for about half an hour. It will get deeper into the foundation and kill the mold. Afterward, use a brush to scrub the surface to remove mold in the bathroom ceiling completely. Repeat the process if necessary.
After the ceiling is mold-free, rinse the surface with clean water and dry with a towel or a cloth. Look out for further mold growth and apply the same method if you happen to have any.
You can also read: How to get mold out of carpet easily
How to Remove Mold From Bathroom Ceiling with Vinegar
Vinegar is a 100% natural, easy to use, and affordable cleaning solution that many people consider in various household cleaning needs. Unlike some other cleaning agents, vinegar does not have any toxic reaction and it is environment-friendly. It is also a safe cleaning option to use against mold in the bathroom ceiling.
You will need:
Goggles
White vinegar
Spray bottle
Scrub brush
Towels or cloths
As always, wear goggles before you are working on cleaning your ceiling to protect your eyes. Pour white vinegar directly into a spray bottle and apply it to the mold affected area of the ceiling. After that, leave the vinegar to work its way into the fungus for about half an hour.
Once it's passed, remove the mold using a scrub brush onto the surface. Repeat the same process if necessary, until the mold is completely out. Rinse the surface with clean water and dry with a towel. As we have already mentioned, damp and moisture can cause mold to grow so don't leave the place wet.
FAQ – Frequently Asked Questions
Is the bathroom ceiling mold dangerous?
Ans. Yes. Regular bathroom ceiling mold like white and green, toxic mold like black mold; both of them are dangerous to the environment and harmful to human health.
Why is there mold on my bathroom ceiling?
Ans. Mold can grow in damp, watery places and high humidity is ideal for molds to reproduce. Bathrooms are usually wet, have moisture and high humidity with low ventilation. Steam from showers produces vapor that naturally rises and therefore, due to the poor ventilation system, affects the bathroom ceiling and allows the mold to grow.
How do you get rid of mold on the ceiling?
Ans. There are several cleaning solutions and techniques to get rid of mold on the ceiling. You can use vinegar, hydrogen peroxide, or even bleach for a stubborn mold situation. Learn more in our detailed guidelines.
How do I prevent mold on my bathroom ceiling?
Ans. You can prevent mold growth on your bathroom ceiling with certain practices. For starters, leave the bathroom door and window open for about 15-20 minutes every time you take a shower. Clean the bathroom regularly and don't leave it wet too often. You can also try installing a bathroom fan to take out steams to keep the humidity level low. Adobe all, keep the place well ventilated and clean.
Final words
Mold in the bathroom ceiling can turn out to be really dangerous and harmful to you and your family if not treated properly. Practice good maintenance of your bathroom as well as the house, let natural light and air come in through a good ventilation system. Clean your bathrooms regularly, and remember not to leave the shower wet too often. If you take the right steps, you won't have to deal with mold, and worry about removing mold from the bathroom ceiling.