Bissell Crosswave Pet Pro Vs Crosswave | The Real Comparison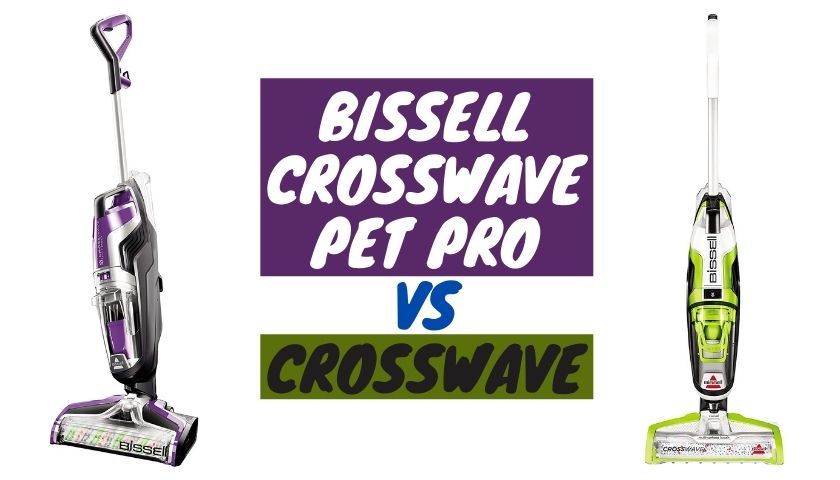 As an Amazon Associate I earn from qualifying purchases.
Bissel Crosswave is a popular cleaner from the brand and we have got another upgrade of the cleaner now- Crosswave pet pro. Crosswave itself has been offering a lot of incredible features that you might be wondering what the upgrade holds for you. Guess what, we were wondering about that too and so we got ready for a new investigation!
You heard it right! We have bought the in-depth comparison of Bissell Crosswave pet pro vs Crosswave for you without overlooking any factors. But for a starter, we must say that the pet pro upgrade makes pet owners' life a lot simpler with the special features. Therefore alongside the vital changes, we have noticed a change in the brush type as well.
Without any more small talk, are you ready to hear the truth? Let's see what can you expect from these two!
Bissell Crosswave Pet Pro Vs Crosswave: Feature-based Comparison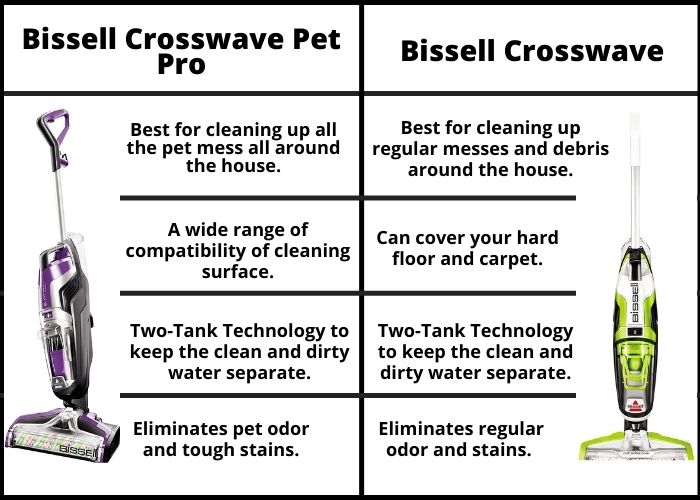 Bissell Crosswave Pet Pro: In-depth Review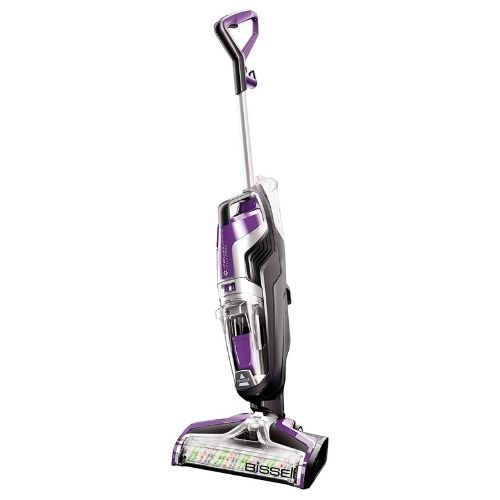 Key features
Best for cleaning up all the pet mess all around the house.
A wide range of compatibility allows cleaning tile, sealed wood floors, carpet, rugs, laminate, linoleum, rubber floor mats, and pressed wood floors.
Handles pet hair with the innovatively built Tangle-Free Brush Roll.
Two-Tank Technology keeps the clean water and formula separate from unclean water and dry debris.
Easy to assemble without any additional tools.
Handles all the pet messes
Are you a pet owner? Bissel never fails to surprise us with innovative cleaners to deal with the hardest pet messes. And this is one among them. The innovatively built Tangle-Free Brush Roll is meant to ensure the optimum cleaning of all pet hairs. As a result, your hairy friend will not bother you anymore!
The wide compatibility of cleaning surfaces
You cannot just buy separate cleaners for individual surfaces. This is too much work and a waste of money as well. How will you feel if you can get everything in one place? Well, that's what this cleaner offers.
This Bissel cleaner does not only handle your pet messes but also shows a wide range of compatibility in cleaning different surfaces alongside your carpets. You can easily clean cleaning tile, sealed wood floors, carpet, rugs, laminate, linoleum, rubber floor mats, and pressed wood floors. How amazing is that?
No more pet odor!
Not o9nly pet hair, but the horrible odor that your pet causes with pooping and peeing here and there is simply intolerable if your cleaner cannot eliminate those properly. You don't have to worry anymore cause this one can save your back here as well.
The extended cleaning technique of this cleaner successfully eliminates any sort of pet odor. Also, as it comes with separate tanks to keep clean and dirty water separate, you won't have to change the water frequently. You can also use any kind of cleaner with the all-time fresh solution.
Easily assemble-able
When you got no time to chill, cleaning is an extra burden to take on yourself. To lessen your hassle, this cleaner has the easiest assembling technique that you can ever think of. It requires no extra tools to get started.
The assembling procedure is like a piece of cake to follow. You can do it all by yourself within the shortest possible time.
Why should you get Bissell Crosswave Pet Pro?
When you got a pet at home, this one simply stands out in every way. From eliminating the pet odor to cleaning, it serves everything in the place. Also, the vast compatibility gives nothing to complain about. You can quickly clean up any sort of surface without wasting your time. The quality is also top-notch with a lot of innovative features.
Pros
Innovative and upgraded features
Ensures the optimum cleaning
Easy to set-up
Deals with any sort of pet residues
Cons
Nothing found yet, good to go!
Bissell Crosswave: In-depth Review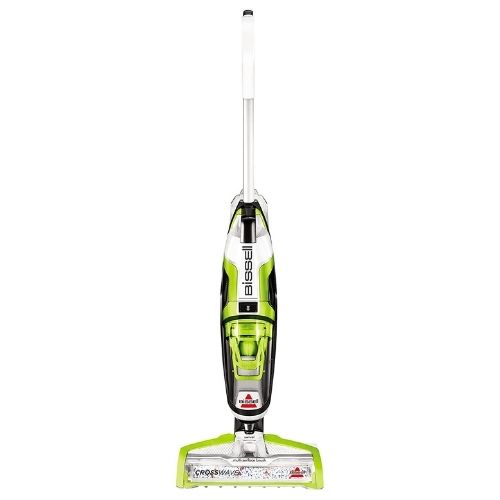 Key features
The dual technology ensures vacuuming and washing your floors at the same time.
The microfiber and nylon brush mop and collects the debris at the same moment.
Keeps the cleaning water clean by separating dirty water in another tank.
Includes smart touch controls to switch the mode when you are swi8tching the floor type.
Can clean both hard floors and area rugs with the best outcome.
Two-in-one cleaning
How often do you get a cleaner that offers both vacuuming and cleaning in the same place? When you buy this one, you can get that. It will save you from buying a vacuum additionally. Also, as the cleaner can handle both vacuuming and cleaning, it saves a lot of time for busy people. Besides, the technology adds up to the extended cleaning.
Extra-ordinary mechanism
This cleaner comes with microfiber and nylon brush mops which are incredible in quality. The mop can clean every dirt and debris without leaving a sign of it. Any sort of stains can be dealt with using it as well.
The most useful part is, that the mop helps in your mopping and collects debris from the floor at the same time, lessening your hassle.
Separates dirty and clean water
This feature is something that comes in handy to reduce your cleaning hassle. Cleaning is already a chaotic task to do. The separate tanks keep dirty and clean water in different tanks. As a result, the clean water will remain clean and you won't have to change it again and again, which saves a lot of time.
Comes with smart touch controls
This is the most innovative feature that we have encountered from this cleaner. When you clean the hard floors, you can use one mode. Again, when you move on to cleaning your carpets or rugs, you have to move to another mode. The area-specific cleaning makes the cleaning more profound. All you have to do is just use the smart touch control to switch between the modes.
Why should you get Bissell Crosswave?
If you want the best cleaning, this one can offer you that. We loved the way it offered to interchange between the modes to clean hard floors and carpets. Even though it doesn't show a large number of surface compatibility, the cleaning was worth it.
Pros
Handles sticky and dirty floors perfectly
Compatible with cleaning solution
Keeps the clean and dirty water separate
Cleans large debris
Cons
Less surface compatibility
Which One Should You Pick?
Both of the cleaners are incredible with the service that they provide. We cannot complain about anything. So it's very hard for us to conclude it. But if you have specific requirements, each of these is certainly good for a few special aspects.
For instance, if you are a pet owner who wants to deal with pet odors, stains, and pet hairs, you have to go for Bissell Crosswave pet pro. Also, as it comes with a wide range of area compatibility, people who seek a good cleaner to use professionally or in high-traffic areas will be perfect for them.
Besides, as it is an upgraded version of the Crosswave cleaner, that is another strong reason to rely on it.
On the other hand, for regular cleaning and a few special features, the Bissel Crosswave will be your perfect companion. Though it covers only hard floors and carpets, the cleaning is up to the mark.
Recommended post: Bissell spotclean pro review
Frequently Asked Questions (FAQs)
Which Bissell CrossWave is best for pet hair?
BISSELL CrossWave Pet Pro is an amazing cleaner for pet hair. It leaves nothing behind and collects even the slightest debris from the floor and carpets. So even if the pet hair is stuck in the carpet, you can easily clean that using the CrossWave.
Why is my Bissell Crosswave leaving streaks?
When you do not use a fresh cleaning solution while cleaning the surface, it may leave streaks. So make sure you use a new cleaning solution every time you start cleaning. Also, hold the trigger to complete an even finish of cleaner. Do not use too much water with each pass.
Why is my CrossWave leaving dirty water on the floor?
It might be due to the leaking. Cleaning the CrossWave might help in this case. Try to make a few dry passes to clean out the excess water.
Can you use Bissell Crosswave on the carpet?
No, you cannot use it on the carpet. But you can use it on floors and other surfaces for quick cleaning.
Wrapping Up
Now we are done with giving you the comparison of Bissell Crosswave pet pro vs Crosswave, the rest is up to you to decide. Both of the cleaners have strong reasons to buy these. But if you have specific requirements, it's better to check on the features and then decide on them.
However, for pet owners, we highly suggest getting the pet pro one as it is specifically made to deal with all the pet residues and it is an upgraded version. If you are not a pet owner, then the Bissel Crosswave itself will be a good option to rely on.
As an Amazon Associate I earn from qualifying purchases.