Tineco ifloor3 Cordless Wet Dry Vacuum Cleaner Review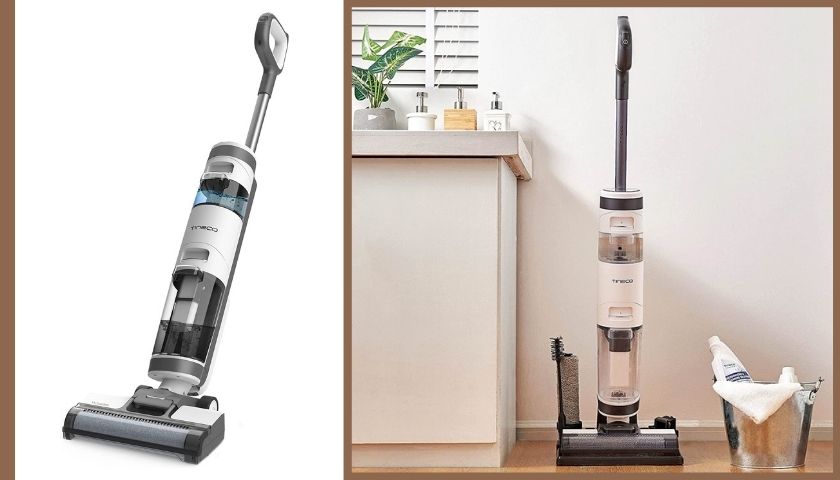 As an Amazon Associate I earn from qualifying purchases.
When you clean in strange ways so frequently, you want a machine that is more valuable than most equipment.
Therefore, if you are looking for a vacuum cleaner that performs better than conventional vacuum cleaners, you cannot remove the Tineco ifloor3 Cordless Wet Dry Vacuum Cleaner from the list. The main benefit it brings to you is the tried and trusted brand name.
Tineco is one of the most well-known brands in the series, so anyone who buys a product from the brand's stables can be confident that it combines impeccable innovation and durability. But what exactly can this vacuum cleaner offer?
Features and benefits of Tineco ifloor3 Cordless Wet Dry Vacuum Cleaner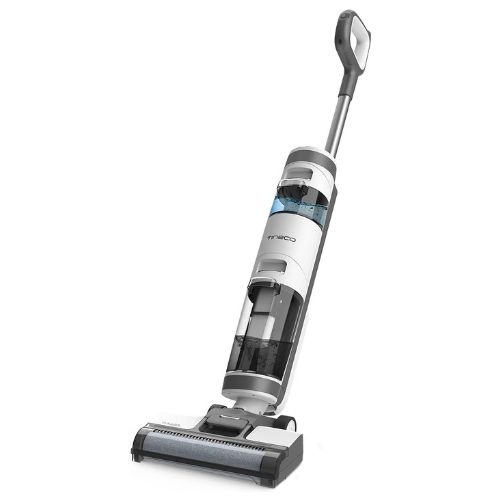 1. Cordless convenience, easy to maneuver
There is no cord attached to the vacuum cleaner, meaning that you can use it anywhere, regardless of whether electrical connections are present. It can be moved easily around your house and used in different parts of your home to vacuum. It makes sense for a cordless vacuum cleaner to have this kind of portability.
2. A lightweight body can easily be carried up and downstairs
The Tineco ifloor3 Cordless Wet Dry Vacuum Cleaner also has mobility and convenience due to the fact that it only weighs 17 pounds, and that it is highly portable and versatile. This vacuum cleaner is easy to use because of its modern, stylish, and easy-to-handle design. Using this vacuum cleaner and relying on it is an excellent way to enjoy vacuuming.
3. Vacuum & wash at the same time
It helps you save your time by combining vacuuming and floor washing in one quick step, allowing your floors to dry instantly and without streaks. In this way, you can vacuum and wash your floors at the same time, leading to an extremely effective and thorough cleaning process.
4. On sealed hard floors
The vacuum maintains sealed hard floor surfaces, such as hardwood, tile, laminate, vinyl, marble, and linoleum, by picking up messy, sticky spills. Its wet-dry filter makes it different from many other vacuum cleaners.
5. Strong suction power & long runtime
This gadget is capable of continuously cleaning for up to 25 minutes on a single battery charge. It may not be enough for a lengthy cleaning session, but it provides an excellent performance that allows for speed and efficiency when it comes to vacuuming and washing.
6. The self-Cleaning cycle flushes out dirt, hair, and debris after each use
The three-in-one Docking Station is yet another very innovative feature of this ifloor3 self-cleaning system. This maintains the cleanliness and odorless ness of brushes and tubes. Using a Tineco solution will ensure long-term use and keep the machine working in top condition. After the unit has been cleaned, empty the solution and continue with other maintenance tasks. You can find exact maintenance procedures in the manual.
7. Advanced technology
The Tineco ifloor3 Cordless Wet Dry Vacuum Cleaner has a LED display attached at the top of the Tineco ifloor3. It ensures that users get plenty of real-time information about the cleaning process while they are cleaning. The power status, battery level, blockage indicators, and onboard functions are some of the advanced technological features used in it. This high-tech additional extra helps you keep on top of your cleaning sessions with ease, without running into problems such as running out of battery halfway through cleaning.
8. Works with less noise
The vacuum ensures a one-Step Cleaning for Hard Floors with almost zero noise. In spite of its amazing power, this is a quiet vacuum cleaner, so you, your family, or your pets won't be disturbed as you pass through the house. Because of its ultra-quiet digital motors, the vacuum has the strength it needs, without making a lot of noise.
9. Fitting in every corner of the house
Its size, in total, will be 11.3 x 10 x 43.3 inches. Because of its narrowness, it can be fit into those smaller corners and in-between furniture, while its length makes it useful. The wet-dry vacuum cleaner will relieve you of bad shoulder and back pain, as well as excess muscle aches.

Tineco iFloor3 vs Tineco floor one s3
Tineco ifloor3 and Tineco Floor One S3 have some similarities in terms of features like LED display, Suction power, Power, Weight, and Charging time. The following are some of their differences;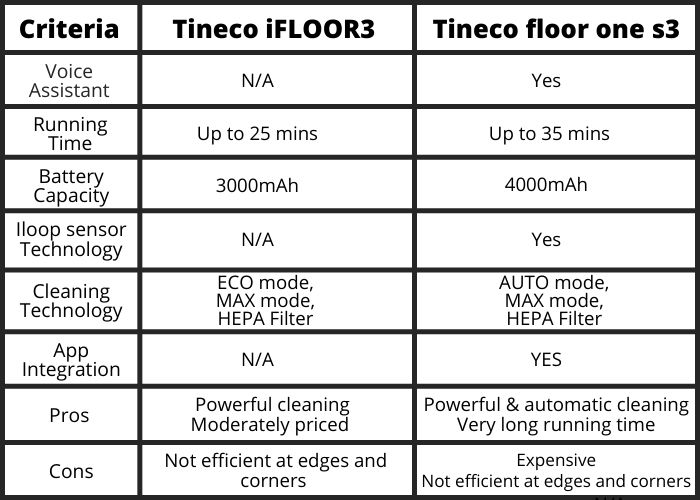 FAQ's on Tineco ifloor3 Cordless Wet Dry Vacuum Cleaner
Can Tineco ifloor3 be used on carpet?
Wet/dry vacuums are sometimes used on rugs and carpets. The case is not the same, especially with Tinecos. Carpets and rugs are not suitable for these. If it cleans the surface, you won't be happy since you'll have leftovers and lots of soaked solutions in the carpet.
What is the best wet dry cordless vacuum?
In this Tineco ifloor3 review, it can be said that the Tineco ifloor3 Cordless Wet Dry Vacuum Cleaner is the best dry cordless vacuum. The machine has a large tank, powerful suction, and an LED display, among many other features. The features of this device are comparable with Tineco's FLOOR ONE S3, which is quite expensive. However, the Tineco ifloor3 wet-dry vacuum offers the same dependable design and easy-to-use features for a lesser price.
Can you use the Tineco as just a vacuum?
The ifloor3 by Tineco vacuum cleaner can vacuum your floors while washing them as it does so. This ensures your floors are thoroughly and effectively cleaned by vacuuming and washing your floors together.
Nevertheless, you can use it just as a vacuum cleaner, since it has got a powerful motor that creates a lot of suction. When it comes into contact with dirt, dust, or debris, this vacuum cleaner will vacuum them up.
Can you put bleach in a Tineco?
As Tineco uses a very simple cleaning element, you won't need bleach. This Tineco ifloor3 cleaning system operates perfectly with a simple clearwater or cleaning solution. Upon spraying the liquid over the cleaning area, the spinning brush roll will clean the floors thoroughly.
Can you use Tineco ifloor3 on laminate?
Each Dry/Wet vacuum and mop is designed to clean hard floors such as laminate, linoleum, vinyl, solid & engineered wood, marble, stone, concrete, tile & grout, and others. The same applies to Tineco's vacuum mops. These appliances not only keep hard floors clean, disinfected, shiny, and dry, but they also work well.
Verdict
Wet dry vacuums like the Tineco ifloor3 Cordless Wet Dry Vacuum Cleaner offer great power, convenience, and functionality. A cordless wet/dry vacuum such as the Tineco ifloor3 is a great addition to your home. When you live in a home with highly sticky and messy hard floors, it is the perfect companion. Hence it makes it ideal for homes with children and pets, as well as having all the features you could ask for in an efficient system that restores floors to their original shine. If you want to keep your floors gleaming, pick up your Tineco ifloor3 Cordless vacuum right now.
As an Amazon Associate I earn from qualifying purchases.