Vileda Turbo Microfibre Mop and Bucket Set Review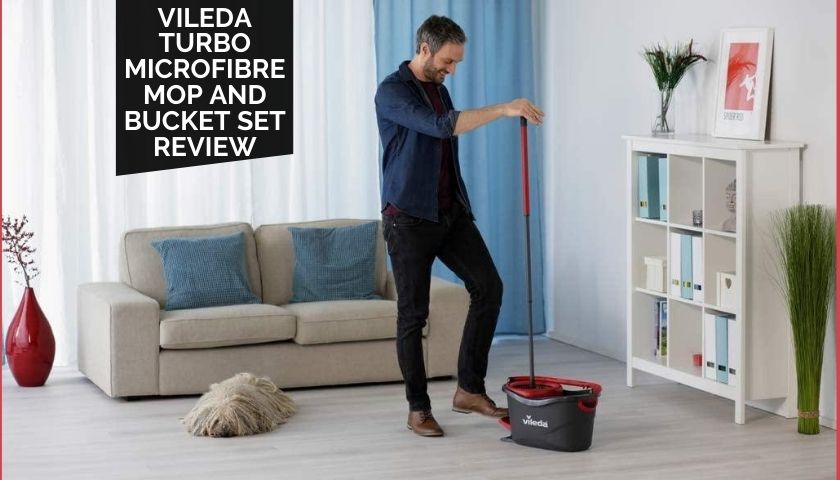 As an Amazon Associate I earn from qualifying purchases.
With tons of features for a simple household product, the Vileda Turbo Microfibre Mop and Bucket Set is an essential cleaning tool for everyday use. We all use mops for any cleaning needs, whether it's a routine, a spill, or your pet leaving a mess. No matter the situation, we prefer a tool that can handle the cleaning with ease, while being effective at the same time.
When choosing a mop for your household cleaning needs, aspects like accessibility, durability, types, and other things matter. The Vileda Turbo Microfibre Mop and Bucket Set can fulfil your specification by offering a complete package. It is super easy to use, comfortable, effortless to clean after use and flexible in so many ways.
Vileda Turbo Microfibre Mop and Bucket Set Review
The best thing about the Vileda Turbo Microfibre Mop and Bucket Set is, that it comes as a complete package. You get the mop and the bucket as a whole, a combination of cleaning tools to solve all your cleaning and wiping needs.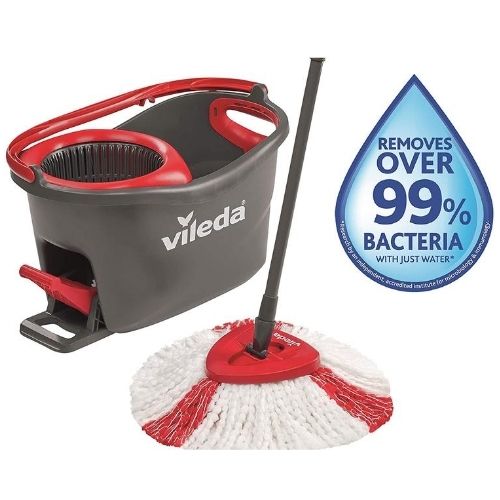 Technical Details
From the Renowned brand Vileda
1 Mop and Bucket set
Plastic material
1 kg in weight
5 x 27.9 x 27.4 cm in dimension
130 cm extendable mop handle
100 ml volume capacity
6 litres bucket capacity
1. Turbo 2 in 1 Microfibre Mop Head
This particular Vileda mop comes with a 2-in-1 microfibre solution. A combination of red and white microfibres makes it super easy to clean up any kind of dirt, grime, and particles. Especially the red microfibre picks up 20% more substances than conventional microfibre according to lab results.
You can also machine-wash the mop head after use to get it back as fresh as it was. Just remember not to use bleach or any kind of fabric softener.
The mop head is easily detachable and replaceable. So you don't have to worry about overused mops being ineffective or go buy a new set. Just replace the existing mop head and you'll be fine!
2. Removes Over 99% Bacteria with Just Water
Along with cleaning up the dirt, the microfibre mop head used in this product is efficient in removing bacteria as well. With just the help of water, you can actually wipe off 99% bacteria while cleaning with the Vileda mop.
You can always use other cleaning solutions like vinegar to make sure there are no germs and pathogens left. But with water as well, you'll get a hygienic clean, and healthy household.
3. Telescopic Mop Handle
It is one of the cool features of the Vileda Microfibre Mop. It has a telescopic handle that can be extended from 55 cm to a whole of 130 cm. This is extremely helpful for not just cleaning any range of areas but also storing the mop and bucket set without much hassle.
4. Triangular Shaped Mop Head
Its flexible and triangular-shaped mop head makes cleaning easy for any area, including the hard-to-reach areas or the corners of your house. Dirt can no longer sit in a corner untouched just because you couldn't pick it up, the Vileda mop gives up to no excuse.
5. Foot Pedal Operated Wringer
It is probably the most efficient feature of the Vileda Turbo Microfibre Mop and Bucket Set. The bucket has a pedal-operated wringer that is controlled by foot.
How to use it?
In order to use the mop for cleaning, first, you need to soak it with water. Fill the bucket with water to the MAX label, and submerge the mop head in it. Then place the mop head into the wringer, hold loosely, and press the foot pedal to spin the mop. You don't have to worry about splashing water, the wringer has a safety barrier around it.
Adjust the dampness you want according to the type of floor or surface you're cleaning by pressing the foot pedal properly. It is a highly convenient and effortless process; something we all consider while cleaning up the house.
When you wipe off the dirt and grime, clean the mop head to use it again by repeating the same process. Soak it in the water and wring it, the substances will fall off immediately and you can get back to cleaning the floor again.
6. Fast Cleaning
With the help of a flexible mop head and the spin wringer of the bucket, cleaning is super fast with the Vileda Turbo Microfibre Mop and Bucket Set. Integrated splash protection barrier and foot pedal wringing mechanism allows you to clean your floors swiftly and properly at the same time.
7. Easy Carry Handle
The bucket comes with an easy carry handle that greatly helps with moving through the house with ease. It also assists in balancing the bucket even if it's full of water, preventing unwanted spills as the result.
8. Front Pouring Spout
It is another one of the cool features of the Vileda Mop and Bucket Set. The bucket has an integrated spout placed in the front, making it easier to pour out water after cleaning. Emptying the bucket is effortless with the help of this front spout without accidental splashes or anything.
9. Ideal for All Types of Surfaces
The Vileda Turbo Microfibre Mop is versatile and can be used to clean all types of hard surfaces. The pedal-controlled wringing mechanism allows you to use the mop and bucket set on tile floors, wooden floors, laminate, or even linoleum. That's one solution to all kinds of cleaning problems for you!
Pros
Affordable
Easy to assemble
Extendable mop handle (55-130 cm) for convenient use
2 in 1 microfibre mop head that picks up 20% more dirt and grime
Flexible mop head for cleaning corners and under-furniture easily
Foot-operated easy wringer with a safety barrier to prevent splashing
Balanced carry handle for effortless manoeuvre
Integrated front spout for emptying the bucket
Detachable, machine washable, and replaceable mop head
Large bucket with 6 litres of capacity
Ideal for all surfaces
Premium quality
Cons
Frequently Asked Questions (FAQs)
Are Vileda mops good?
These mops are the perfect companion for cleaning your surfaces and window. You can use the basic technique to have the optimum cleaning. Also, the simple approach reduces the hassle while cleaning and offers amazing flexibility.
How do you dry a Vileda mop head?
You can just place the mop lay flat to dry off. There is no need to use any extra approach; just leave it to dry off in the natural air.
How often should you change the mop water?
You change the water every time the water looks dirty. Also, before you use the mop again, try to rinse the mop under runny water. Or else the dirt from the mop will make the water dirty again.
Does mopping actually clean?
Yes, mopping can give you effective cleaning if you are doing it right. But you have to ensure that the mop is clean before using it. If you are using a dirty mop, it will just move around the filth without cleaning the house.
Should I rinse the floor after mopping?
Yes, rinsing can give you the optimum cleaning. So, after using the mop to clean the floors, it's better to use hot water and rinse the floors thoroughly. Thus the floor won't seem greasy and won't accumulate any leftover dirt.
Final Words
The Vileda Turbo Microfibre Mop and Bucket Set is a highly accepted and proven cleaning tool. Customer satisfaction with this product is nearly 100%, making it essential for every household with a sense of cleaning.
We recommend going for this mop and bucket set if you're looking to keep your house clean and hygienic on a regular basis. Without any sweat and much effort, the Vileda Turbo Microfibre Mop and Bucket Set makes cleaning easy, comfortable, efficient, and last but not least, stylish!
As an Amazon Associate I earn from qualifying purchases.