How to Prepare Your House for Cleaning Service | Complete Guide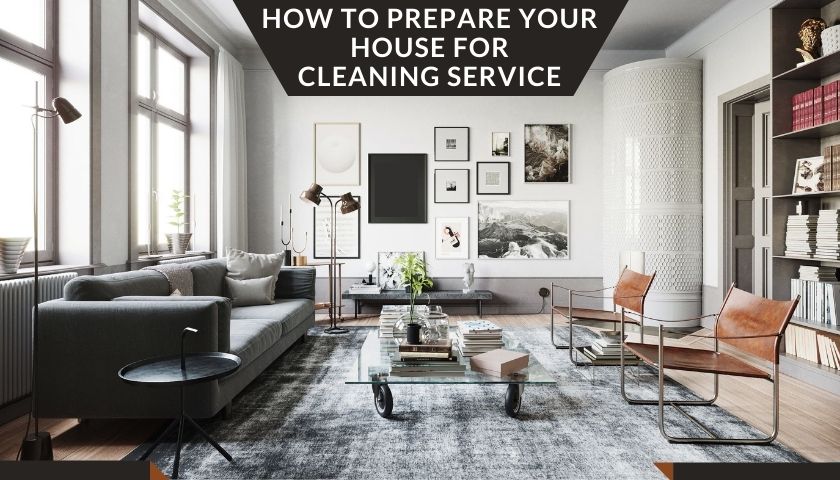 As an Amazon Associate I earn from qualifying purchases.
People who live busy life sometimes may need to hire a professional cleaning service. But before the cleaning services come, you need to prepare your house to achieve the best result.
Even you can hire or make a contract with expert cleaners coming into your home regularly to remove dirt and clutter and make sure that your house looks and smells refreshed continuously. But before you allow the professional cleaners do what they do the best, you need to make some preparation to make the most out of each cleaning service.
If you have not yet received a professional cleaner's service, you may not know how to prepare your house for them. This content will help you to organize your home before the expert cleaners arrive and let them focus on the cleaning chores with more attention. It will also help you to obtain the best output from the hired cleaners.
Effective tips to prepare your house for cleaning service
To make the cleaning task easy and get the highest result, you should do some little preparation. For example, work on a plan by which you can provide a clear direction to the cleaning services.
Here we have gathered some expert advice which can guide you to prepare your house before the hired cleaning service provider come.
1. Remove clutter
You need to provide a fair chance to the cleaning professional to get a satisfactory job. Simply put, it is your responsibility to remove clutter and ensure tidiness around your house so that there is nothing to interrupt the cleaning process.
Many people unnecessarily delay making the bed, leave dirty clothes on the floor or forget to put the shoes in the shoe rack simply because are in a hurry. They may have to reach the office on time or may have to drop kids to school.
Before they notice, the house is filled with things and starts growing cluttered. Maybe the clutter is from the newspaper that you have already read or from the cloth that you may not wear anymore. All these things can make your house look like a mess.
Though you can ask the cleaners to help you in de-cluttering before proceeding to mop or vacuum the surfaces, you should remove clutter yourself and organize things so that cleaners can spend the entire time cleaning rather than organizing your house.
2. Secure valuable things
First, hire your cleaning professional from a reputed, reliable, and well-organized agency where employees are insured and bonded. In the opposite perspective, if you leave lying around money and other valuable things, cleaners also do not feel comfortable working in your house.
Because, if there is any misplacement of your valuable things, maybe they are the first ones to get the blame.
If you are dealing with a new housemaid or going to take service from a cleaning professional for the first time, these kinds of problems can put both of you in an awkward situation. So, the better is, you should keep all the valuable things in a secure place before the cleaning team arrived.
3. Store safely your important papers
Obviously, your maid or hired cleaners do not know which papers are important and which are junk mail. When they are tidying up your house, they can mix all together, and the next is, you are in trouble.
Another mishap can happen, if you leave your important papers open, the breeze from the window or fans can blow them on the floor, and they can naturally consider them worthless pieces and throw them into the trash bin. Even accidentally, your most important papers can be vacuumed up.
So, before starting their cleaning work, organize your all files and important paper and keep them in a paper tray or under a paperweight so that they remain untouched.
4. Keep your kids and pets occupied
If your kids and pets running around and getting in the way, then it can be difficult to clean your house properly. If the cleaning services use heavy electrical appliances like a steam carpet cleaner, vacuum cleaner, or a heavyweight ladder, then it can be dangerous also.
You should be careful that your kids and pets cannot go near the cleaning tools. Better is you can occupy them in your bedroom or in the garden.
5. Take out fresh sheets
If you asked them to make your bed, get the fresh sheets out in advance. Make sure you put the clean linens in a visible place. They will not want to waste time looking for these sheets around the house.
6. Remove broken items
If there is any broken item or anything that needs repairing then remove those before the cleaning service arrives. The repair or broken item can embarrass you or accidentally blame the cleaning person for damage that they did not do.
You can also read: How to clean a house like a pro
What should be your attitude towards the cleaning services
When it comes to hiring a cleaning service, just as you expect they will provide you the best service, they also expect the utmost ease and good manners from you. Your cooperative attitude motivates them to give their best. Let's see how you should treat them.
Be friendly
Maybe the cleaning professionals are stranger to you, and they are providing services in exchange for money, but it doesn't mean they do not deserve your good behavior.
Remember, cleaning your property is only their profession. Each year plenty of news comes to light that how much a client can be inconsiderable to the cleaning professionals and how many times they are unnecessarily berating their services.
As a house owner, you should be friendly towards your cleaners so that they can do their job in a favorable environment and they can provide their services above and beyond your expectations.
Give clear instruction
A professional cleaner understands better their duties and responsibilities regarding house cleaning tasks. Still, besides this, they need your clear and concise instruction on what they should do and what should not. Every house and family is different from each other, and their requirement also.
You may have some instructions or rules that they have to follow. For example, you do not like someone entering your bedroom or study room without knocking.
Also, many house owners have some requirements; for example, some people request to use cleaning products only for their choice of supplies.
On the other hand, some are demanded to use only eco-friendly cleaning products. So, submit your all requirements and demands before cleaning professionals start their work.
Give them honest feedback
Whether the service is good or bad, your honest opinion is important for both cleaners and other clients. Your review will also help them to develop their skills or strive for consistency. If you like their service, then admire them with best wishes.
Trust me, next time you will get a more impressive performance as your good review will motivate them to do this.
Recommended post: House cleaning schedule for working moms
What should not expect from a house cleaner
If your expectation is little, then there is a good chance to fulfill it. This word applies to all cases. There are some specific duties that you cannot expect from a cleaning professional. For example,
Look after your children
Moving furniture
Washing outside the window
Feed your pets
Sort out recycling etc.
If you hire cleaners for deep cleaning purposes, you should offer some additional fees for these services.
Frequently Asked Questions (FAQs)
What is the first thing you should do when cleaning a house?
The first thing you should do is vacuum thoroughly. Vacuuming the floor before mopping will clear out all the loose dirt and make it easier to clean. After vacuuming, you can use your mop with clean hot water to wipe the floor.
How long should it take to clean a 3 bedroom house?
If you want to deep clean a 3 bedroom house, it might need at least 4 hours to clean everything thoroughly. But if the cleaner is not professional, it might take more time.
When cleaning a whole house where do I start?
When you are planning to clean the whole house, you have to start by cleaning the ceilings. Starting from the fan, clean the windows and high shelves. Afterward, you have to move to the lower areas. Do not forget to clean the furniture as the dust may fly around, making those dirty.
How long should it take to clean a bathroom?
If you maintain a regular cleaning, the bathroom won't take longer than half an hour to clean. However, if you do not ensure regular maintenance, cleaning everything may take more than an hour. You have to clean the tubs, toilet, and sinks properly to make sure of the deep cleaning.
Conclusion
Doing some simple and easy preparation before starting cleaning work by professionals can make more effective their effort. Your fruitful instructions will be very helpful for them, and they can easily meet your requirements.
So, prepare your house for cleaning service so that you can get the best service from your hired professionals and give your house a new shiny look.
As an Amazon Associate I earn from qualifying purchases.