9 Best Hardwood Floor Cleaners | Get Shiny Floor Every Time!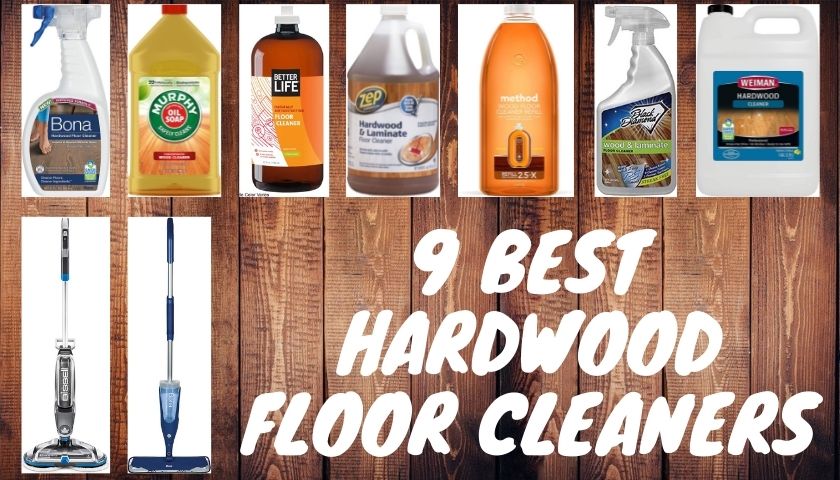 As an Amazon Associate I earn from qualifying purchases.
The hardwood floor is the most appealing addition to the modern home. There is nothing else to add natural beauty to your home. Moreover, it increases the timeless beauty of any other flooring. Many have confusion about hardwood's lasting periods but solid hardwood can last for a century if you take proper maintenance.
When you are cleaning the hardwood surface, you need to follow specific care requirements. Since hardwood can't handle excessive moisture and hazardous chemicals, you need to make sure of a gentle yet effective cleaning solution. Many cheap cleaners leave wax layers and make the floor cloudy and also lock moisture; in turn, the floor gets swell and warps. So you have to choose the right one wisely.
The hardwood floor needs regular cleaning. The best cleaner can take care of the floor and also improve its beauty and extends its life. To ensure your floor effective cleaning and natural shine, we have compiled the 9 best hardwood floor cleaners for you.
9 Best Hardwood Floor Cleaners Review
Randomly you can pick any cleaning solution from the market. But do they provide you the high-gloss cleaning? Are they eco-friendly? Well, you are not sure about all the product's effectiveness. That's why we bring the best cleaning solution for hardwood floors that cleans the dirt and leaves a spotless and shiny floor. We also focused on planet-safe products while researching.
Our top picks-At a glance
1. Best Overall: Bona Hardwood Floor Cleaner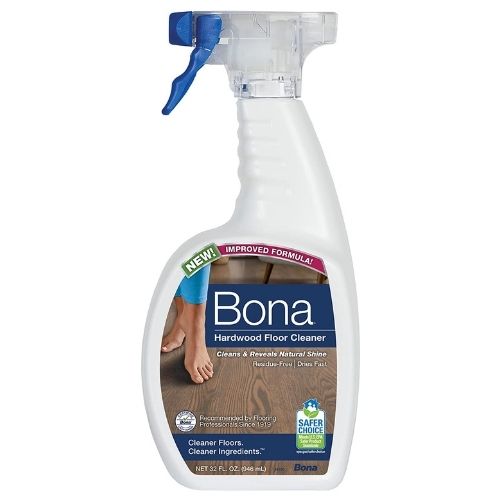 Bona is the all-rounder hardware floor cleaner that has been used for decades. If you are searching for a high-quality solution then Bona is the best cleaner. This brand is partnered with flooring professionals and produces advanced products for smooth and shiny cleaning.
Improved Formula
Bona is a water-based solution that gently cleans the floor. Whether you have unwaxed or polyurethane finished wood floors, the formula won't harm the polish or the floor. Moreover, you can use it on tiles, ceramic, and other hard floors. The solution is very effective to clean the dust, dirt, and grime so that your floor has a timeless shine.
Ready to use
The Bona solution comes in a 32 oz bottle with a handy spray. So it is super easy to clean with its handy bottle. Just spray the solution on the floor and mop. You will get a spotless and shiny floor. The fast-drying formula allows for drying of the floor in a few minutes. The cleaner is residue-free, so you don't need to wipe twice. The bottle is refillable — when the cleaner runs out, you can refill it and you don't need to buy a new bottle every time.
Safer Choice Certified
Bona cleaner is able to meet the U.S. EPA product standards, so it got the Safer Choice Certificate for its ingredients. We can say that the formula is safe for pets, kids, people, and also the planet. The pH-neutral formula protects from discoloration and doesn't damage the finish.
Pros
Effective cleaning formula ever.
Cleans dirt and sticky content easily.
No harmful chemical is included.
Safe for kids, pets, and people.
The fast-drying formula allows backing living on the floor.
Easy applying process.
Cons
Using the cleaner, some users see a cloudy look on the floor.
2. Best natural cleaning: Murphy Oil Soap Concentrated Wood Cleaner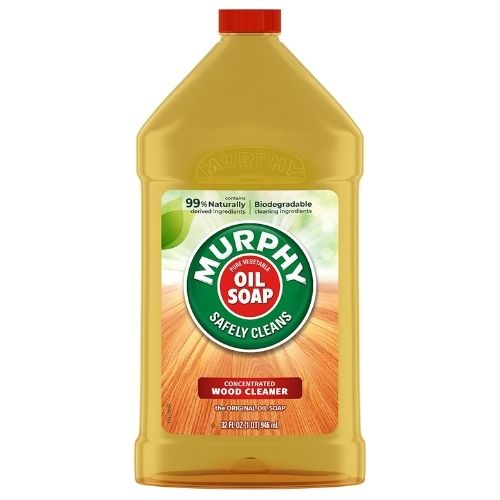 Murphy is the best natural oil soap to clean the hardwood floor. This one is the oldest wood cleaner that has been used for household use. Using an oil-based solution helps to keep your hardwood in a good position for a long-lasting time. In your finished wood floor, this cleaner maintains the natural shine and a fresh feel. You can apply it for deep cleansing on any special occasion or use it on a regular basis.
Natural Ingredients
Murphy oil clean soap includes 98% naturally originated ingredients to give a more natural cleaning. It has coconut, water, and plant-based cleaning elements and also a natural fragrance. Only 2% of synthetic materials but there is no bleach and ammonia formula. So it is safe for people and pets.
How to use
In one package, you will get three bottles of Murphy cleaner, each bottle contains  32 fluid ounces of liquids and you have a total of 96 oz. As for the price, the quantity is really great. To use the solution, you need to mix ¼ cup of Murphy oil soap in 1 gallon of water. If the floor needs heavy cleaning, then increase the portion and mix ½ cup with one gallon of water. There is no need for rinsing.
Versatility
Along with the finished wood surface, Murphy offers a beautiful cleaning on the non-wood surface like ceramic tile, linoleum kitchen, or marble floors. It cleans dirt, grime, and other stains efficiently. Moreover, the solution works great as a wood cleaner for finished tables, cabinets, doors, and wood paneling. Though you should not use it on the unfinished, unsealed, and wax wood floor.
Pros
Contains 98% natural ingredients.
Versatile usage.
Maintains long-lasting shine.
Very affordable price.
Offers a fresh feel.
Cons
The fragrance is not so pleasing.
3. Best Evergreen Cleaner: Better Life Floor Cleaner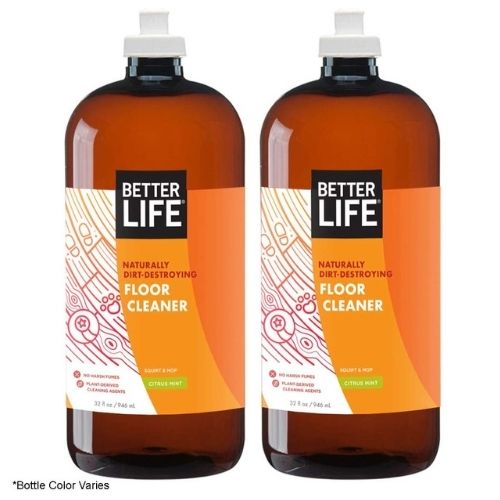 Better Life naturally dirt-destroying floor cleaner is the ultimate option if you are searching for 100% natural cleaner. This planet-safe natural cleaner effectively cleans the wood floor leaving a citrus mint scent. It can tackle the daily spills, dirt, grime, and other mess created by pets and kids. Actually, this cleaner is a true example of a safe and effective evergreen product. You don't have to compromise with harmful chemicals to get a fresh and clean floor.
100% Planet safe
Better Life cleaner contains a plant-based blend of soapbark and lemon. Soapbar is an evergreen tree in Chile. They take the bark extract. Besides, the cleaner has an original citrusy scent that extracts from orange and lemon peels and gives you a fresh feel. The natural cleaning solution is more powerful than chemicals and cleans three times better.
Easy to use
Better Life cleanser gently loses dirt and sticky grime with the least squirts. It has a ready-to-use formula. Spume the cleaner on the floor and mop with a water-rinsed rag. There is no requirement for mixing and rinsing. In this simple way, you will get a residue-free clean floor. This cleanser provides brilliant shine to any hardwood, bamboo, vinyl, laminate, stone, ceramic, tile, and even any kind of sealed floor.
It is very irritating to vacate the room for a longer time to dry it. But this time, you don't need to be as the cleaner dries quickly. This best floor cleaner doesn't have any synthetic fragrance, dye, petroleum, or other kinds of chemicals. Even the packaging of the product is recyclable.
Pros
Made with 100% pure natural ingredients.
No mixing and rinsing are required.
It dries quickly.
Recyclable package.
Pleasant citrus scent.
Cons
 Somewhat price is a bit costly.
4. Best for rich fragrance: Method Hardwood Floor Cleaner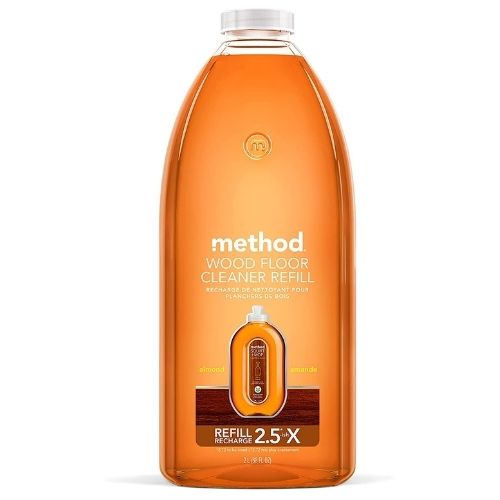 Method hardwood floor cleaner is the best choice for its rich and nutty fragrance. The cleaner is another eco-friendly product that has a rich almonds aroma — it is not overpowering though. If you want to reserve the floor cleaning for a special occasion or enjoy a luxurious feel daily then this is the right choice. At the same time, you will get a shiny floor with every swipe.
Plant-based ingredients
The cleaning solution is a blend of water, various organic solvents, coconut oil, and baking soda. The almond scents are collected from the real almond extract. There is no hazardous chemical used. This biodegradable product is able to remove any stickiness or dust. The best usage of the non-toxic cleaner on the laminated and sealed floor.
Application
Like the above best cleaners, Method hardwood floor cleaner is super easy to utilize. The bottle has an ergonomic style nozzle spray that can cover the maximum floor in fewer sweeps. Squirt on floors, mop, and enjoy the shine of a gleaming cleaning. You don't need to dilute the floor after use. The cleaner has 68 oz liquid in a pack and the refill system is available 2.72 times.
Method cleaner doesn't leave any cloudy effect or wax, so you can get a clear apparent floor. This is the easiest way to replace your current floor cleaner. It is convenient to use but takes a bit more time to dry. Moreover, it is affordable, it won't hurt your wallet.
Pros
Contains plant-based formula.
Affordable price.
Amazing almond smell.
Non-toxic cleaner.
Convenient to use.
Cons
May leave a wax layer after long usage.
5. Best for heavy-duty cleaning: Zep 1041692 Hardwood and Laminate Cleaner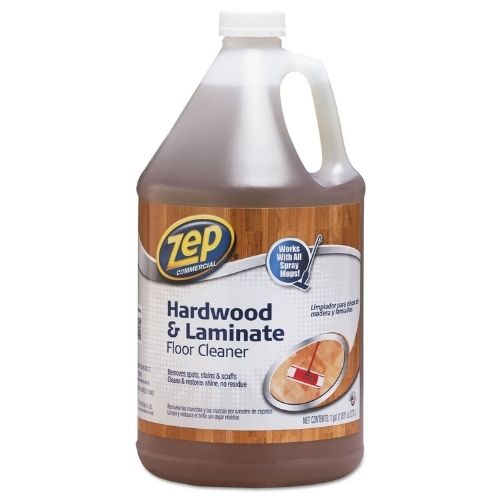 Zep is a heavy-duty cleaner usually used to restore hardwood floors. The special formula offers professional-grade cleaning. You can apply the cleaner on varnish, polyurethane-finished, acrylic, baseboards, and laminated floor. Also, suitable for cabinet, paneling, or other wood furniture. The cleanser gently wipes out dirt and dust without harming the finish of the wood surface.
Professional-grade Cleaning
Zep is a budget-friendly cleaner and comes in a value-sized gallon. It can dissolve grime and sticky spots. This is ready to use a formula that can be used with a spray mop, microfiber cleaning cloth, or cleaning pad. Don't oversaturate the cleaning cloth or mop as extra moisture can end up a streaky finish. The lemon scent is not overpowering, simply gives a fresh touch.
Zep is a one-step cleaning solution, you don't need to rinse after mopping. One mop will be enough to get back the shine. Moreover, the cleaner is designed for high-traffic commercial spaces, so imagine the effectiveness. With one gallon of solution, it will take a long time.
Pros
Powerful hardwood cleaner.
Provides professional-grade cleaning.
Budget-friendly product.
Can be used on most wood or laminated floors.
One-step formula.
Pleasing lemon scent.
Cons
May leaves streaky lines after dries.
6. Best for regular usage: Weiman Hardwood Floor Cleaner
Weiman is one of the oldest leading brands for wood care products. Its hardwood floor cleaner is one of the best and high-quality floor cleaners that imparts a high-gloss finish after every cleaning. The cleaner helps to rejuvenate the floor with natural shine and extends the wood's beautiful appearance.
Restore wood surface
If your hardwood floor gets aged and loses its shine then you must give a try to the Weimar cleaner. You can bring about brand new shine using the cleanser. The cleaner features micro-filling technology that helps to face the previous scratches on the wood floor and prevent new ones from being visible. This is eligible for any type of hardwood like oak, maple, cherry, pine, walnut, ash, and so on.
Safe materials
Weiman cleaner is a water-based solution that includes plant-based surfactant and cleaning agents, sodium lauryl sulfate, and a sugar-based anti-streaking agent. So kids and pets get in touch with the floor after using it. It is a pH-neutral formula. The cleaner is also safe to apply on any finished hardwood, laminate, and vinyl floors. But there is a caution for waxed, unfinished, and unsealed wood floors.
High-gloss finish
This ready-to-use product prevents greasy messes, dirt, and grime from leaving a polished look. First vacuum the area, then pour a generous amount of Weiman cleaner and wipe with a damp mop. It simply gives the shine without streaks and residue. Further, the citrus scent of the cleaner is impressive, and not an overpowering smell.
Pros
Offers glossy shine to any hardwood surface.
pH-neutral formula.
Doesn't leave any residue and streaks.
Fads previous scratches and prevent new ones.
Safe for pets and kids.
Cons
Some users find it sticky.
Doesn't clean well stubborn debris.
7. Best value for money: Black Diamond Stoneworks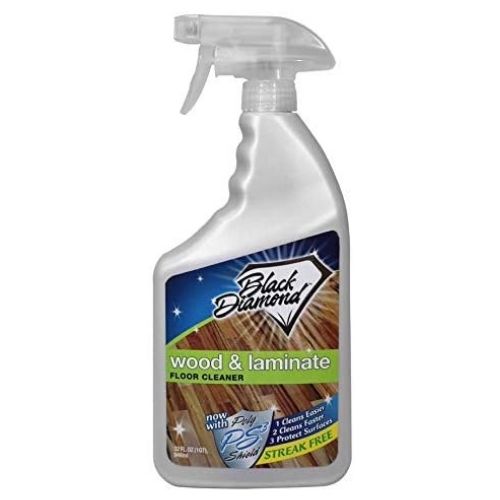 Black Diamond Stoneworks Hardwood Floor cleaner provides excellent cleansing to real wood floors and also engineered laminated wood floors. It is an impressive performance at such a price and makes sure — there will be no streaks and dulling residue behind. This is suitable for all types of wood, including cork, bamboo, Armstrong, Pergo, and so on. You can apply it on stone tile, ceramic, sealed, and laminated floors.
Triple-action poly shield
Black Diamond floor cleaner contains revolutionary additive PS3 formula that means triple-action poly shield. This formula makes the floor speckless and prevents further soil attachment to the surface. So your floor will be protected and resist further damage using the product.
The cleaner is a non-toxic and water-based solvent. You can maneuver the eco-friendly and biodegradable cleaner where pets and kids walk around.
Streak-free clean
Many floor cleaners don't make the bold promise of a streak-free clean. But Black Diamond make sure, you get a streak-free surface after using it. But you must maintain the instruction. You need to broom the floor thoroughly to remove debris, then spray the cleaning solution and wipe it with a damp mop. Let it dry for 10-15 minutes; don't need to rinse. Thus, you will get a shiny look and a streak-free floor. This convenient cleaning saves both your money and time. A small one goes a long period.
Pros
Advanced PS3 formula.
Resist further soil attaching.
Non-toxic formula.
Dries quickly.
Convenient to utilize.
Can be used on any type of hardwood floor.
Cons
Not ideal to clean the heavy mess.
8. Best for convenient mopping

:

Bissell SpinWave Cordless Hard Floor Expert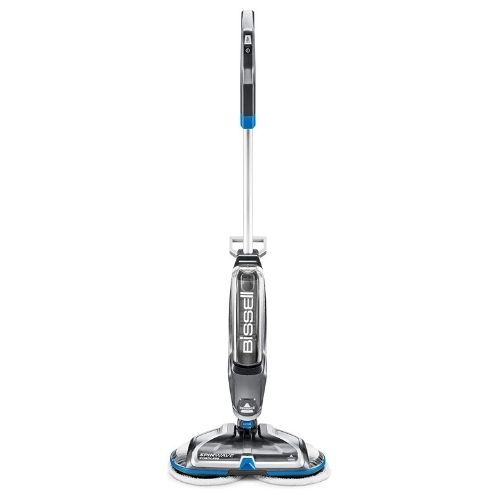 Cleaning solutions greatly shine your floor and they are quite easy though. But if you want to splurge on the most convenient way to clean floors then you must go with a powered floor cleaner and the best one is Bissell SpinWave Cordless hard floor expert. This is the easiest and quick way to take care of your hardwood floor. You can navigate the mop on any floor surface including laminated and finished hardwood.
Convenient Mopping Expert
Whether you are using a cleaning solution or homemade cleanser, you have to get down on your hands and knees to scrub the floor. On the contrary, the Bissell SpinWave mop will efficiently clean the floor without breaking your back.
This is a great device to tackle tough messes caused by pets and kids. To handle everyday cleaning, this mop system is proven effective. There is an 18V lithium-ion battery that makes the device cordless and you can maneuver it more easily for up to 20 minutes.
Versatile
Bissell SpinWave is safe for any sealed hard floors, including sealed wood floors, laminated, tile, rubber floor mats, linoleum, and more. It provides the floor with a refreshing look with natural shine. You can easily move around the machine as the machine is lightweight. Besides, it is enough powerful to remove tough stains without having powerful noise.
Design
In the package, you will get 4 soft pads, two scrubby pads, and three trial-size cleaning formulas. The pads are washable and easily can be attached with specially engineered swivel steering. The machine provides powerful spinning that removes stubborn debris and sticky dirt from the floor. However, you can control the solution spray with the spray trigger and make effective cleaning. It also takes less space to store.
Pros
The most convenient way to clean the floor.
Can be used on any type of sealed hard floor.
Powerful spinning pads effectively clean the everyday mess.
Cordless operation.
Trial-size cleaning solutions are included.
Lightweight and maneuverable.
Cons
It may is not ideal for a wide area.
9. Best budget-friendly mop: Bona Hardwood Floor Premium Spray Mop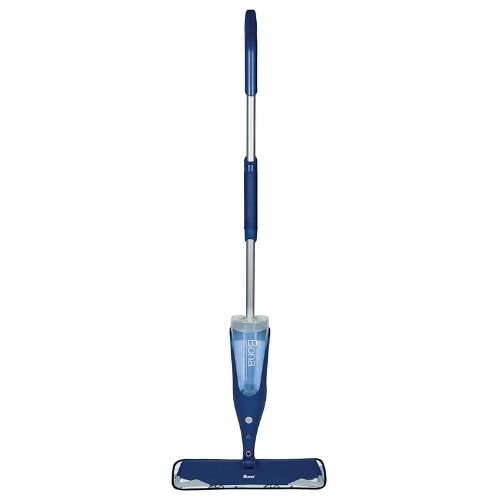 As we mentioned at our first pick, Bona is the most reliable cleaning solution and if you want to make the mop handy and effective, then the Bona hardwood premium spray mop is the greatest addition. Unlike the Bona cleaning solution, you can use the mop for all unwaxed, laminated, polyurethane, and finished wood floors. The mop ensures only fine cleaning without any residue or streak.
All-In-One System
Bona premium spray mop is an affordable option offering an all-in-one system that you need to get a clean and shiny floor. It includes a high-quality spraying system with a microfiber cleaning pad that removes all dirt and spills from the floor. There is a trigger that dispenses a gentle amount of cleaning solution to clean the floor without oversaturating the mop which can cause damage.
Extra-large mop head
The device has a 40% larger cleaning head than its leading competitor. So it can cover a large area and you can finish your cleaning process faster. The moveable head is easy to maneuver under the furniture and the edges of the wall. Don't worry about furniture damage as the soft flexible corners will protect the furniture.
Easy to Use
The Bona premium mop is super easy to use. There is an economy-size refillable cartridge that is quite big to use for a long time. Being refillable, you don't need to buy a new one every time the cleaner will empty. Furthermore, you can tackle well the tough spills but the mop may need more pressure and the secondary grip provides excellent grip. The included mop can wash in the washing machine and can be washed up to 500 times.
Pros
Inexpensive price.
Fine Mist Spray.
Extra-large head.
Machine-washable pad.
Offers shiny and clean floor.
All-in-one system.
Cons
Some consumers complain about leaking.
Read next: How to clean a house professionally
What to consider before buying the best hardwood floor cleaner?
Hardwood floor cleaners are needed to be chosen wisely. Many facts you should consider; such as
Effectiveness
The major feature of a cleaning product is its effectiveness. If the cleaner doesn't remove dirt and spills, there is no means to buy it. So consider the effectiveness of a product. Also, make sure, the cleaner doesn't leave streaks, residues, wax, stickiness, or any cloudiness.
Ease usage
You need to choose the most convenient one. When maneuvering a product, it should gently clean the floor without heavy rubbing or scrubbing. The bottle should have a spraying nozzle to apply it thoroughly on the floor. Moreover, pick a no-rinsing solution for your wooden floor.
Versatility
Check out the versatility of the product and find out your floor type. Most hardwood cleansers are suitable for sealed and laminated floors. You can use these cleaners on any type of finished wood floor. You should not use a cleaner on the waxed or unfinished wood floor.
Non-toxic formula
The floor is a high-traffic area and kids, pets are always attached to it. You should definitely pick a non-toxic cleaning agent to clean the floor. Natural cleaning is great for this purpose. The scent can be irritating for someone, find out the scent before buying.
Allergic reaction
It is important to read the ingredients of the product. If you have any allergic problems, you should avoid those particular cleaners. You will get the information of ingredients on the label or on their own website.
Mop device
Mop devices are really convenient to work with. If it is a powered mop, then you will get a higher cleaning performance. Otherwise, you can skip the option, if you like to clean with your hands.
Price
Compare the price range with the quantity and effectiveness of the product. If you get high performance, then paying extra money will be worth it. But consider your budget while choosing.
Frequently Asked Questions (FAQ)
What is the best hardwood cleaning solution?
There are ample collections of hardwood cleaners on the market. But it is difficult to choose one of them. The best hardwood cleaning solution will give you spotless cleaning maintaining wood's natural beauty. You can try out our first pick Bona cleaning solution as the best hardwood cleaner.
What is the best thing to use to clean wood floors?
Wood floors are quite delicate in case of washing or rinsing. The extra moisture can damage the shine and wood durability. So you should pick no-rinsing cleaning for the wood floors. There are many homemade remedies to clean the wood floors, but the commercial products are very effective to get the desired cleaning and shine. To get a beautiful floor, spending some money is truly worthwhile.
Is Vinegar a good floor cleaner?
Vinegar is a powerful element as a cleaning product. You can clean floors with vinegar. But it is quite annoying to mix and rinse every cleaning time. Choosing the commercial cleaner is much more convenient.
How do I get my dull hardwood floors to shine again?
If you don't take care of your hardwood floor, it looks dull, and cloudy and a grimy layer will be visible. To get rid of the dullness, you can try out one of our top-picked cleaners. All of them are great to restore the floor's shine.
What is the best homemade cleaning solution?
Vinegar and water is the best homemade cleaning solution to clean hardwood floors. It is easy to make and apply on the floors.
Final Words
Getting a hardwood floor cleaner is very complicated as you need to take care of the shine and also the wood's longevity. The no-rinsing cleaning formula is the best way to get perfect cleaning. From our review, you will find the best hardwood floor cleaner. Our top picks are eligible to meet your desires. Some products are purely natural and all of them are non-toxic, which means human and pet safety. So you can choose without any hassle.
As an Amazon Associate I earn from qualifying purchases.