Should You Dust or Vacuum First When Cleaning | Which & Why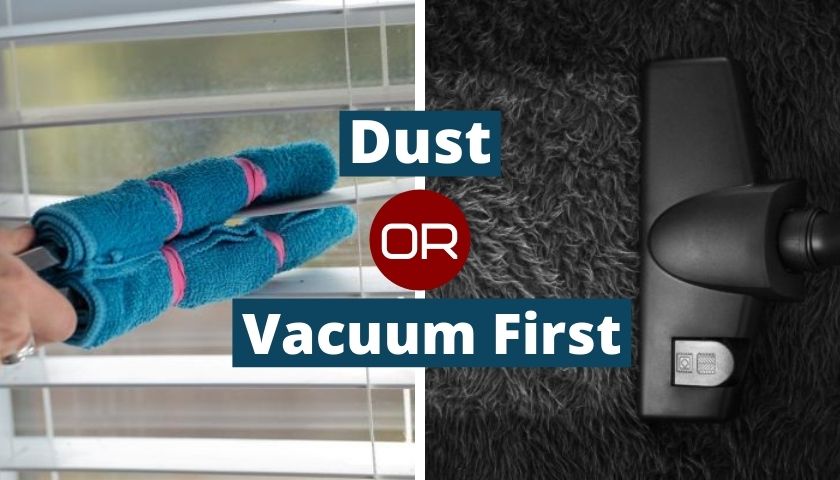 As an Amazon Associate I earn from qualifying purchases.
'Should you dust or vacuum first when cleaning' is one of the most asking questions regarding house cleaning. Maybe house cleaning is not a very tough job, but if you cannot perform it correctly, you may not clean your house as you want. There is no way to skip dusting and vacuuming to clean your home correctly. But which one should you do first?
In this article, we will discuss all necessary aspects of dusting and vacuuming and try to find out the answer to what should you do first-dusting or vacuum? We also discuss the best and appropriate process of dusting and vacuuming. To learn the exact method of making your house spotless, keep reading us.



What is dusting?
Dust can enter your house through every possible way, like windows, doors, and all other openings. It gradually makes a layer on every possible surface of the house. Though you cannot eliminate it completely, you can definitely reduce it if you can control the sources.
Dust sometimes becomes quite dangerous, especially for those people who have allergen or asthma problems. So, it is important to keep your house dust-free. Well, dusting is an easy household task. A duster or soft microfiber is enough for removing dust in most cases. Just wipe all surfaces with a duster and eliminate dust from your house.
What is vacuuming?
The vacuum cleaner is a very useful tool for household cleaning. There is plenty of model and variation of vacuum cleaner available in the market. An appropriate machine with correct suction power suck dust, debris, and other particles instantly and make your house clean and tidy. Vacuums can successfully clean from carpet to upholstery, floor to stair, and more.
Should you vacuum or dust first?
The best is you should always dust before vacuuming. Because, a vacuum is very useful to remove dust from your house, but it alone cannot remove all small dust particles from the surfaces like floor, upholstery, etc.
As we already said, dust can enter the house through any possible opening and make a layer on all the surfaces. If you do not dust regularly, then this layer becomes tough to remove using a vacuum. In that case, you just take a piece of a soft cloth and wipe down the dust layer from all the surfaces then the vacuum can do its job.
If the dust layer is thicker and becomes more stubborn, then you may have to wipe the surfaces multiple times to remove dust before using a vacuum.
After the vacuum, lots of dust you will find around the house. This time it will be tough to remove dust even you might need to vacuum one more time.
So, the correct order of house cleaning is dust first and then vacuum. Dusting will remove primary dust from all the surfaces. Vacuuming is a powerful cleaning process, so it will help you to remove the rest of the dust and particles from your house.



How to dusting like a pro
As we already said, dusting before vacuuming is always better. Well, there are some effective tips for dusting properly. Let us discuss it.
Dust the higher areas first
It is essential to clean higher areas like stairs, ceiling, table, bookshelf, etc. along with the floor to give a tidy look to your house. You should dust the higher areas first before cleaning the floor because if you are going to clean the higher area after sweeping or dusting the floor, then the dust might drop on the floor from these areas. And again, you have dusting all around.
Dust the floor
Once you complete dusting the higher areas, start dusting the floor carefully. Ensure eliminating all trash, hair both human and animal, broken particles, etc. To ensure proper vacuuming, you need to dust your house nicely.
Dust your home regularly
Dusting is not such a pretty job, isn't it? But without dusting, you never can keep your house clean. Even you should do it regularly. How often should you dust your home? It is quite a tough job to deep clean your house regularly. So, you can divide your dusting work into two categories.
Do some light dusting work every couple of weeks or more often if your house is prone to dusty. That means, dust frequently the primary areas like floors, surfaces, and other high traffic areas. If you are a working mom and don't have enough time for dusting your house daily, then this drake down will make your life easier. Make a daily and weekly working schedule for you and work on it.
Make a list of heavy dusting work and do it once every two to three months. For example, clean your ceiling fans, top of the furniture, etc. It is a good idea to make a seasonal cleaning plan like a spring cleaning checklist to keep your house clean throughout the year.
Use proper dusting tools
Proper dusting tools will help you do your cleaning work faster and with minimum effort. There are some essential dusting tools you must have-
Cleaning gloves
Microfiber cloth
Cleaning duster
Various sizes brushes
Broom
Dustpan
Read next: Why does my bedroom get so dusty
How to vacuum like a pro
After dusting your house correctly, you need to vacuum it. Vacuuming is a huge deal, and you should also keep patience and be careful whenever you will do it. If you can do it properly, your house will look much better than before.
Vacuum higher areas
Just like dusting, it is essential to vacuum higher areas at first. Use the extender hose attachment and start vacuuming the higher areas of your house. Clean it first, your walls, windows, furniture, table, and more.
Vacuum the floor
Again, like dusting, vacuum the floor after cleaning the higher areas. Vacuum all the floor carefully along with the corners. Vacuuming floors will be easy if you can do all other cleaning jobs accurately.
Clean pet hair carefully
If you have a pet, then you should be more careful to clean pet hair. All vacuum cannot effectively remove pet hair. But you don't have to worry about it; there are many vacuum cleaner available in the market which is specially designed for removing pet hair. Sometimes long pet hair can get wrapped with a vacuum brush and reduce the cleaning effort. So, do not forget to clean your vacuum cleaner and remove hair blockage regularly.
Read next: Best vacuum cleaner for pet hair
Clean vacuum filter regularly
Most of the vacuum cleaner comes with a filter for better cleaning. You have to be careful to keep clean this filter because, without a clean filter, your vacuum cannot work correctly. Usually, the manual contains the guideline on how to use a vacuum and also how to clean the filter. So, follow the instruction and clean the vacuum filter.
Run vacuum systematically
Many people do not know the actual use or approach of the vacuum cleaner. They just simply move with vacuum here and there and leave incomplete their house cleaning work. To properly clean, start from one side of the floor and run the machine in a straight line. Then turn 90 degrees and continue repeating.



Frequently Asked Questions (FAQ)
Question 1: Does vacuum cleaners effectively remove dust?
Answer: Yes, of course. Vacuum cleaners are very much useful in removing dust.
Question 2: How often should I vacuum my house?
Answer: Well, it depends only on your situation. If you have kids or a pet with long hair, you may need to vacuum your house every two or three days or even more frequently. On the other hand, if you are a working woman and there is no reason to get dirty in your house, you can vacuum it weekly.
Question 3: Should I sweep the floor before vacuum?
Answer: It is not mandatory, but you can sweep the floor before vacuuming to remove trash and other particles.
Question 4: What should I use for better dusting?
Answer: A microfiber cloth is the best thing for better dusting your furniture.
Question 5: How can I reduce dust in my house?
Answer: As we already said, dust enters your house through all the openings. So, you can try to reduce dust in your home by closing windows and doors.
Wrapping up
A clean house is essential for keeping you healthy and reduce your daily stresses. Even a clean home is also the best way to make you feel comfortable. Though house cleaning is an annoying job, if you can do it in the right order, it can reduce your efforts.
Dusting and vacuuming are the essential cleaning parts and must doing also. But as many people get confused should they dust or vacuum first when cleaning, the right cleaning order is dust first, then vacuum. It will be easy to clean your house and stay clean longer.
As an Amazon Associate I earn from qualifying purchases.