VacLife Handheld Vacuum Review | Best For Home & Car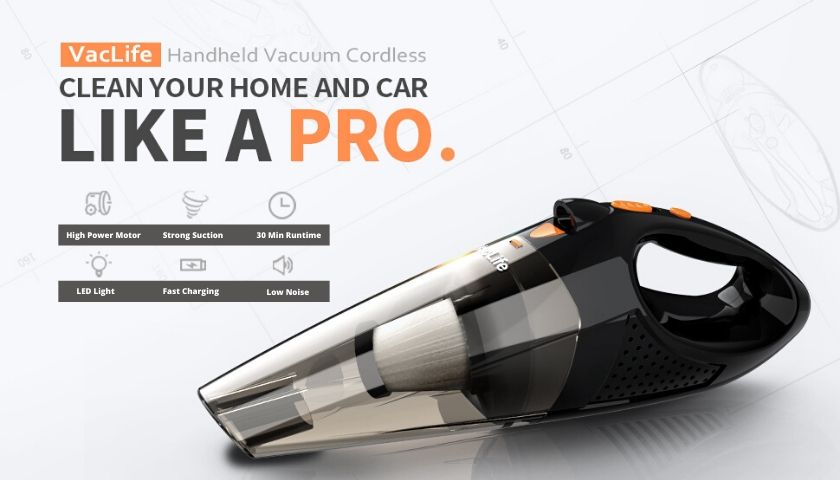 As an Amazon Associate I earn from qualifying purchases.
If you are looking for the best handheld vacuum for your house and car cleaning, the VacLife handheld vacuum is highly recommended for you. This fantastic tiny vertical-shaped device is quite lighter than the traditional vacuum. It is very simple and easy to handle. You can easily clean each hidden corner of your house and your car, where the traditional vacuum can never reach. It is also great to remove pet hair from carpets.
The modern design and attractive features make the vacuum one of the best cleaning tools. One vacuum will meet all your household cleaning requirements.
Specification
Design: Cord-free
Packaging Dimensions: 14.7 x 5.2 x 4.6 inches
Item Weight: 2.2 pounds
Battery Type: 3 Lithium-ion batteries required
Work Time: Up to 30 min with Full Energy
Wattage: 120W
Attachments: The dust brush tool and the crevice nozzle tool
Attractive functions and features of the VacLife handheld vacuum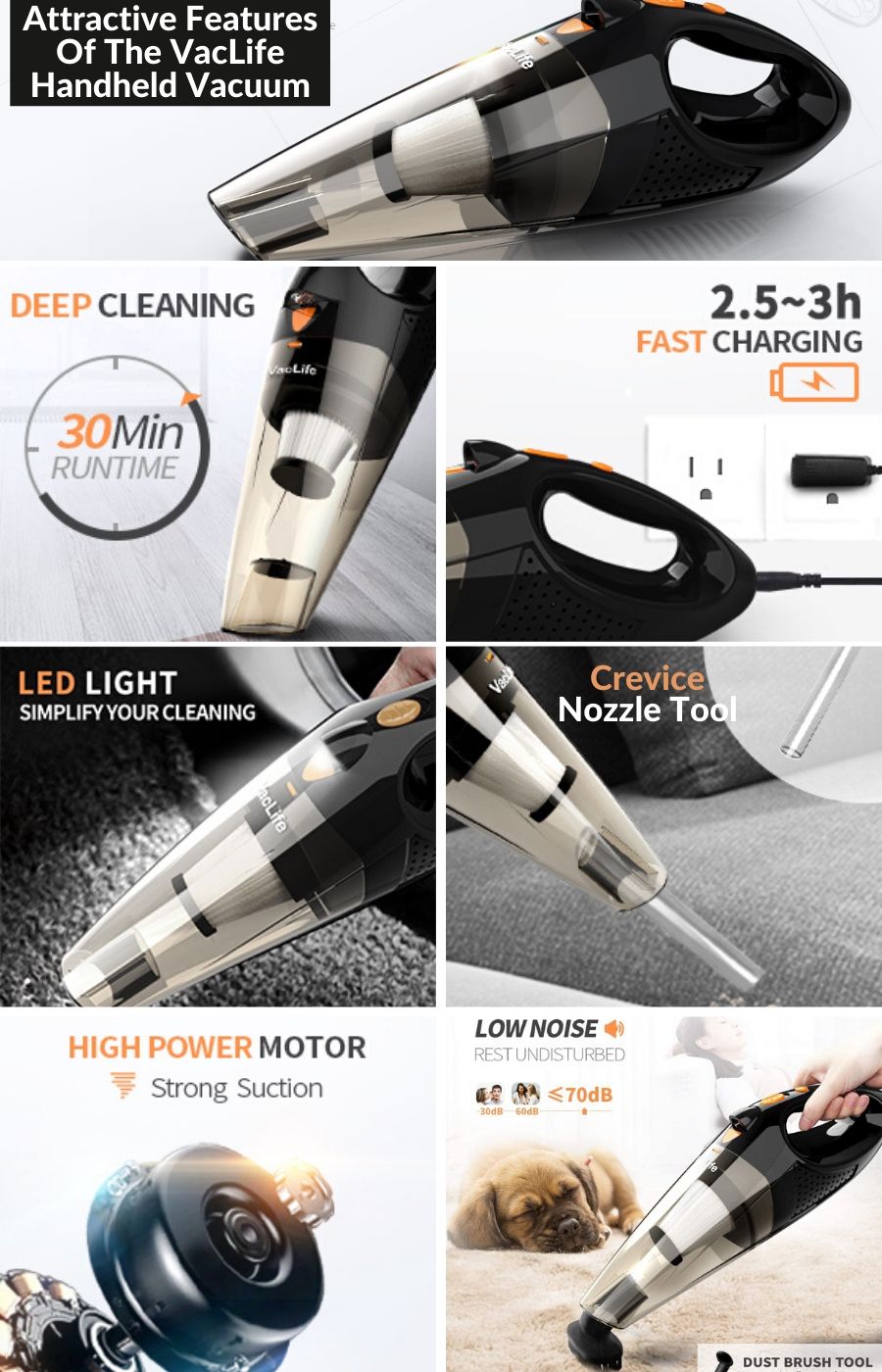 1. Modern and Comfortable design
The VacLife comes with a modern design with a stunning look. The vertical shape and cord-less design will make you comfortable when use. Usually, the traditional vacuums come with a long cord, which is quite irritating to handle.
This handheld vacuum is light in weight, and the cordless design will help you to move comfortably with it. You can use it in your kitchen, stairs, car, and any of the hard-to-reach areas.
2. Effective household cleaning
This handheld cordless vacuum is quite small than the regular vacuum. You can easily move with it all around. Under the bed, behind the sofa, keyboards, upholstery, or anything on your house can be dust-free. Even it can deeply clean your curtains, carpets, beddings, car seats, etc.
This portable vacuum can clean dust, debris, crumbs, and pet hair from carpets, also with an outstanding performance. The high-power motor will clean every corner of your house with very low noise. So, now you can use your baby's nap time in-house cleaning.
3. The fast charging mechanism
The fast charging mechanism of the vacuum is really admirable. It takes only 2 to 3.5 hours to get fully charged. When it is charged completely, the red light will be turned green. The run time is 30 minutes long. So, you can clean a lot of space and things from your house in one session.
4. Some incredible attachment
The VacLife handheld vacuum cleaner is equipped with two different attachments to provide you with deep cleaning of each corner of your house. The attachments are the dust brush too and the crevice nozzle tool. The dust brush tool can loosen dust, pet hair, food debris, cigarette ashes, and paper scraps easily, which are stuck on objects, floors, or carpets for better cleaning.
The crevice nozzle tool can clean crevices, sofas, or corners. As it can easily absorb dust from the nooks, this tool is great for the deep cleaning of your house and car.
5. Amazing LED light
This LED light is really a fantastic feature of this handheld vacuum. The bright LED light helps you to reach the dark corner of your house to clean. Make your cleaning work easier, turn on the light, and light up the dark place where you need to clean. Now you can run your cleaning work at night also. This portable handheld vacuum is an excellent item for house and car cleaning.
6. Wonderful customer support
As we already said, VacLife is a trendy and renowned brand of manufacturing vacuum. So, they are conscious of their customer demand. If you face any minimum problems with the VacLife handheld vacuum, just contact their customer care team. The VacLife customer care team will immediately meet up with your problem in the best way they can.
Pros
Modern design for effective cleaning
Cord-free and easy to carry
High power motor with strong suction
Fast charging. It takes only 2 to 3.5 hours to get a full charge
LED light to reach the dark place
Two different attachments ensure complete cleaning
30 minutes runtime
Low noise
Very lightweight
Cons
Not the best one for hair removing
Why you should buy the VacLife handheld vacuum cleaner
The VacLife handheld vacuum is a lightweight, small, and portable vacuum cleaner. This cordless vacuum comes with high suction power. So, you can easily clean your house and car. Even the attached tools will help to reach you reach every hardest corner of your home.
This rechargeable vacuum charges quickly. With very low noise, it will make the house dust-free. So buying this handheld vacuum will be a great decision indeed.
Essential tips for using VacLife handheld vacuum
If you are going to use a handheld vacuum for the first time, make sure that the vacuum moves in both directions. For example, go from east to west and then north to south.
Choose the right attachment. The dusting brush tool cannot work perfectly in a crevice. Same as the crevice tool cannot clean an open place as you want.
The filter is durable and washable. So, if needed, wash the filter by following the manufacturer-provided instruction.
And always avoid picking up any type of large debris because it can cause damage to your handheld vacuum.
Finally, after finishing your cleaning job, store it properly and carefully.
Frequently Asked Questions (FAQs)
What is VacLife Handheld Vacuum runtime?
Once the device is fully charged, you can use it for up to 20 minutes. So, you can easily vacuum all the necessary areas you need. As vacuuming does not take much time, the runtime is surely perfect to go.
Is VacLife Handheld Vacuum battery powered?
Yes, it is. It has a 2200 mAh lithium-ion battery. With the fast charging tech, you can charge it within the least time. Also, one charge can serve you for up to 20 minutes.
How do you empty a handheld vacuum?
You have to open the door and empty the contents. The cleaning process is very simple. But you might need to tap on the vacuum to make it entirely empty. Also, after you use it, make sure to use a brush to clean everything out.
Do handheld vacuums work?
They work great and offer incredible flexibility at the same time. Handheld vacuums are awesome for collecting all the small spills and debris around the house. So when you want something quick and handy; handheld vacuums can be of great help to you.
Final thought 
The most important benefit of the VacLife handheld vacuum is user relaxation. Yes, you will be very relaxed and comfortable with this cordless vacuum. This lightweight cleaner will help you to clean your house without getting tired. Though the manufacturer claims that the vacuum can clean pet hair completely. But still, there is some doubt. If you do not have much problem with pet hair, the VacLife handheld vacuum will undoubtedly be a great cleaner.
As an Amazon Associate I earn from qualifying purchases.