Karcher Window Vac WV 2 Plus Review | Best Window Cleaner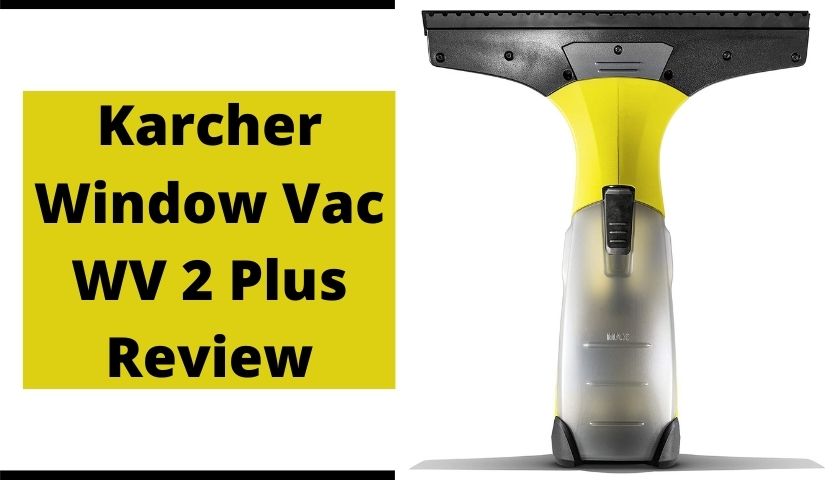 As an Amazon Associate I earn from qualifying purchases.
Cleaning the windows of your house certainly requires a delicate job. You can't just use any kind of tool to scrub the glasses and expect a good result. You need a cleaning tool specifically suited to do the job, while also being versatile in action. Because there are similar places and situations where a window cleaner can come in handy, in the following, we've decided to review one of the best window vac on the market.
The Karcher Window Vac WV 2 Plus is arguably the best window cleaner from the renowned brand Karcher. Along with cleaning windows, you can use it to clean the tiles, showers, mirrors, and even the car windows.
Karcher Window Vac WV 2 Plus Review
The Karcher Window Vac WV 2 Plus is incredibly versatile and convenient for everyday use. It has a number of useful features, making it the best window vac to consider. Find out the features in the following section.
Technical details of Karcher Window Vac WV 2 Plus
From the brand Karcher
599 g in weight
32 x 12 x 28 cm in dimension
280 mm vacuum nozzle width
100 ml of dirty water capacity
Metal and plastic material
Powered by 2 AA rechargeable batteries (Included)
240 volts
Battery charging time: 185 minutes
Battery running time: 35 minutes
Package containment: Karcher Window Vac WV 2 Plus, Spray Bottle, Microfibre Cleaning Head, Detergent Concentrate, In-built Lithium-Ion Battery, Charger
1. Lightweight and Quiet
This window vacuum from Karcher comes with an ergonomic design that weighs only 0.6 kg. It creates very low noise in operation, producing minimal disturbance possible. The noise level doesn't go louder than 53db to be specific. Because of its lightweight build and quiet potency, this Karcher window vacuum is hassle-free to use in cleaning.
2. Included Spray Bottle with a Microfibre Cleaning Head
The WV 2 Plus package includes a spray bottle that has a microfibre cleaning head. This standard spray bottle becomes different and efficient with the special cleaning head that's famed for its cleaning potential. Microfibre cloths can wipe off dirt and grime a lot more than regular cloth.
To sum up, it's a bottle that sprays cleaning solutions like detergent or disinfectants and also cleans up with an integrated microfibre front at the same time. How practical and convenient is that?
3. Comes with a Detergent Concentrate
While you are being dazed with a cool accessory like the spray bottle, know that it's not the least. The package also contains a 20ml detergent solution right out of the box.
You can use this detergent to clean your windows and glasses instantly. Just pour the solution into the spray bottle, apply it over the surface and wipe off with the microfibre cleaning head of the bottle. Afterward, vacuum the area with your WV 2 plus.
4. Detachable Suction Blade
The list of features is so long that we could come to the main tool only after sorting them down. The WV 2 Plus Window Vac is fairly easy to assemble and compact to use. It has a detachable suction blade that essentially works like a vacuum. Simply attach the suction head with WV 2 Plus to clean off the applied detergent, moisture, or even condensation of any kind.
You can also get different size suction blades to attach with the vacuum cleaner for different window sizes or glasses in your house.
5. Rechargeable Lithium-ion Battery
The WV 2 Plus Karcher Window Cleaner has 2 rechargeable batteries that last up to 35 minutes on a full charge. You can clean approximately 25 windows with one charge of your vac, completely hassle-free, and without having to worry about running out of juice. After use, just recharge the vac using the charging cable provided with the package.
6. LED Display
The integrated LED display indicates the remaining battery power while operating with the window cleaner. So you don't have to worry about the battery, the display will tell you when it's time to charge.
7. Easy-to-Empty Container
This window cleaner also has a 100ml dirty water container in its super compact build. The container is easy to empty after use, making it hygienic and comfortable to clean without any mess.
8. Ideal for All Smooth Surfaces
We saved the best for the last. While the WV 2 Plus is considerably the best product of Karcher for cleaning windows, it also provides cleaning for almost any type of surface. Especially for smooth surfaces, the vac can operate easily to take off dirt and grime, and wipe off spills of any kind.
Surfaces like tiles, mirrors, tabletops, worktops, or shower screens; this Karcher window vac can clean off with the application of its spray bottle and the suction nozzle combined.
Just remember to apply gently when you are cleaning fragile surfaces. The gentleness will not affect the effectiveness of cleaning because the product is created for such use. This all-round window vac will do it all for you.
Pros
Easy to assemble
Super easy to use
Lightweight design and compact build
Detachable and exchangeable suction nozzle
Comes with a spray bottle and a microfibre cleaning head
The microfibre cloth is washable and reusable
Includes detergent concentrate
Rechargeable batteries
The wireless function makes it easy to manoeuvre around
Easy to empty the dirty water container
LED display
Streak-free cleaning
Cons
Doesn't come with an extendable handle
Battery power can be insufficient sometimes
You can also read: How to clean windows without streaks
What detergent can I use in my Karcher Window Vac?
You can use any detergent or soapy water with your Karcher Window Vac. Karcher does provide a detergent concentrate with their box, but it's a small bottle and may run out with multiple uses. So as a substitute, we recommend using a cleaning agent produced of hot water and a couple of drops of washing detergent.
Since the vacuum tool will clean off any fluid, solution, and residuals; using detergents other than Karcher provided solution invites no problems whatsoever.
Frequently Asked Questions (FAQs)
Are Karcher Window Vacs good?
These are one of the best window vacuums that you will find. From the pricing to the quality, everything is top-notch. You will get a quick and effortless cleaning using the cleaner.
How long should a Karcher Window Vac last?
These vacuums serve for up to 35 minutes. With one charge, the lithium-ion battery can save you for longer than half an hour, isn't that great?
Do you put water in a Karcher Window Vac?
Yes, you have to fill the spray bottle with water. However, you have to mix the cleaner with the water and make a cleaning substance. Then use the mixture to clean the window with a microfibre cloth.
Can I use any detergent with Karcher Window Vac?
You can use any cleaning substance in your vacuum. So, yes, you can use any detergent in your vacuum cleaner, but you have to mix it with water.
Can you use a Karcher Window Vac horizontally?
Yes, you can. The vacuum cleaner is super flexible. As a result, you can easily move it around the areas, both vertically and horizontally. It also offers overhead cleaning.
Final Words
Judging from all of the unique features, adaptability, and usefulness for such a compact tool; The WV 2 Plus can easily be the best Karcher window vac. It is versatile in its operation but doesn't overlook the efficiency when it comes to cleaning. Because of the compact size and ergonomic design, storing is easy, and using is effortless all the way.
If you are searching for a tool that keeps your windows clean, your shower and worktops fresh, and takes care of unwanted spills or dirt, look no further. We recommend going for the Karcher Window Vac WV 2 Plus right away because it is the solution you're looking for.
As an Amazon Associate I earn from qualifying purchases.