Shark Cordless Upright Vacuum Cleaner [ICZ160UKT] Review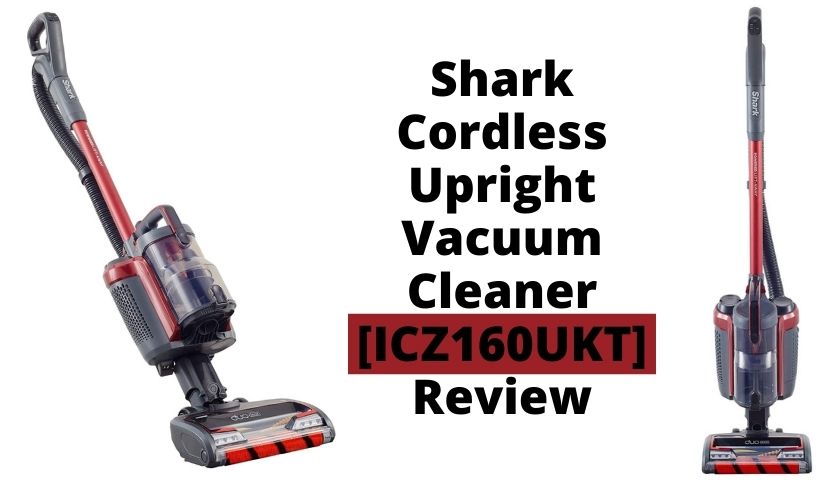 As an Amazon Associate I earn from qualifying purchases.
Did you ever vacuum and suddenly were pulled back because the cable came short? We all know how that feels, right? You're trying to reach the farther areas of your house to clean the floor and everything, but you just can't. You ran out of cords and now you have to find another place to plug the vacuum in.
Well, say goodbye to those annoying moments. Today we bring you the solution to easy vacuuming, the Shark Cordless Upright Vacuum Cleaner. It's a lot like the regular vacuums you see from the renowned cleaning brand Shark, except that it has no wires.
This cordless upright vacuum cleaner is portable and allows you to take your cleaning to wherever you need it to be.
Shark Cordless Upright Vacuum Cleaner [ICZ160UKT] Review
Shark Cordless Upright Vacuum Cleaner [ICZ160UKT] has tons of useful features for effortless cleaning and vacuuming. Not to mention its supreme convenience, it also comes with additional accessories that deal with any cleaning situation almost anywhere. Learn about the top features of Shark Cordless Upright Vacuum Cleaner in the following.
Technical Details
25 x 26 x 108 cm dimension
3 kg in weight
6L dust bin capacity
Hose length: 0.66 m standard, 1.46 m extended
Carpet and hard floor cleaning
2900 mAh Battery-powered
Battery charge time 3.5 hours
Run time up to 50 minutes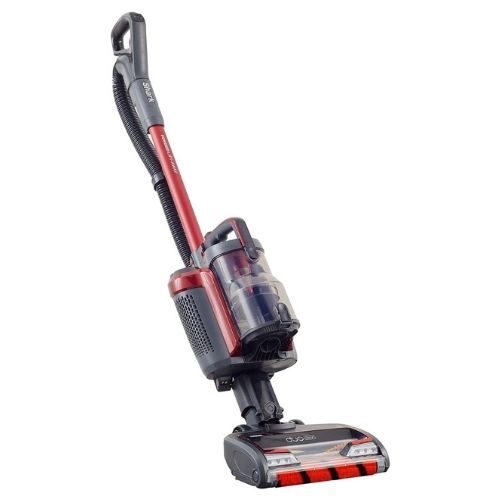 1. DuoClean Technology
This technology combines two brush rolls in one cleaning head for a super effective vacuuming action. With one motorised brush and one soft roller, it can simultaneously work on hard floors as well as on carpets.
It also allows you to work through floors in different rooms effortlessly so that you can clean the whole house without having to stop. Together they pick up even the smallest particles to large debris, leaving you a clean and fresh surface.
2. Anti Hair Wrap Technology
You will never have to worry about wrapped hair in your vacuums anymore! This cool feature actively takes off long, short, pet hair, or anything with ease. Don't get tired of dealing with tangled hair inside the brush head, just let this Shark Cordless Vacuum Cleaner do the job. It removes hair and puts it into the bin as you clean it at the same time, so you don't have to stop in the middle, ever.
3. Rechargeable Battery for Cordless Cleaning Freedom
Probably the best feature of the Shark Cordless Upright Vacuum Cleaner. This product is powered by a lithium-Ion battery that runs for up to 50 minutes in a single use. Yes, you can simply take the vacuum and use it around the house without worrying about the cable length or anything.
The battery takes around 3.5 hours to charge completely. It can be charged with or off the vacuum using an attached docking station, giving you complete convenience.
4. Anti-Allergen Complete Seal
If you have allergies or have pets in the house, or even if you don't have them, this feature is useful and healthy. It traps 99.9% of dust and debris inside the vacuum and prevents them from releasing into the air you breathe. So you don't have to deal with the dust you cleaned, just vacuum and forget about that.
5. Powered Lift-Away Technology
A common feature in Shark's best vacuum cleaners, the Powered Lift-Away Technology transforms your upright vacuum instantly into a handheld one. Yes, reading this bit doesn't nearly explain practically how beneficial it is. For cleaning under furniture, stairs, walls, ceilings, and everything, the lift-away feature gives you complete freedom.
You can simply detach the main unit from the vacuum head and make it even more portable than it already is. Add attachments to your all-around vacuum cleaner suitable for cleaning different surfaces.
6. Extendable Handle
Another useful feature of this vacuum cleaner is its extendable handle. It can be taken off the main unit, extended from its standard size, and attached with accessories provided by Shark. For example, you can attach the dusting brush and use its long hose to clean ceilings, drapes, under furniture, or other hard-to-reach areas with ease.
7. Operable Cleaning Controls for Different Surfaces
Shark Cordless Upright Vacuum Cleaner [ICZ160UKT] allows you to switch between two different modes, for hard floors and carpets both. It also has a Boost function where you can use more power for thorough cleaning.
8. Perfect for Pet Owners
This vacuum cleaner is specifically called a TruePet Model, which means it's super effective against pet hair. If you have pets in your house, you may already know how messy it gets. Pet hair can be health-damaging for you and your kids, especially if you have allergies of sorts.
This Shark Cordless Upright Vacuum is considered one of the best vacuum cleaners for pet hair on the market. With the included Anti Hair Wrap Pet Tool from Shark, you can easily clean pet hair and residues from carpets, sofas, car seats, and everything.
What We Like
Cordless functionality
Battery-powered cleaning
Replaceable and rechargeable batteries
Flexible and easy to manoeuvre around the house
DuoClean Technology
Anti Hair Wrap Technology
Anti-Allergen Complete Seal
Powered Lift-Away Technology
LED headlights
Ideal for hard floors and carpets
Switch between standard or boost cleaning
Ideal for pet owners
Useful accessories onboard for all types of surface cleaning
5 years manufacturer warranty
What we don't like
Can feel heavy sometimes
No tool storage onboard
Frequently Asked Questions (FAQs)
How long do Shark vacuums last?
You can easily use one for five to seven years if you maintain proper care. It is a very well-known brand for vacuum cleaners. Also, the affordability and longevity are very reputed.
Does Shark cordless battery last?
Yes, they offer a runtime of around 100 minutes. Depending on the settings that you are using, you can expect 50-100 minutes of runtime.
Are Shark vacuums reliable?
Shark vacuums are very reliable and people love them for their powerful cleaning. Also, they last for a very long time.
Can I leave my Shark cordless vacuum plugged in?
You have to leave the vacuum on the ION Charging Dock once you are done using it. The charging dock will charge it up until you use it again.
Read next: Shark cordless handheld vacuum cleaner wv251uk review
Final Words
Shark Cordless Upright Vacuum Cleaner [ICZ160UKT] is the name convenience and versatility strapped into one. Its battery-powered technology makes it portable and super easy to use while giving no excuse for the best cleaning possible. If you are in search of a vacuum cleaner for effortless and effective cleaning at the same time, this is the one you're looking for.
As an Amazon Associate I earn from qualifying purchases.