Shark AZ2002 Vertex DuoClean PowerFins Upright Vacuum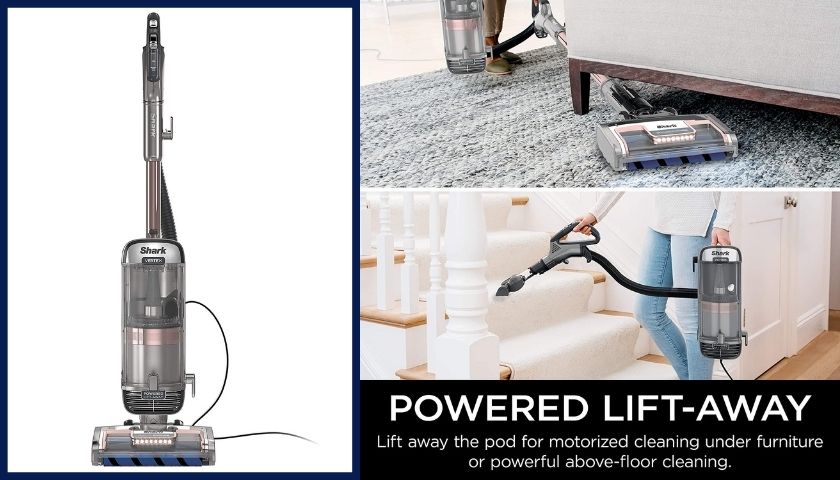 As an Amazon Associate I earn from qualifying purchases.
Are you looking for an all-round vacuum solution in the house that can do just about everything? If you have kids, pets, and carpets in your house, you know how they need extra care when it comes to cleaning. If you have regular cleaning jobs regarding floors, hardwood, carpet, or anything else, this is the product you're looking for.
Shark AZ2002 Vertex DuoClean PowerFins Upright Vacuum is one of the newest members of the Shark family. It's an upgraded version of its predecessor Shark AZ1002 Apex Upright Vacuum with DuoClean. And as with the latest version, the vacuum does come with cool features and new additions to the name.
Shark AZ2002 Vertex DuoClean PowerFins Upright Vacuum Review
Shark AZ2002 Vertex DuoClean PowerFins Upright Vacuum has a lot of features suited for every situation you could come against. Living up to the long product name, it comes with a variety of usability, convenience, and accessories. Below are some of the best features of the Shark Vertex Vacuum cleaner.
Technical Details
7 x 13.1 x 12.2 inches in dimension
4 pounds in weight
1344 wattage
8 amps
30 feet cord
Dust cup capacity 1 quart
12-inch cleaning path
5 feet hose length
Self-cleaning brushroll
DuoClean PowerFins
Washable HEPA filter
HyperVelocity suction technology
Powered Lift-Away technology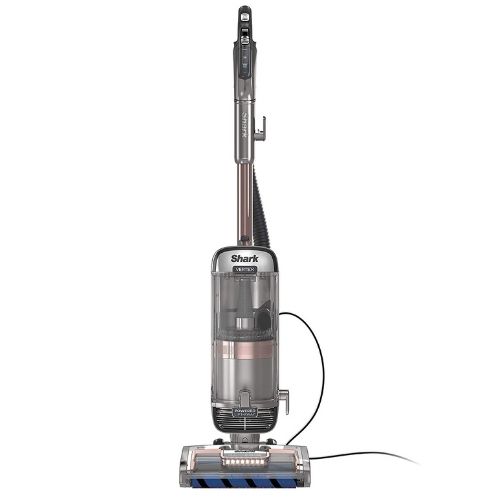 1. Powerful DuoClean PowerFins
The first thing worth mentioning about this vacuum is its power. It is no exaggeration to say that Shark AZ2002 is one of the most powerful vacuums on the market. With the help of DuoClean PowerFins and amazing suction power, it can pick up dust, dirt, the debris of any kind. Unlike traditional brushrolls, the PowerFins dual brushroll is soft and leaves a clean, polished surface upon cleaning.
2. HyperVelocity Suction Technology
Shark Vertex DuoClean PowerFins Vacuum comes with the HyperVelocity Suction Technology. This means it offers more accelerated and concentrated suction. It is in fact, Shark's most powerful vacuum that'll give you a strong and effective cleaning experience.
3. Self-Cleaning Brushroll
Whenever you're cleaning your floors and carpets, hair can get in your way and jam the vacuum. The PowerFinsbrushroll offers you a self-cleaning system where hairs go straight to the dust storage without hanging around the brush. You don't have to deal with unwanted hair covering your brush anymore, the fins will take care of that for you.
4. Powered Lift-Away
This is one of the most important features of Shark AZ2002 Vertex DuoClean Vacuum. This technology lets you separate the canister and use the vacuum for hard-to-reach areas. Above floor, under the furniture, stairs, and even walls can now be easily cleaned with the help of the lift-away system.
5. HEPA Filtration Technology
The HEPA or High-Efficiency Particulate Air filter in the Shark Vertex DuoClean Vacuum is another useful feature. It's a complete seal technology that keeps the dirt in the can after picking it up. The dust path and the storage are entirely sealed so that no debris can get out, ensuring a clean floor and carpet.
6. LED Headlights
Shark Vertex AZ2002 has LED headlights placed in front of the vacuum head. It's super convenient and points out even the slightest dirt and debris on the floor. Therefore, the headlights ensure you don't leave any spots uncleaned and leave behind dust of any kind while cleaning.
7. Large Dust Can
The included dust can on the vacuum has the capacity of 1 quart. It's quite sufficient and able to take care of multiple cleaning jobs in one go. You can do several vacuum needs and clean the canister afterward for reuse. But we recommend cleaning the can after every cleaning job to avoid hassle and possible odor or deterioration inside.
8. Operable 3-Surface Suction Level
Shark AZ2002 Vertex Vacuum comes with 3 different suction level systems you can operate within. It's a great feature that allows you to choose the perfect suction power suited to your need. The settings are for Carpet, Thick Carpet/Rug, and Hard Floor. Together, they provide an all-round solution to any kind of vacuuming needs on any surface.
9. Active-Glide Technology
Active-Glide technology allows you to use the vacuum with ease. It's a comparatively heavy vacuum that can make it harder to maneuver, and that's where the technology comes in. It ensures a smooth transition and easy moving, without affecting the suction power at all.
10. Accessories
We've saved the best for last. Shark AZ2002 Vertex DuoClean PowerFins Upright Vacuum comes with tons of incredibly useful accessories that cover all of your cleaning needs. Carpets, rugs, floors, corners, under the furniture, walls, above floors, stairs, and literally anything can be cleaned using the additional tools they provide.
5 feet hose: For places above floors and other parts of your house, this vacuum comes with a 5.5 feet long hose that can reach distant surfaces. With the lift-away system and the hose, you can easily clean ceilings, drapes, frames, or other hard-to-reach areas.
Dusting brush: The small dusting brush is ideal for picking up dirt and dust in narrow spaces.
Crevice tool: The 12-inch crevice tool is super convenient in reaching corners and tight spaces for effective cleaning. You can use this to clean pet hair and residuals in seemingly difficult places and leave no stones unturned.
Self-cleaning pet power brush: The pet power brush is similar to the included PowerFins and does the job for a more delicate situation. Just like the PowerFins, pet hair doesn't get wrapped up in the brush and gets cleaned up instantly.
Pros
DuoClean PowerFins
Powerful suction with HyperVelocity Suction Technology
Powered lift-away
Self-cleaning brushroll
HEPA Filtration Technology
LED headlights
3 different suction level
Most effective for pet hair removal
Picks up all kinds of dust including large or small debris
Extended reach with a long hose
Ideal for all types of floor surfaces and carpets
Cons
One of the most expensive Shark vacuums
Can be difficult to maneuver sometimes due to heavy-weight
Frequently Asked Questions (FAQs)
What does vertex mean in a vacuum?
Vertex means you can lift away the structured pod for cleaning under furniture. Also, you can use it in a handheld way.
How good is the Shark Vertex?
It is a very powerful cleaner for deep cleaning. It has an anti-allergy HEPA filter, so you can understand its power. Also, it has strong suction and a self-cleaning brush to add up to the strength.
Is the Shark Vertex good on high pile carpet?
Yes, not only good, it is most probably one of the best vacuums for high pile carpets. It deals with the debris very efficiently, even on high pile carpets. Besides, you can also remove pet hair using this vacuum cleaner.
Does Shark Vertex have a HEPA filter?
Yes, it has a HEPA Filter that offers deep cleaning and even removes the pet hair. However, although it comes with a HEPA filter, you can easily clean it.
Read next: Best vacuum cleaner for pet hair
Final Words
Shark AZ2002 Vertex DuoClean PowerFins Upright vacuum can take care of any cleaning needs when it comes to surfaces. It is ideal for all types of floors, carpets, ceilings, stairs, under the furniture, you name it. With the powerful suction, newest technologies, and tons of accessories; you don't have to worry about dust, dirt, pet hair, or debris anymore. The Shark Vertex DuoClean PowerFins vacuum can take care of it all.
As an Amazon Associate I earn from qualifying purchases.