Shark Cordless Handheld Vacuum Cleaner WV251UK Review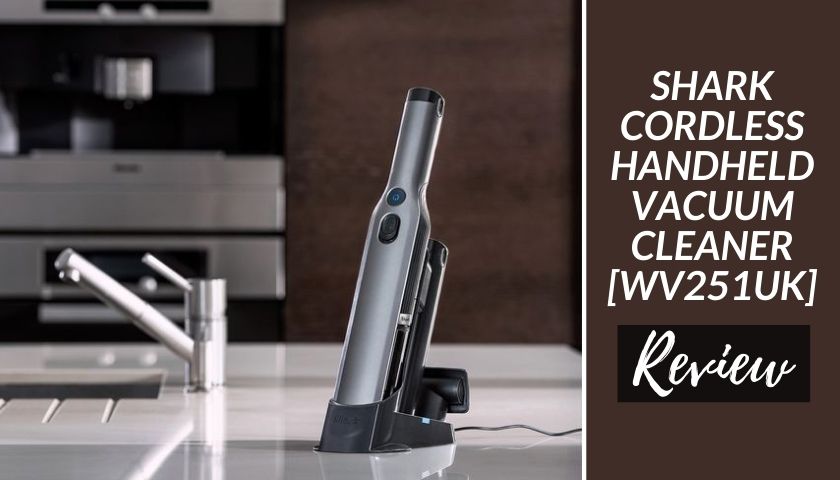 As an Amazon Associate I earn from qualifying purchases.
Shark is a popular brand for manufacturing the best models of vacuum, and the Shark Cordless handheld vacuum is an incredible addition to this list. Shark has proven that they are such a brand that listens to its customer's demand, and by taking it seriously, they try to improve each model released.
Among the various types of vacuum, if you prefer to use a handheld model, then the Shark WV251 UK will definitely attract you the most. Yes, this cordless handheld vacuum contains all those features that you are looking for in your next vacuum. With a sleek, eye-catching design, the vacuum comes with strong suction power, best performance, smooth manoeuvrability, and much more. This sensational handheld vacuum will undoubtedly amaze you in each use, and you will enjoy your cleaning work the most.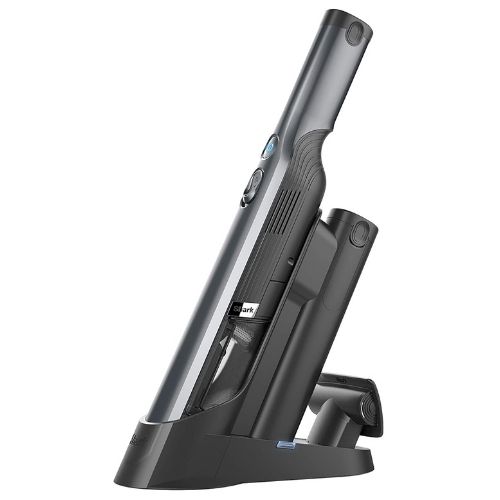 Presenting the Shark WV251UK Review
If you look for a lightweight vacuum cleaner that is able to clean smaller messes and is gentle on the wrist, then the Shark WV251UK is a great choice for you. It is a cordless handheld vacuum with a traditional sense and a complete package of plenty of features, many more offers, and a new powerful suction level.
There is one important thing to consider, as it is a handheld vacuum, you can't expect battery life like other traditional vacuum cleaners and huge bin capacity. Well, don't be upset; there are many more eye-catching features and functions to fulfil your entire requirements.
Specification
Product dimension– 22 X 9.5 X 38.5 cm
Item weight– 0.6 kilograms
Batteries– Twin batteries
Special features– Cordless
Package includes– One Wand vac, two Lithium-ion Battery, one Crevice Tool (with Moustache Brush) 1 x Pet Multi-Tool 1 x Charging Base 1 x Charging Plug
1. Sleek design and attractive features
Portability is one of the essential factors to consider in the entire design of a vacuum. It is an incredibly modern and slim design vacuum that weighs only .6 kilograms. The charging station amazingly keeps all other accessories together in a compact line along with the vacuum cleaner. The charging cable is 1.2m long, so it can give an adequate length for charging anywhere.
The nozzle of the vacuum is wide enough to compare to other handhelds. The angled shape and better airflow ensure the more accurate cleaning of your house. The battery is placed near the handle; as a result, it is very comfortable to use this vacuum. The compact size of the vacuum can easily be stored anywhere in your house or even in the kitchen cabinet.
2. Weight and handling
It is an extremely lightweight vacuum, and you will love to handle it. Now you can easily reach the ceiling to clean cobwebs without any stress. Your wrist will not feel any strain at all.
Even if you have any previous wrist injury or arthritis problem, you can also easily handle it, and is definitely a great choice for you.
3. Charging and run time
The Shark WV251UK takes only 2.5 hours to get charged fully. This twin battery version will allow you to work with it for 16 minutes. The power light will turn into solid blue from fade/light blue when it is fully charged. If the vacuum runs out of charge, the power light will start flashing to indicate the low battery. This is really an amazing feature.
4. Filter and the dust canister
Its dust canister is slightly smaller than other handheld vacuums. You may have to empty this dust cup regularly. But you don't need to worry at all, and the vacuum comes with an easy to empty mechanism. You just have to hold the vacuum over the garbage bin and press the release button. The dust cup will empty instantly.
Another logical reason to call a shark WV251UK the best handheld vacuum is its washable HEPA filter. If any of your family members have allergies or asthma, this feature is essential for you.
5. The performance quality
We include Shark WV251UK in the best cordless handheld vacuum list because of its extremely powerful suction. Its suction power is really impressive on a hard floor. It can efficiently pick fine debris, crumb, and chunky also. Even it is quite a good handheld vacuum for pet hair.
Shark cordless handheld vacuum has shown good performance in cleaning carpets and the difficult corners of the house. If you have stairs in your house, don't worry, it will also clean them for you.
It can easily suck dry food spills and crumb from your kitchen countertop and table to let you clean your kitchen effortlessly.
6. Removing pet hair
Like another cordless handheld vacuum for pet hair, this vacuum does not have any rotating brush. But it has a short brush on the top and bottom that can effectively stick hair and remove it. It can lift fur from the carpet, furniture, and bed also. Even it can remove pet hair from the hard floor effortlessly.
7. Accessories
The most important accessories of the Shark WV251UK are the multi-surface pet tool which looks almost upholstery tool. This tool works amazingly on furniture and car interior. For deep cleaning, the vacuum has a crevice tool and a dusting brush also. This crevice tool and pet tool allow you to clean from sofa cushions to dusting shelves and blinds. Overall you can do a versatile cleaning in each part of your house with this cordless handheld vacuum.
Pros
Outstanding suction
Sleek design and extremely lightweight
Effective in removing pet hair
Easy to clean home, stairs, upholstery, and car
Easy charging dock and manoeuvrable
Charge time is only 2.5 hours
Cons
Small dust cup
A little bit pricy
Difference between the Shark WV251UK and Shark WV200UK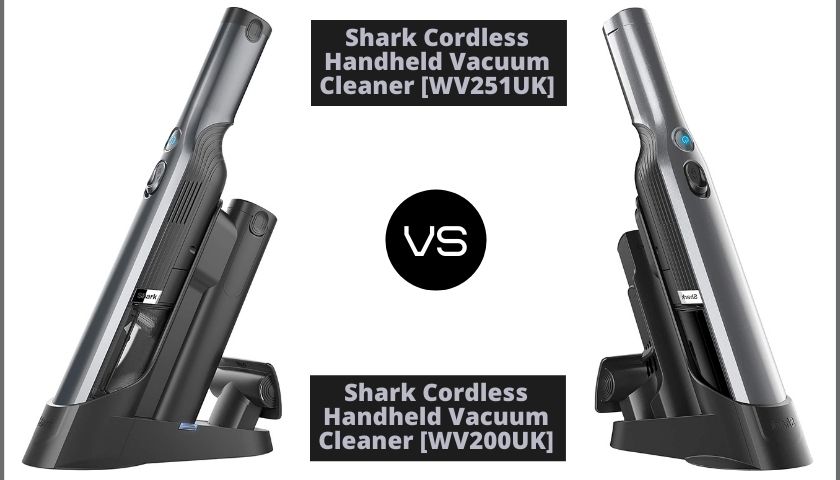 The Shark WV200UK is another popular model of Shark. It is almost similar to Shark WV251UK. The only difference between these two models is, that the Shark WV200Uk has a single battery, and Shark WV251Uk has a twin battery. The moral of the story is that the single battery provides a shorter run time, it's 8 minutes and the twin battery provides a longer run time, it is 16 minutes.
Besides this, all features, design, and other performance is the same in both models.
Read next: Best vacuum cleaner for pet hair
Frequently Asked Questions (FAQs)
Can I change the battery in Shark WV252UK?
Yes, It is a very simple method. Just slide the ION Power Pack Battery into the slot and insert the battery on the back of the vacuum and just pinch the release tab and remove the battery.
Is it harmful if overcharged the vacuum?
Yes, definitely. So be careful when you set the vacuum for charging.
Is Shark WV251UK reparable?
Unfortunately, no. There are many parts of the vacuum that are not built the same. As a result, these parts are not reparable.
Do Shark cordless handheld vacuum cleaners good for carpets?
The vacuum comes with strong suction power and suitable accessories that can effectively clean your carpet. But remember that, this vacuum is not a specialized vacuum for carpet cleaning. So, your sensitive carpet's fibre can be harmed by excess use of this vacuum.
Wrapping up
We hope that this Shark cordless handheld vacuum cleaner WV215UK review can help you to learn about the product. Now you know what in actual the product is offering and how can it work the best for you. You must have noticed the difference with a similar model (WV200UK). Overall it is one of the best cordless handheld vacuum cleaners which able to give you maximum satisfaction in cleaning work. Now make your decision, happy shopping.
As an Amazon Associate I earn from qualifying purchases.