How to Remove Yellow Stains from Plastic Bathtub | Solutions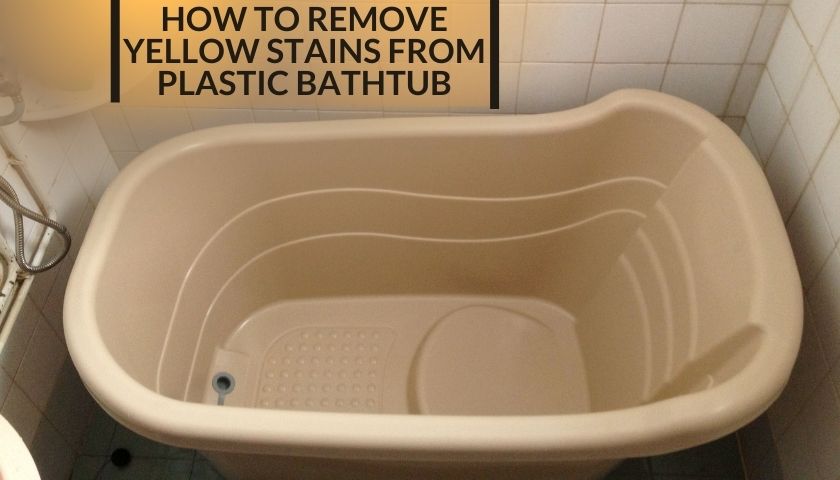 As an Amazon Associate I earn from qualifying purchases.
Have you ever tried to remove yellow stains from a plastic bathtub? Not yet? Normally a plastic bathtub is like a magnet for soap scum, grime, and mildew. Above all things, yellow stains give the ugliest look to the bathtub.
A long, hot, and aromatic bath can magically soothe away the stresses at the end of the day. A clean, shiny, and spotless bathtub can help to increase your relaxation level.
It is not always possible to hire a professional for cleaning work. It is also a matter of extra cost, after all. But it will be best if you come to know how to clean a stained plastic bathtub using a few small household items and do it yourself. This article will discuss how to remove yellow stains from plastic bathtubs using little household items.


What causes yellow stains in the plastic bathtub?
Undoubtedly mineral deposits from water are the primary cause of the yellow stains. The experience of using a bathtub with yellow stains is disgusting. Even a bathtub with yellow marks is very unsightly and also unwelcoming to visitors.
You may be surprised to see yellow stains in the bathtubs because you clean these areas often. But you may don't know that this yellowing problem will continue to occur unless you find out the cause. Here are some common causes of yellow stains in the plastic bathtub.
Hard water: Hard water is one of the main causes of yellow stains in the plastic bathtub, especially if you live in a hard water area.
Tannins in the water: Tannin is a decayed organic matter but not considered harmful to the human body. It just makes water yellowish and gives an unpleasant smell.
Iron in the water: Water in most parts of the world contains iron. If the amount of iron in the water is more than the recommended amount, it causes rust. If there are yellow, orange, or red marks in your bathtub, then it can be said there is rust.
Oil accumulation from bath products: Various bath products contain oil, for example, hair cream, lotion, etc. These oily products do not remove completely and make a yellowish layer in the bathtub over time.
How to remove yellow stains from plastic bathtub
Do you have any solution for removing yellow stains from the plastic bathtub? Don't you think of throwing away the whole bathtub and buying a new one? Please don't even think about it unless the bellow listed solutions fail to work, no need to purchase a new one.
1. Use of white vinegar
Among all household items, you should try white vinegar at first. You will need about one cup of white vinegar and one scrubbing brush. Pour the vinegar on the yellowish area of the bathtub and scrub with the brush.
For better results, pour vinegar into an empty spray bottle and spray on the yellow stains. Keep 5 minutes, then scrub out the stain. For stubborn stains, you can also use Mr. Clean Magic Eraser to get a better result.
2. Use of baking soda
Baking soda is another common household item that works well in removing yellow stains. There is two different way to use baking soda-
First way: Make a paste using a one-quarter cup of baking soda with 50ml of warm water. Apply this paste to the stained area of the bathtub and leave for 15 minutes.
Take a rubbing sponge and scrub the stained area. Rinse with clean water and get a spotless new-looking bathtub.
Second way: Make a paste with two teaspoons of baking soda and one teaspoon of hydrogen peroxide. The ratio will be 2:1. Apply this paste following the first method and clean your bathtub.
3. Use salt and lemon
Salt and lemon are other very common ingredients in our kitchen. They are a cost-effective home remedy and quite effective to dissolve mineral deposits on the stained plastic bathtub.
Make a simple mixture of salt and lemon juice and apply it to the affected surface using a sponge. Wait a few minutes, then scrub off the yellow stain. Rinse the bathtub with clean water.
4. Cleaners for hard water stains
If the above-listed method fails to work, you should go for some chemical cleaner, which is specially made for removing hard water stains. Before applying the chemical, do not forget to read carefully the cautionary instructions stated on the container. It will guide you on how to clean plastic bathtub stains using the chemical safely.
Frequently Asked Questions (FAQs)
In Mr. Clean Magic Eraser's work on the plastic bathtub?
Yes, it is very effective in removing hard water stains from the plastic bathtub.
How often should I clean my bathtub?
According to the expert, you should clean your bathtub every two weeks.
How can I remove calcium deposits from my bathtub?
Above listed methods are quite effective in removing calcium deposits.
Can I prevent hard water stains in my bathtub?
Literary no. But if you can ensure good maintenance and regular cleaning of your bathtub, then there will be a minimum chance to create stains.
Can I use chlorine to clean a plastic bathtub?
Yes, it is good for deep cleaning. Mix equal parts of chlorine with water, then pour into a spray bottle. Spray the mixture on the stained area and let it sit for at least 15 minutes. Now scrub out stains with a sponge or old toothbrush. Rinse off the bathtub with clean water.
Wrapping up
Are you still worried about how to remove yellow stains from the plastic bathtub? Don't worry above listed methods are really effective on dirty yellow marks. If one method does not work well, then try another.
However, to keep your bathtub year after year shiny, you should ensure good maintenance of it. It would be best if you cleaned your bathtub regularly to avoid turning the stain too tough.
As an Amazon Associate I earn from qualifying purchases.