Vax Compact Power Carpet Cleaner | Quick Compact & Light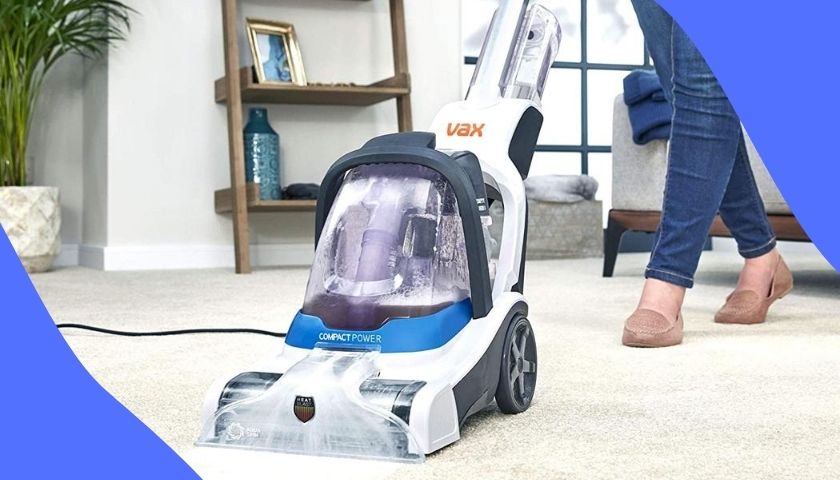 As an Amazon Associate I earn from qualifying purchases.
When it comes to cleaning the carpet and getting rid of everyday dust and odours, there is no alternative to a good carpet cleaner. Carpet cleaners come in a variety of sizes, prices, compatibility, feature, and others. For regular household cleaning needs, you need a handy carpet cleaner with enough features to clean your carpet with ease. That is where the Vax Compact Power Carpet Cleaner comes in.
Among other Vax products, this compact carpet cleaner is recommended for those who like to clean thoroughly and without much struggle. It is affordable, handy, lightweight, compact-sized, and hence, easy to store. It's a great choice for those in search of an effortless carpet cleaning solution.
Vax Compact Power Carpet Cleaner Review
Vax Compact Power Carpet Cleaner is without a doubt, one of the most lightweight carpet cleaners on the market. It only weighs 5.7 kilograms despite its size and features, making it extremely convenient to use.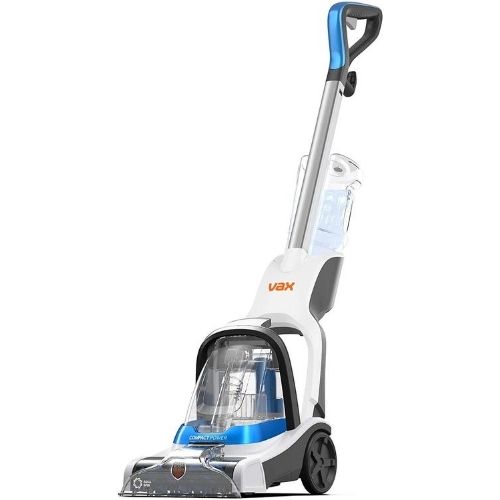 Technical Details
Assembly required
7 kg in weight
7 m power cord
8 litres clean tank capacity
5 litres dirty tank capacity
250 ml platinum solution
Power 800 watts
No battery required
Vax's smallest and lightest carpet cleaner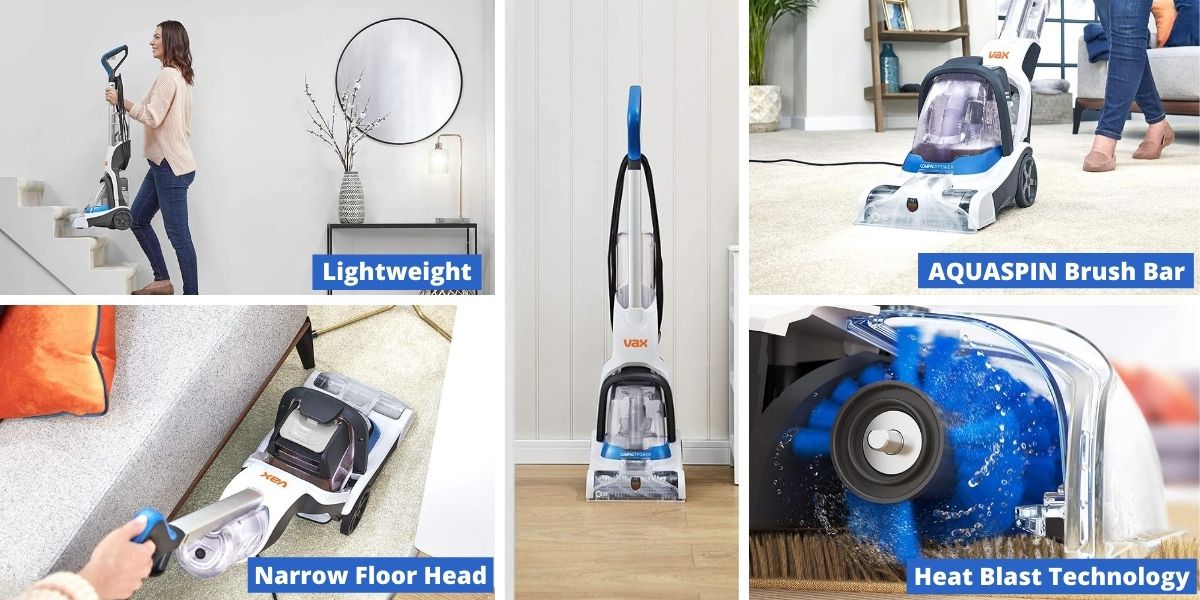 1. Aquaspin Brush Bar
Vax Compact Power Carpet Cleaner comes with an Aquaspin brush bar that can take off the toughest stains and dirt. It also tackles pet odours and messes with easy application. While operating with the carpet cleaner, the Aquaspin brush bar cleans the carpet and prevents bacteria, mould, and mildew growth.
2. Heat Blast Technology
Heat blast technology is another great feature of this Vax carpet cleaner. With the help of this technology, the carpet gets dry faster by directing heated air on the carpet. You won't have to worry about spilt water, drink, or even pet urine, Vax carpet cleaner will take care of it. Quick-drying has never been this easy.
3. Built-in Antimicrobial Treatment
Antimicrobial treatment is embedded with Vax Compact Power Carpet Cleaner. It cleans, disinfects, and prevents mould and mildew from growing inside the carpet. This treatment is primarily set with the Aquaspin brush, allowing the combination to become the perfect solution for a long time.
4. Twin Tanks
Vax Compact Power Carpet Cleaner comes with two separate tanks. One of them keeps the clean water with a capacity of 1.8 litres, and another keeps the dirty water with 1.5 litres of capacity. These tanks keep the clean water and dirty water apart, making sure you don't spill the used-up water all over your carpet.
5. Compact Design
Among all the carpet cleaners in the market, Vax Compact Power Carpet Cleaner is probably the most compact build cleaning tool. Its design helps you to clean even the smallest of areas and manoeuvre easily around the house, making it efficient in almost every carpet cleaning need. Its narrow floor head gets through tight places where cleaning is often challenging. And last but not least, due to the small-scale structure, this carpet cleaner is pretty easy to store.

6. Lightweight Build
Vax Compact Power Carpet Cleaner is only 5.7 kilograms in weight, making it a great portable carpet cleaner. You can move it around and clean it with ease. Being easy to carry and operate throughout the house, Vax Compact Power Carpet Cleaner leaves you with no sweats after work!
7. Great Performance for a Reasonable Price
While being one of the most cost-efficient carpet cleaners in the market, Vax Compact Power Carpet Cleaner offers you amazing performance. Don't take our word for it. According to the market stats, this carpet cleaner is well-known and popular among users.
It may be the compact design, lightweight build, or the price; but it provides you with a lot more than that. The package includes 250 ml of Vax Platinum Solution that helps you to keep your carpet clean and fresh after every use.
It's a great choice for those who have pets in the house. Because of pet messes and odours, Vax Compact Power will refresh the carpets and keep them smell-free. With the tool being portable, it's easy to clean frequently and anytime you need to sort out a messy situation.
8. Eco Friendly
Vax Compact Power Carpet Cleaner is produced using around 50% recycled plastic. This means it is eco-friendly to use, as well as does the job of cleaning dirt and drying shabby carpets.
Pros
Easy to assemble and setup
Easy to use
Great value for money
Cleans carpet stains thoroughly
The Aquaspin brush makes sure to cover the desired carpet surface accurately and effectively
Heat blast technology dries wet carpets and pet messes faster
The embedded disinfecting system allows the user to keep the carpet free of bacteria and prevent mould and mildew growth
Easy to move around due to its lightweight design
Compact build promises hassle-free storing
Great for a house with pets as it effectively cleans up pet messes and urine of any kind on the carpet
Leaves your carpet fresh and provides a hygienic indoor
Cons
Small water tanks need regular refills after a few use
Often challenging to clean the brush after use
Read next: Hoover Smartwash Automatic Carpet Cleaner Review
Frequently Asked Questions (FAQs)
Can you use Vax compact carpet cleaner on stairs?
Yes, you can. They offer multi-directional versatility. You can also use the cleaner to clean sofas, upholstery, and even your car.
Can you use any solution in a Vax carpet cleaner?
Yes, you can use any solution in your Vax carpet cleaner. However, keep in mind that you have to ensure your carpet's fabric compatibility with certain chemicals before you go for any solution. Otherwise, you will ruin your carpet.
How long does Vax carpet cleaner take to dry?
It takes nearly one hour to dry the carpet. This carpet cleaner comes with a quick dry technology in the Platinum Power Max. You will get a dry carpet with a fresh smell if you use this cleaner.
Do I use hot or cold water in my Vax carpet cleaner?
Warm water works the best for cleaning the carpet using this cleaner. So fill the tank with warm water when you want a deep cleaning.
Why is my Vax not picking up dirty water?
If the machine is stuck due to too much dirt and grime, it may fail to pick up any water. So you have to clear the blockages before you start using the cleaner again. Also, look for hair clouds in the bristles, which may also cause the machine not to pick up any water.
Conclusion
Summing up everything we have come to know, it's easy to say that Vax Compact Power Carpet Cleaner is one of the best cleaning tools on the market. Especially for those in search of a handy yet effective carpet cleaner, it can assist extremely well in cleaning everyday mess.
Our recommendation is to go for it if you are looking to get the best use of value and efficiency. Because with multiple convincing features and proven performance, this carpet cleaner will provide you with promising cleaning solutions. Say goodbye to shabby carpets, damp surfaces, dirt, grime, and pet messes because this Carpet Cleaner can take care of them all!
As an Amazon Associate I earn from qualifying purchases.