Shark VACMOP Pro VM252 Review | 2 in 1 Cleaning Solution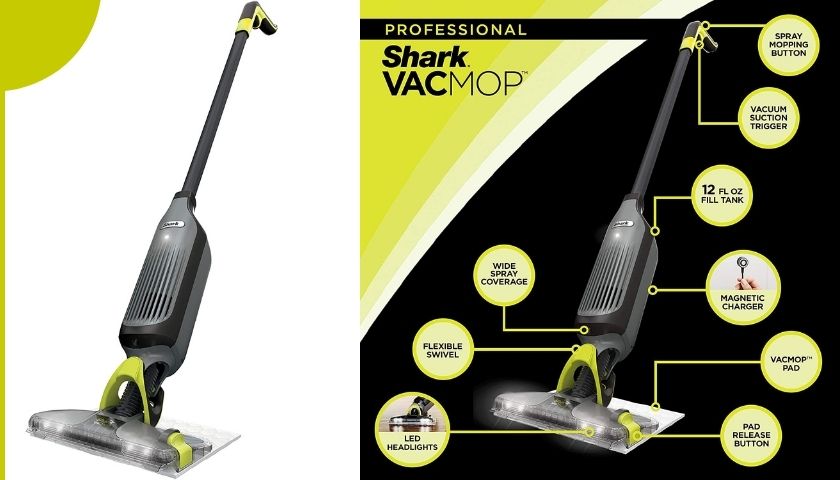 As an Amazon Associate I earn from qualifying purchases.
If you are used to keeping your house clean, you must be familiar with vacuums and mops in general. Both of these two essential cleaning tools have their own usability and functions, but how great would it be to combine them into one? You can clean, pick up debris, and take off spills and stains in one go, with one device.
The combination of a vacuum and mop, usually called Vacmop, is not entirely a new idea but it's an innovative one. Today's review is about getting to know one of the best vacuum mop combos on the market.
Shark VACMOP Pro VM252 is essentially a vacuum cleaner that picks up dust, hair, debris, and a mop that cleans dirt and stains. It's an amazingly handy and versatile cleaning equipment that also saves time and effort by a considerable margin. You clean your hard floors and sanitize them at the same time, taking care of spills and stains in the process.
Let's take a look at the specifications, features, and what we like or don't like about this product. Spoiler- there's not much to dislike in its case.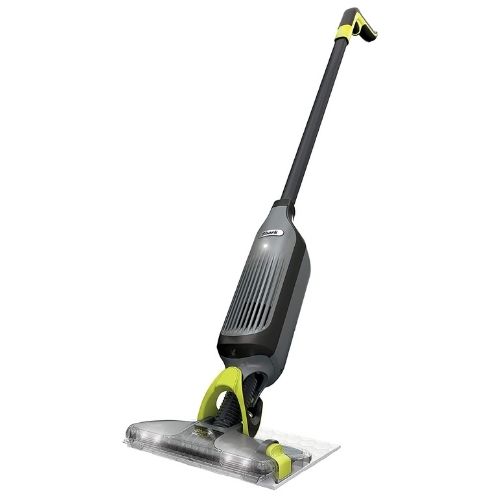 Technical Details of Shark VACMOP Pro VM252
Manufactured by SharkNinja
Cordless vacuum and mop combo
Model: VM252
3 x 9.5 x 47.87 inches in dimension
8 ounces weight
Powered by a rechargeable lithium-ion battery
Battery runtime: 11-12 minutes
85 wattage
Led lights in front
Comes with two disposable cleaning pads
81 inches wide cleaning path
Included Shark multi-surface hard floor cleaner bottle
Best Features of Shark VACMOP Pro VM252
Undoubtedly as one of, if not the best vacuum mop combo, Shark VACMOP Pro has some incredibly useful features. Aside from combining two cleaning tools into one, it offers cleaning solutions for different situations suited to your needs.
1. Cordless and Portable
The first thing that stands out is the Vacmop is cordless, operates on a lithium-ion battery, and thus, can be used anywhere around the house. As if the vacuum mop combo was not enough, it's portable to make it even easier to clean any areas, hard-to-reach places, stairs, or any special use cases. You don't have to worry about cables coming short or how to clean some farther corner in the house, this vacmop can take care of it all.
2. Lightweight and Compact
The Shark Vacmop Pro is compact-sized and super lightweight, weighing only 3.34 pounds. It's effortless to maneuver around the house and carry wherever you need cleaning. Because of its size and the concise cleaning head, you can easily use it to clean stairs, under the furniture, tight corners, in-between objects, and more.
3. Suction Power
For a relatively small and compact vacmop, its suction capacity is surprisingly powerful. Being a cordless vacuum mop combo, it does not excuse anything when it comes to picking up debris. In fact, its suction power is similar to some of the best vacuum cleaners you can find on the market.
So you can easily pick up any amount and type of dust, hair, pet hair, and residue, small to large particles effectively and without any struggle. It's easy to operate as well. Just press and hold the button at the bottom of the handle to initiate the vacmop's vacuum section and start vacuuming right away.
4. Disposable Cleaning Pads
Shark includes two disposable cleaning pads with the Vacmop Pro VM252. Aside from being mop heads, they also have a section where the debris takes place when you vacuum. So you can vacuum and mop at the same time with a single cleaning pad. It's also super easy to attach and dispose of, and you don't have to touch the dirty pads whatsoever. When you're done cleaning, just drop the mop head inside your bin simply with the push of a button.
5. Spray and Mop Simultaneously
Shark VACMOP Pro VM252 comes with a multi-surface hard floor cleaning solution provided by the brand itself. To use, you can simply pour it into the container of the vacmop and it's ready. The spray head is right in front of the mop's body and when you press the top button on the handle, it sprays the cleaner so you can mop ahead.
It's a painless process where you can spray wherever you need to clean, take care of coffee stains, dried stains, and mop with the cleaning pads. Using a small amount of fluid is enough and it doesn't take much to do the job. You can get by with a single fill of the cleaner for cleaning multiple times.
6. LED Headlights
This best vacuum mop combo also has a couple of led headlights in front that light up when you use them. Shark includes these headlights in most of their best Shark  Vacuum Cleaners and they're quite practical. This generally means even in the farthest corner with limited light access, you won't have trouble cleaning. Under the furniture areas, tight corners, and others, it spots dust, residue, pet hair, and cleans right up.
7. Rechargeable Power
As we've already mentioned, the vacmop is cordless and powered by a lithium-ion battery, which is included in the box. It has a magnetic charger and can run for around 10-12 minutes on a single charge. While it may seem like a short time, the tool is for cleaning small areas and special use cases, so you should have enough time to do the job.
8. Ideal for Multi-Surface Hard Floors
The Shark Vacmop Pro is ideal for all kinds of hard floors including hardwood, tile, glass, vinyl, laminate, marble, concrete, linoleum, and more. You can use it on any of them to pick up debris, absorb wet messes, and clean off stains.
9. Zero Maintenance
Another great thing about the vacmop is, unlike most vacuums and mops, it needs literally zero maintenance. There are no extra accessories attached that require tending except the pads, which you can dispose of without even touching them. You can simply put it in the closet, take it out whenever you need cleaning, and put it back without any hassle at all.
What We Like
Cordless feature
No assembly needed
Powerful suction
Disposable cleaning pads
Locks away dust and debris inside mop pads
Comes with a cleaning solution
Vacuum, spray, and mop at the same time
Super lightweight and easy to maneuver
Led headlights
Easy to clean hard-to-reach areas.
Ideal for all hard floors
Easy storage
Affordable
What We Don't Like
Battery runtime can be insufficient sometimes.
No washable pads yet. That means you have to buy extra cleaning pads when you use up the included two disposable pads. However, they cost only 80 cents each and are available online.
Shark VACMOP VM200 vs VACMOP Pro VM252
The difference between the Shark VACMOP VM200 vs VACMOP Pro VM252 is not that significant and they're quite similar in terms of power and cleaning ability. However, they do differ in a couple of ways.
Charging System
The VACMOP Pro VM252 is the latest version and it comes with a magnetic charger included in the box. Whenever you need to charge, just attach the magnetic charger, it will stick to the port and start to charge. Whereas the VACMOP VM200 uses the traditional charging system. You have to plug in the charger in order to work.
Led Headlights
As a pro feature, the VACMOP Pro VM252 has a pair of headlights in front of the cleaner in contrast to the VACMOP VM200 which has none. The headlights allow you to spot dirt, dust, and residue even in tighter areas. It's a nice to have feature but does not affect the cleaning capacity by any means.
Frequently Asked Question (FAQ)
How long does the shark VacMop battery last?
The battery lasts 10-12 minutes and a maximum of 15 minutes on single-use.
Is Shark VacMop good for laminate floors?
Yes. It's good for all hard floors including laminate floors.
What is the difference between shark VacMop and VacMop pro?
The main difference between Shark VacMop and VacMop pro is the pro version has a magnetic charger and led headlights in it. Whereas the regular version has a traditional charger and no headlights.
Does the shark Vacmop work on the carpet?
It's not recommended to use Shark Vacmop on carpets because it is designed for hard floors only.
Is Shark Vacmop safe for pets?
Yes. The included cleaning solution is non-toxic. The Vacmop itself is safe around pets and great for dealing with pet hair and mess.
Wrapping Up
The Shark VacMop Pro VM252 is arguably the best vacuum mop combo that does its cleaning job efficiently and effectively. It's not the best solution if you want deep cleaning, taking the time, and covering large areas. But if you want to save time, cost, effort, and still keep your house clean on a regular basis with multiple useful applications, this is definitely the Vacmop you should buy.
As an Amazon Associate I earn from qualifying purchases.