5 Best Shark Steam Mops Review in 2022 | For Every Budget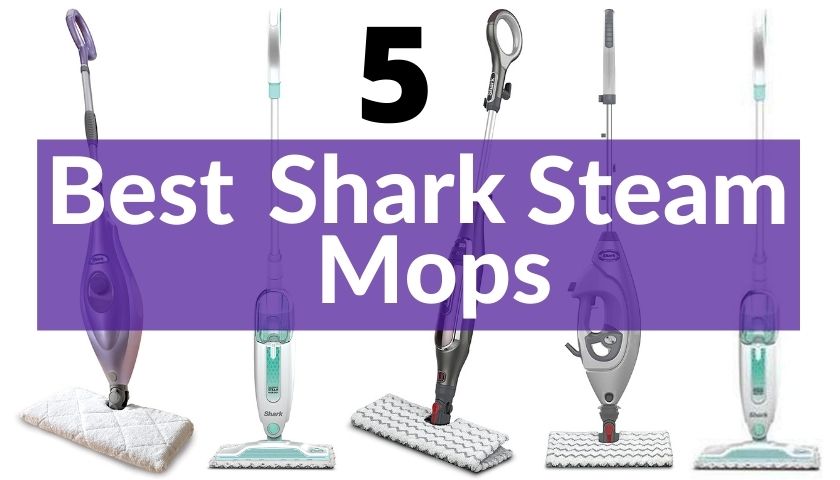 As an Amazon Associate I earn from qualifying purchases.
Steam mops are great for easy and effective cleaning at the same time. If you are looking to minimize the effort and time you spend on moping your floors, this is the solution. You don't have to use buckets of water repeatedly, just mop, clean, and disinfect as you go.
There are a lot of brands with a lot more options for steam mops that promise to do the job. So how will you decide what's best for you? We took the liberty and listed down some of the top steam mops in the market. Read our Shark steam mops review and decide on the best one suited to your needs.
5 Best Shark Steam Mops | All-Round Solution
Shark is one of the most renowned steam mop brands in the market. They offer mopping solutions from every aspect; your house, budget, efficiency, and requirements. Considering hundreds of user reviews and reading large data acquired by cleaning experts, we've sorted out 5 of the best Shark steam mops in the following.
Our top five at a glance
1. Best overall: Shark Steam Pocket Mop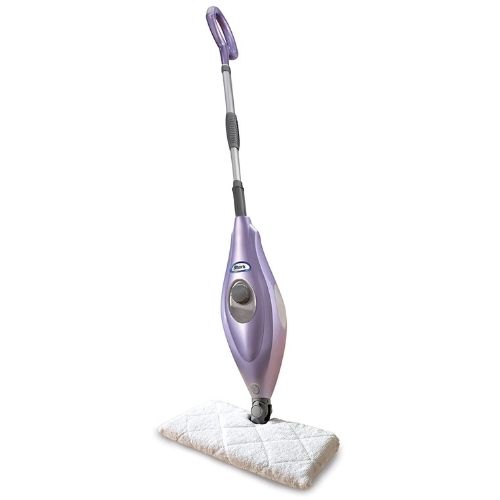 Shark steam pocket mop is powerful yet easy to use, affordable, lightweight, and extremely handy. Of all the steam mops provided by Shark, this is considered the best one. It has a cleaning pad that can be used from both sides and is reusable. With its effective steam cleaning, the steam pocket mop not only cleans dirt and grime but also sanitizes your area up to 99.9%. Its flat and swivel steering mop head can easily reach any corner of the floor, not to mention under the furniture as well.
Technical details
From the brand Shark
Weighs 4.87 pounds
2 x 12 x 5.9 inches in dimension
18 feet cable
450 ml tank capacity
1200 wattage
What we like
Easy to assemble
Affordable
Environment-friendly
A filling flask right out of the box
Comes with two mop heads
The Mop head is machine washable, swivel steering activated, and has both sides cleaning
The microfiber mop head picks up all kinds of dirt and grime and leaves the surface dry in a minute
Lightweight
Heats the tank water in just 30 seconds
Steam cleaning and its temperature kill 99.9$ germs
Requires no additional cleaning agent or chemicals
What we don't like
The steam level setting is default and unchangeable
2. Best Budget-Friendly: Shark Steam Mop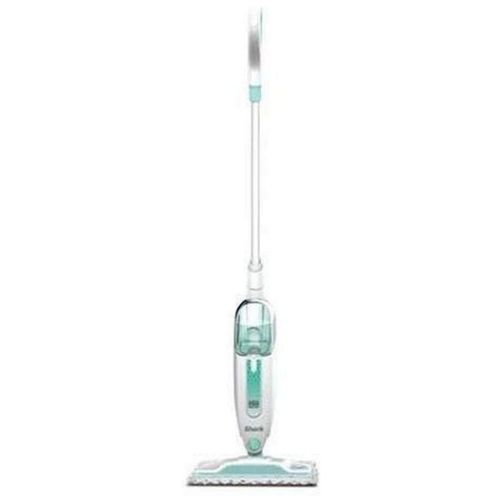 Shark Steam Mop (White/Seafoam) is probably the best basic steam mop on the market. Its model number is S1000, making it the primary level steam mop from the manufacturer. But don't fret, the basic function of this one does no less than most steam mops out there. Understandably it's super compact, lightweight, easy to use, and obviously, budget-friendly. It effortlessly cleans dirt, grime, and grease with the power of steam as well as disinfects.
Technical details
1 x 7.4 x 11 inches in dimension
6 pounds
Tank capacity 375 ml
1050 wattage
18 feet cable
What we like
Easy to assemble
Easy to carry and maneuver around the house
Durable and lightweight
Easy to refill the removable water tank
Effortless cleaning
Kills germs, cleans grime and grease with steam
Cleans with just water. No chemical is needed
Environment-friendly
Gets ready to clean in just 30 seconds
What we don't like
Can be difficult to cover large floors
Not effective on all types of surfaces
3. Super Easy to Use: Shark Genius Steam Pocket Mop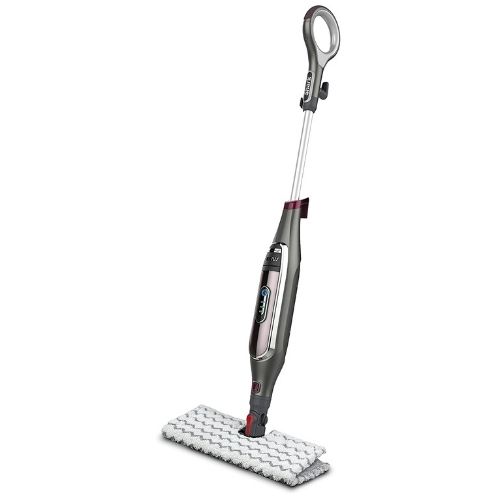 The reason behind the tag "easy to use" is, that this steam mop is super convenient and cleans without any fuss. Unlike others, the Shark genius pocket steam mop has an automatic steaming system rather than having to press the handle. Its automatic steam also has a power level and a steam burst technology that allows you to take care of tough stains on the floor. The best part is, with all this work, you don't even have to touch the dirt you're cleaning at any point.
Technical details
1 x 13.8 x 7 inches in dimension
78 pounds
3 level electronic steam control
350 ml tank capacity
22 feet cable
What we like
Super easy to use
No need to assemble
Comes with two dirt grip mop head
The mop head can be used on both sides and it's reusable
The steam has an automatic 3 level system
Steam blast technology allows you to apply more steam and remove hard stains on the floor
There'll be no need to touch the dirt while cleaning
What we don't like
Non-removable water tank
Non-adjustable handle
4. Best for Cleaning Large Areas: Shark Lift-Away Pro Steam Pocket Mop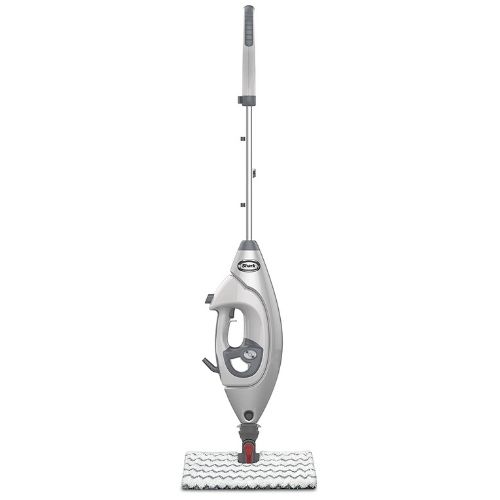 If you are looking for a versatile steam mop that has no limitations when it comes to cleaning, this is the one. Shark Lift-Away Pro Steam Pocket Mop is the all-round mopping solution for your house, especially for large areas. It comes with some of the coolest accessories that you can use to clean the floor, bathroom, windows, kitchen, and everything.
Technical details
12 x 12 x 51.2 inches
8 pounds
3 level electronic steam control
22 feet cord
500 ml tank capacity
What we like
No need to assemble
Comes with 1 dirt grip pad that can be used on both-sided
Large water tank
3 different steam settings for any situation
Machine washable and reusable mop heads
2-1 mop with an additional removable handheld steamer for above-floor or object cleaning
Another additional triangle mop head for cleaning corners better
A garment steamer right out of the box
Steam blaster technology to remove stains
Overall best for cleaning large areas
What we don't like
5. Best for Floor Cleaning: Shark Steam Mop Hard Floor Cleaner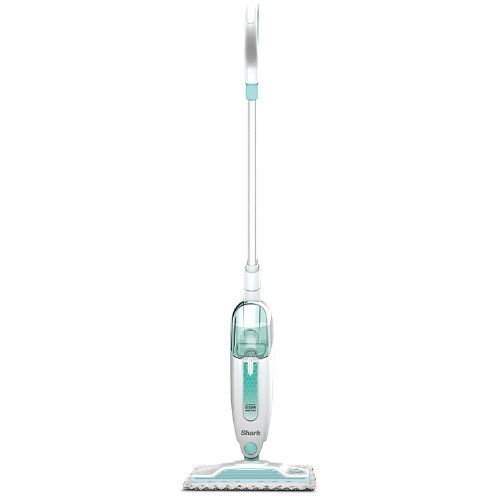 Mops are usually for cleaning floors, so why does it specifically mention the very thing "Floor Cleaner?" It's because this Shark Steam mop is the best when it comes to floor cleaning in particular, especially on hard floors. With a removable tank filled with just water, this steam mop is easy to handle and clean floors. Any kind of dirt, grime, or grease, you can take them all off without having to stop.
Technical details
02 x 7.4 x 46.06 inches
6 pounds
18 feet power cord
1050 wattage
375 ml tank capacity
What we like
Easy to assemble
Lightweight and compact
A removable water tank makes it easy to refill
Heats up water in just 30 seconds
Cleans and disinfect the floor with just water
Removes grease, grime, and dirt residue on the floor
Great value
Especially effective for hard floor cleaning
What we don't like
The steam setting is default and can't be changed
Read next: Vileda turbo microfibre mop and bucket set review
What to Look for When Buying a Steam Mop
To settle on the best steam mop, you need to consider a few things before buying. Reviewing the aspects and your needs, it's easier to choose the mop that'll do the job.
Weight and Mobility
Unlike regular mopping, steam cleaning takes less time and does the job better. But to get that result, you need to consider your product's weight and your ability to move it. Your steam mop should be easy to maneuver around the house for effective and efficient cleaning at the same time.
Maintenance
Steam mops usually offer simple maintenance; however, you should consider the aspect. If your cleaning product itself requires high maintenance, there's no point breaking a sweat over this. You should get a product that mops well and doesn't require a lot of maintenance.
Water tank capacity
The capacity of the water tank that comes with a steam mop is crucial. You should go for large water tanks so that the mop can operate for a long time and don't sleep on the job.
Steam control
There are steam mops that offer different steam controls for different situations. If you want to get an all-round solution and don't want to worry about mopping anymore, always consider going for mops that give you customized steam control.
Accessories
Accessories that come with a steam mop package are another important thing. Usually, there are reusable pads, power cords, filling flasks, and everything. Some steam mops offer more, additional mop heads, or even handled steamer for convenient use. Think about what accessories you actually need for your house and choose the right one.
How to Clean Shark Steam Mop Pads
Shark steam mop pads are usually machine washable and reusable for a minimum of 20 times. Just use a small amount of detergent and machine wash your pads easily.
If you'd prefer to clean the pads by yourself, that's easy too. Follow the steps:
Create a mixture of warm water, a small amount of detergent, and one teaspoon of baking soda. Soak the steam mop pads for about 15 minutes.
After that, just run the pads under warm water and rinse thoroughly. Dry the pads afterward before using them again.
Warning: Never use bleach or fabric softeners to clean steam mop pads.
How to Clean Carpet with Shark Steam Mop
In order to use Shark steam mops to clean a carpet, you're going to need a cool accessory from Shark called, a Carpet Glider.
Step 1: Ready your Shark steam mop. Fill the tank with water, and attach the mop head right. Keep the carpet glider on the carpet and place the steam mop on it to attach.
Step 2: Plug in the mop and heat up the water. Shark steam mops heat and be ready to use in just about 30 seconds. Pump the handle to ensure the steam is coming out.
Step 3: Apply the steam mop to the carpet by pushing it back and forth. If your Shark steam mop has a scrubber steam mode, make sure to switch it on. The produced steam will freshen up the carpet as you apply. That's it!
How to Use Shark Steam Mop on Hardwood Floors
Shark steam mops are excellent for cleaning hardwood floors. As beautiful as hardwood floors seem, they are vulnerable to moisture to a certain point. So you may have second thoughts about using steam to clean but don't. Follow the easy guide to cleaning hardwood floors with a Shark steam mop.
Step 1: Consider making sure that your hardwood floors are sealed and there is no leakage. Then ready the steam mop by filling in the water and attaching a microfiber mop head.
Step 2: Choose the dust cleaning steam setting if your mop does have the option. Otherwise, go with the default steam and push the handle to produce steam beneath the mop head. Move the mop around gently and in a systematic order so that you don't leave any portion of the floor untouched. The steam will clean, disinfect, and dry your floors in a matter of minutes.
Remember not to use any chemicals to clean hardwood floors. Chemicals have the potential to damage the wood surface, so use just water with the steam mop to clean.
Frequently Asked Questions (FAQs)
What is the best steam mop on the market?

Shark Steam Pocket Mop is the best steam mop on the market according to our pick. It's affordable, lightweight, easy to handle, and does a great job at cleaning. The cleaning pads are washable and reusable, and they support both-side cleaning. Combining efficiency with features, this is the best steam mop out there.
Do Shark Steam Mops really sanitize?

Yes. Heating the water creates steam that has 175+ degrees F. At this temperature, the steam can easily disinfect and kill germs up to 99.9%.
Can I use vinegar in my shark steam mop?

You can use vinegar if you are cleaning tile floors or linoleum. Never use vinegar in Shark steam mops if you are cleaning hardwood floors.
Are steaming floors better than mopping?

Yes. Unlike regular mopping, steaming the floors takes up dirt, grime, and grease more effectively. Not to mention the process also disinfects the surface and automatically leaves it dry. But you should be careful and consider the type of floor before using a steam mop to clean.
Can I use Shark steam mop on hardwood floors?

Yes. Choose dust cleaning or default steam setting to use Shark steam mop on hardwood floors. Don't use any cleaning agent or chemicals, just water is fine.
Wrapping Up
Steaming the floor is essentially a better option than traditional mopping for a number of reasons. But choosing a steam mop that's perfect for you is no easy task. We have shared our pick so that you can decide on the best Shark steam mop according to your need. Keep your house healthy, and clean, and sanitize your indoors regularly with the power of steam.
As an Amazon Associate I earn from qualifying purchases.