How to Use a Steam Cleaner | Complete Guide for Everyone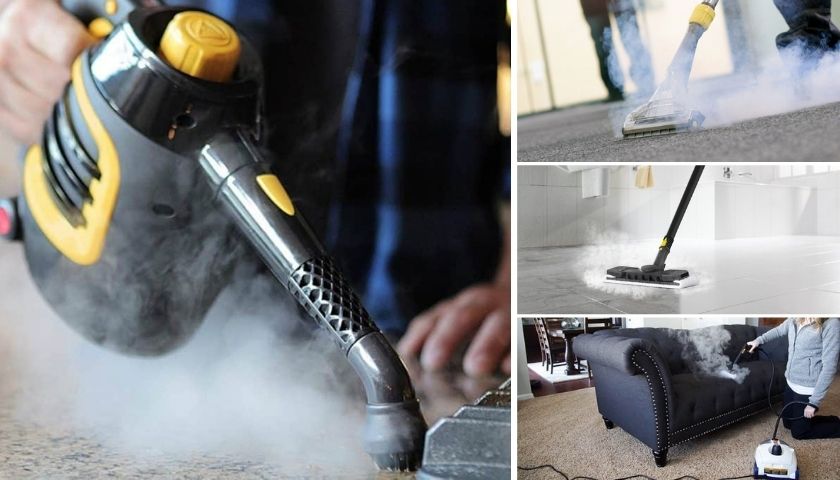 As an Amazon Associate I earn from qualifying purchases.
Steam cleaning is a popular cleaning method these days, for its efficiency, effectiveness, and ease of use. Not only does it clean the surface, but it also disinfects and removes up to 99.9% of bacteria. With the power of steam and heat, it can bring new life to your carpets, couch, floor, bathroom, and basically your entire house.
Using a steam cleaner in the proper ways is essential for the maximum output of your effort. While the basic guide is easy to follow, you need detailed instructions specifically for the different kinds of surfaces you want to clean. For example, you don't want to steam clean your carpet the way you do the floor.
A steam cleaner is versatile and can be used almost everywhere in the house. In this article, we're going to show you how to use a steam cleaner on various surfaces and areas of your house.


How to Use a Steam Cleaner on Carpet
Steam cleaning the carpet is a delicate job, which is why we're starting with this one. Improper use of a steam cleaner on your carpets can leave the carpet wet, and pave the way for damage over time. Follow our step-by-step guide to using a steam cleaner on the carpet.
Step 1: Move your furniture
For an effective cleaning job, the first thing you should do is move the furniture. Remove any furniture, objects, or toys sitting on the carpet before you attempt to clean it. If you have heavy furniture that is impossible to move completely, move it slightly to clean the pressed area and reset it afterward.
Step 2: Vacuum the carpet
Before you steam clean a carpet, you need to vacuum the surface in order to take off dirt and debris. It's important to clean as much as possible so that the steam doesn't set any dirt permanently over the carpet fabric. Use a good vacuum cleaner and remove dust particles, hair, crumbs, and basically any loose particles possible. Gently take care of stains with carpet stain removers before steaming. Once all is done, you're ready to steam the carpet.
Step 3: Steam clean your carpet
Prepare your steam cleaner and fill the tank with water. You can also use mild cleaning agents like vinegar, but most steam cleaners work fine with just water. It's better not to use a steam cleaner directly on carpets. So if possible, get a Carpet Glider to use with your steam cleaner for treating the carpet and rug.
If you don't have any, don't sweat. Start gently with the steam cleaner and start moving from a corner of the carpet. Keep a line as you proceed with the whole surface and overlap the previous line when you're moving on to the next. This is to make sure you don't miss any spots. Move the steam cleaner slowly and let it do its work. When you're finished, let it dry, and your carpet will come out fresh and clean.
How to Use a Steam Cleaner in the Bathroom
Steam cleaning the bathroom is an excellent choice for a number of reasons. Steam cleaners kill 99.9% of germs and since bathrooms reside the most germs and bacteria in the house, it's only logical to use them. It's pretty easy to use as well.
Step 1: Fill the tank
Like regular steaming, you can use tap water to fill the tank and apply; it will still kill germs. But since bathrooms need disinfecting as much as cleaning, we recommend using a cleaning agent. You can easily create a mixture with equal parts of water and vinegar. Fill the tank with the solution and switch on your steam cleaner to heat the thing.
Step 2: Steam clean the bathroom
Once you are ready, start to use the steam cleaner on your bathroom floor. Start from a corner and work your way through, so that you don't miss any areas. Press gently while on the grouts because dirt, grime, and bacteria are like to hide there. Consider using a quality steam mop to clean your bathroom floor, walls, sink, and others.
You can clean the toilet using a handheld steam cleaner as well. You should use toilet cleaning solutions to clean the toilet regularly, that's a given. But using steam cleaner afterward will help you reach the corners, under the rim, and hard-to-reach areas for better cleaning and disinfecting. Remember to flush the toilet before and after your cleaning job every time.
How to Use a Steam Cleaner on a Couch
Along with vacuuming, using steam cleaners on a couch is as effective as vacuums, even more in some cases. You clean your sofa and disinfect it, and freshen up at the same time.
Step 1: Vacuum the couch
Before you start steaming, vacuum your sofas. You can use a handheld vacuum cleaner to easily clean the couch of dirt, dust, hair, and loose particles. Take care of spots and stains while you're at it.
Step 2: Steam clean the couch
When you're ready, prepare your steam cleaner for cleaning. Start with the cushions if you have any, apply the steam cleaner gently and clean with heat. Once done, steam clean the rest of the couch. You need to be light and fast at this point. Think of the steam cleaner as an iron, which you don't leave on one area of the cloth for long. Keep moving as you clean the couch and make sure to apply it all over the surface gently. Let it dry afterward.
Do's and Don'Ts of a Steam Cleaner
Do's:
Practice safety before cleaning
Vacuum before use
Use distilled water if you have hard water in your house
Keep a line and stay organized every time you steam clean an area
Use a carpet glider or towels when steam cleaning the carpet
Use a vinegar solution to clean bathrooms instead of water
Clean toilets, bathrooms, tile, grout, hardwood, walls, carpets, upholstery, drapes, oven, windows, etc
Don'ts:
Steam clean without straight lines or organizing the whole effort
Start steaming without vacuuming the area
Use a steam cleaner on surfaces that don's stand heat and moisture
Leave the steam cleaner with water or cleaning solutions in it. Clean the tank before you put it away
Apply pressure on a single area for a long time. Keep moving around as you go
What NOT to Clean with Steam Cleaners
While you can use steam cleaners to clean almost any place inside the house, there are some you can't.
Silk products
Bamboo furniture
Paper
Painted surface
Delicate fabrics
Rubbers
Laminate floors
What can I Use in My Steam Cleaner?
One of the many benefits of steam cleaners is that it doesn't need additional cleaning agents to clean. The power of steam kills 99.9% of bacteria with heat with just water inside the tank. However, you can level up the cleaning power by using simple solutions like vinegar and water. Fill your tank with this if you want a more thorough disinfecting of a surface.
If you have hard water running in your house, use distilled water to fill the tank and use. This will prevent limescale growth inside the tank and lengthen the steamer's life.
Frequently Asked Questions (FAQ)
What can I clean with a steam cleaner?

You can clean tile floor, sealed hardwood floor, walls, couch, sofa, carpet, bathroom, toilet, sink, drapes, and almost anything in the house.
Can I put disinfectant in a steam cleaner?
You can use a disinfectant if it's approved with the steam cleaner you're using. Read the instructions before you attempt this. For starters, vinegar and water solution is an effective disinfectant to use in steam cleaners.
What can I put in my steam cleaner to make it smell nice?
You can put scented water provided by steam cleaner companies to make it smell nice after cleaning. Do Not insert essential oil or any other substance inside the tank. You can use a hint of essential oil in the mop head to smell better, but never in the tank.
Do you put hot or cold water in a steam cleaner?
You should put cold water in a steam cleaner. It will eventually get hot and steam out for cleaning.
Can I put lemon juice in my steam cleaner?
You can use a little squeeze of lemon juice with the water or vinegar you're using in the steam cleaner. Do not put lemon juice entirely into the steamer tank.
Wrapping Up
Steam cleaning is an easy way to get rid of everyday dirt and germs in the house. It's effortless, effective, versatile, and doesn't require anything other than just water to clean. For cleaning and disinfecting the entire house, consider choosing a multi-purpose steam cleaner that'll help you with different cleaning needs. Follow our guide to steam clean and disinfect your house for a healthy indoor.
As an Amazon Associate I earn from qualifying purchases.