How To Remove Limescale, Rust & Calcium Deposit From Shower Head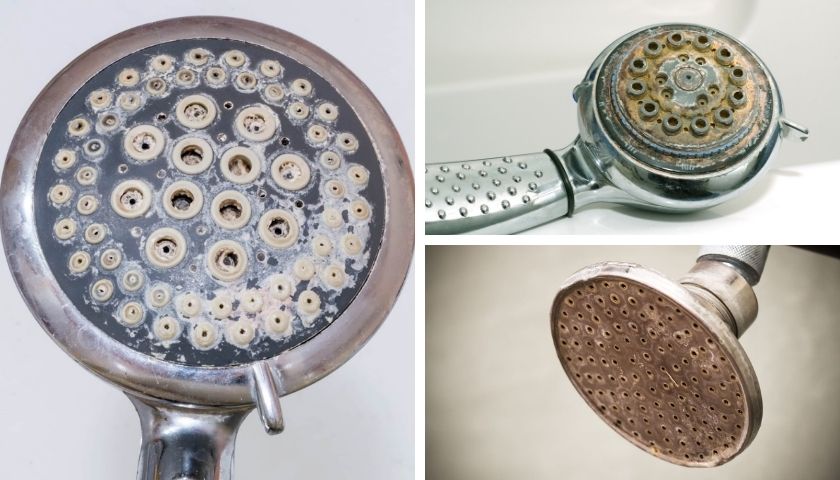 As an Amazon Associate I earn from qualifying purchases.
Without proper maintenance, the showerhead can get ruined by limescale, rust, and calcium deposit buildup. These are not only unattractive but also these buildups can clog the shower head interrupting the water flow.
Also, you will feel awful seeing the nasty buildups, so you can hardly get the enjoyment of a refreshing shower using that showerhead. Not only awful, but sometimes these buildups can damage your hair and create allergic reactions in your skin as well. So better stay protected than regret it later!
That's why, today, we brought the solutions on how to remove limescale, rust & calcium deposits from showerheads? Therefore, we will share basic instructions for an amazing clean-up that will clean your showerhead within the shortest time. Also, all the ingredients that we will be using today can be found easily at home. So no extra hassle is ensured!
Get ready and let's know what we have brought for you in today's discovery!
How To Remove Limescale From Shower Head?
Limescale is a whitish deposit caused by calcium and magnesium minerals. The calcium and magnesium minerals present in tap water can create limescale in the showerhead over time. So if your showerhead is affected by limescale deposits and if you want to get rid of those, here are a few useful ways of removing limescale from your showerhead:


Way-1: White Vinegar Works Like Magic
The first task of yours should be opening the showerhead. If you own a plastic one then you can unscrew it with your hand, if you own a metal one then consider going with a wrench. After undoing the showerhead if you get a closer look then you will see some white stuff which is making the shower head look gross and blocking all the water.
However, now get plenty of white vinegar in a bowl so that the showerhead can be dipped into white vinegar. Vinegar includes 5% of acetic acid which is the main weapon and will make you get rid of limescale from your shower head.
Just dip the showerhead into the vinegar and leave that overnight. If you are dealing with a plastic shower head then you will need a glass or coffee mug to submerge that underneath.
You can scrub or rub for doing a finer job but actually, there is no necessity of doing so. The vinegar will do all the job. Check the showerhead in the morning and the result will make you amazed! It will look all clean, new and obviously will work like just a new one.
Way-2: Citric Acid Is A Big Savior
In this case, you have to buy citric acid from a departmental store. Citric acid works very well to remove limescale deposits from the showerhead. As always, firstly you have to remove the showerhead.
Pour hot water into a bowl where there is enough space to dip the showerhead. After pouring the hot water, pour 2-3 spoonfuls of citric acid in there and dip the showerhead. Wait for 10 minutes and then scrub the showerhead using a scrubber. Your work is done!
Way-3: Work With Lemon
It's nothing new that lemon almost works with every tough deal. The acidic nature easily dissolves any kind of tough deposits. So it's not inappropriate to go with lemon in this case as well. The acid lemon holds can work great with the limescale.
Just cut a lemon in half and screw it onto the spout until it stays in place. Now you have to wait for one hour. After one hour, rinse the shower, scrub a little with a harsh cloth and gladly you will find all the limescale coming off with the cloth. After a few scrubs, you will find all the limescale gone from your shower head for sure.
Advice: Lemon works more effectively with the plastic shower head than the metal one. It's better to go with vinegar for the metal shower head.
Read next: How to remove limescale from taps
How To Remove Rust From Shower Head?
Nothing bothers the way rust in the shower head does, don't you agree? That gives you a terrible feeling just like the feeling of light drizzle. Finding an effective way of removing that stubborn deal from your shower head is quite an important task. To save you some time, here are some ways which will lead to the rust-free clean shower head again:
Way-1: Try A Calcium, Lime & Rust Remover
The most effective and popular way of removing the rust from your shower head is using a rust remover. All you have to do is, just buy the nontoxic Calcium, Lime, and Rust Remover and use it as we are going to instruct. You can buy CLR Calcium, Lime & Rust Remover for your optimum cleanliness and protection against rust.
Now unscrew the showerhead, consider using a wrench if you own a metal shower head, but if you got a plastic one then you can undo the showerhead using your hands. However, soak the showerhead into the cleaner in a bowl for 2-3 minutes.
Then get a toothbrush or a harsh cloth to deal with the heavy crust. Almost all the rust will come off easily as the solution will do most of the job in the first place. Lastly, rinse the shower head and hold it under cold running water. The clean and shiny shower will fill your heart for sure.
You can do the whole process without unscrewing the showerhead as well. Just pour the solution into a large bowl. Hold the bowl for 2-3 minutes in a way under the showerhead so that the showerhead can be totally submerged in the solution.
Again remove the heavy rust with an old toothbrush or harsh cloth. Now replace the solution with cold water and soak the showerhead in the water. Soak for 2 minutes and then turn the shower on. The smooth water flow will speak for itself.
Way-2: Vinegar & Baking Soda Handles All The Rust
If you are seeking an entirely at-home way, vinegar and baking soda can be the best solution to rely on. The solution including vinegar and baking soda will work pretty well to remove all the rust from your shower head. Pour an equal amount of baking soda and vinegar into one bowl of water, and see the two substances bubble up. Unscrew the showerhead and soak it into the solution for 10-18 minutes.
The next thing you have to do is get the showerhead out of the solution and start scrubbing it with a scrubber or harsh cloth. After scrubbing for a few whiles, you will find all the rust coming off with the scrubber.
Once you're done with scrubbing and you get the desired result, hold the showerhead under cold running water and place that into its position and you're all done with your rest removing mission.
Way-3: Vinegar And Salt
Though vinegar and salt can be a weaker solution compared to the previously mentioned two, yet, for light and less stubborn rusts, you can follow this one. Pour vinegar and salt into a bowl with hot water. Mix the ingredients well and then dip the showerhead into the mixture.
Wait for 20-30 minutes as the mixture is based on all-natural ingredients, it takes time to remove the rust properly. After 30 minutes, use your scrubber to gently scrub over the rusty areas to clean the showerhead properly. And you will be done with the result pretty soon!
Related post: How to clean glass shower doors
How To Remove Calcium Deposits From Showerhead?
If the water from your supplier has excessive amounts of iron in it, chances are high that your showerhead is going to get clogged with calcium deposits. This is another nasty deposit that creates a nasty look on the showerhead.
Cleaning it is pretty easy, you can scrub it or wash it. But getting the calcium deposits out of the showerhead can be quite troublesome as normal cleaning methods don't work here. A dirty showerhead is quite the eyesore, so here's how you remove calcium deposits from it:
Prevention: Other than the water supplier, there might be a rusty pipe amongst the water pipes from where the dirt and calcium might be coming from. It's best to get a professional to replace the water pipe.
Way-1: Vinegar Always Comes In Handy!
Vinegar is by far the most common and useful cleaning ingredient in houses. There are two methods you can apply when trying to clean a shower head with vinegar.
If your showerhead can be separated, take it out. Pour vinegar onto a jar or a pot. Dip the showerhead into the vinegar. Keep it there until you see the calcium deposits washing away. Give it a good wash with clean water and you're good to go!
If you can't separate your showerhead, take a plastic bag and fill two-thirds of it with vinegar. Wrap the plastic bag around the showerhead in a way so that the showerhead sinks in the vinegar. Take a rubber band or a rope and tie it. Wait till the calcium deposits wash away.
Way-2: Deep Cleaning The Showerhead May Help
Dunking the showerhead in vinegar should be enough to get rid of the calcium deposits. However, if you have not cleaned it for a long time. Other minerals will start to build up alongside the calcium and just vinegar might not be able to remove them. This is where deep cleaning comes in.
For this, you have to remove the showerhead. Spin the showerhead to the left to unscrew it. Dip it into vinegar like the previous method and keep it for 24 hours. After that, take a toothbrush or any cleaning brush and start cleaning the waterholes.
If the water holes are too tight, take a toothpick and start poking it into the holes. Rinse it with water every so often. This should unclog the showerhead and make it usable again.
Read next: How to remove black mold from shower
Frequently Asked Questions (FAQs)
How do you remove limescale from a shower head without vinegar?
If you think it is impossible to get rid of limescale from your shower head without vinegar then you're completely wrong because there are many other household stuff that helps get limescale out of your shower head. Such as baking soda, lemon, coca-cola, liquid soap, and so on!
How do you remove limescale from the showerhead using baking soda?
Getting limescale out of your shower using baking soda is pretty easy. Just mix half a cup of vinegar with one tablespoon of vinegar, soak the shower into the solution, wait for an hour and scrub the whole thing off and you will be all done. Basically, baking soda can't individually remove limescale. That will require vinegar too.
How long do I soak the showerhead in vinegar to get rid of rust?
If you use vinegar for getting rid of rust from your shower head then you must soak the showerhead in vinegar overnight. That will give the most efficient result. But if you are in a hurry and you own a metal shower head then there's another way, you can simmer the showerhead in a bowl of vinegar on the stove for 15-20 minutes. That works pretty well too. But don't try that if you got a plastic shower head!
What will dissolve calcium deposits?
Among the various acids and chemicals that are able to dissolve calcium deposits, vinegar is the most widely available, common, and effective solution. It works because the acetic acid in the vinegar helps to break down the calcium minerals and thus dissolve them.
How to remove hard water deposits?
Hard water deposits are water minerals similar to calcium deposits but are a little harder to remove. For this, you will need to mix vinegar and borax with water and apply it to the showerhead with a sponge or a brush. But be careful not to use something that can damage the finish.
Finish Line
A dirty showerhead is pretty common in households. The primary cause of this is minerals in the water. Don't you have any desire for having a shower which looks clean and new always? Hopefully, we have been able to fulfill your desire with our today's given solutions on how to remove limescale, rust & calcium deposits from a showerhead.
These three are the main culprits for making your shower less enjoyable. Also, limescale, calcium deposits, and rusts can create water clogs which are really irritating. These deposits won't also let you have smooth water flow from your shower.
Therefore, follow our given ways to get your showerhead rid of these deposits. If you still fail to deal with any of these deposits properly, consulting a professional may come helpful.
As an Amazon Associate I earn from qualifying purchases.