iRobot Roomba i7+ Review | Powerful & Updated Robot Vacuum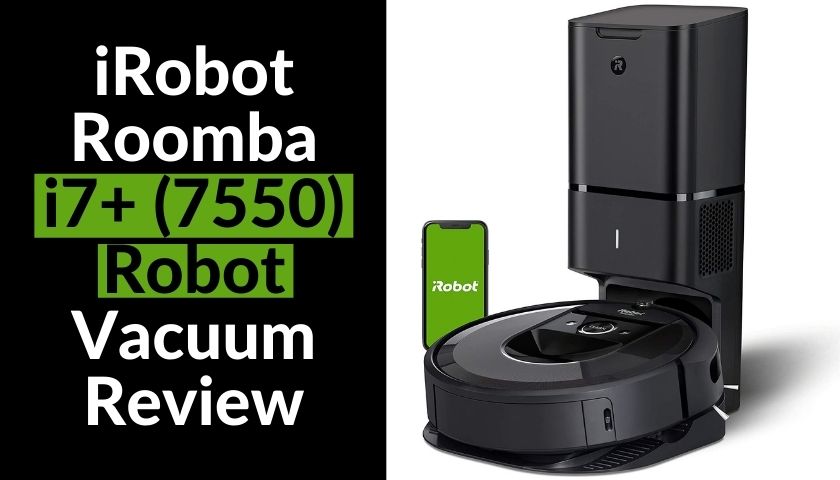 As an Amazon Associate I earn from qualifying purchases.
iRobot Roomba i7+ is a smart robot vacuum that comes with superior mapping. With a sleek design, it brings all the latest technology regarding house cleaning. It can map your entire house and be controlled by a smartphone app or a voice assistant from anywhere in the world. The incredible feature of this vacuum is, that it can empty its own bin.
iRobot is a famous brand for manufacturing smart vacuums, and it has already launched various models also. But day by day, they become more up-to-date and try to present the robot vacuum with the latest technology and advanced hardware. Well, the latest and most intelligent features of the i7+ will definitely amaze you. Now it is time to just forget to clean the house manually. iRobot Roomba i7+ is here to do it for you.
iRobot Roomba i7+ Review
iRobot i7+ is the latest design feature-rich smart vacuum. It can intelligently map your entire house and clean it. If you have a pet, then don't worry; this vacuum comes with unique dual multi-surface rubber brushes to effectively remove pet hair. Its high-efficiency filter can trap 99% of pet allergens. Here are more features of the iRobot Roomba i7+.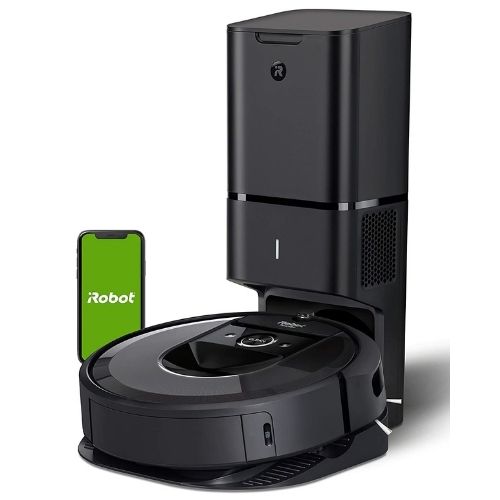 Specification of the iRobot Roomba i7+
Product dimension: 13.34 x 13.26 x 3.63 inches
Product weight: 7.44 pounds
Battery: One Lithium-Ion
Brush type: Dual rubber brush
Compatible voice assistants: Google Home and Amazon Alexa
The clean base station included
Package included: One North American line cord, one Roomba i7+ robot vacuum, one extra high-efficiency filter, one extra side brush, one clean base automatic dirt disposal, and two dirt disposal bags.
Design
The excellent outlook of the vacuum will definitely impress you. Clean Base Station is an amazing addition to the Roomba i7+. It is covered with a premium-looking black plastic, and the logo has sited above the prominent center 'clean' button. The vacuum dimension is 13.34 x 13.26 x 3.63 inches, and the weight is 7.44 pounds. It required one Lithium-Ion battery for running.
Powerful cleaning
Along with Roomba i7+, you just forget vacuuming for the months. i7+ will do it according to your command. This smart vacuum has a premium three-stage cleaning system and 10X the power-lifting suction to pull out stubborn dirt and messes. It offers more powerful performance and powerful pick up than other robot vacuums.
The Roomba i7+ learns your home's layout using vSLAM navigation and makes personal Smart Maps clean your house like an expert.
Performance
There is no doubt that the cleaning performance of the iRobot Roomba i7+ is simply outstanding. At first, it maps your entire house. Then it enters a room targeting one specific direction and cleans, then it pauses and runs toward another area.
The vacuum is carefully winding itself around floor-tough objects like chair legs as it maps out the home. Even it hardly disturbs the pet food bowls in your kitchen and cleans gently around them. The vacuum pulls in the dirt, pet hair, and debris using its dual multi-surface rubber brushes. Even the i7+ is ideal for removing pet hair. The high-efficiency filter successfully traps up to 99% of pet allergens.
Does your kid spread cereal on the floor or pet mess with food or a potted plant? Whatever the reason for getting your house dirty, the iRobot i7+ will clean it for you.
If you do not want the vacuum to touch some specific areas of your house, then just ask it to stay away from particular objects or areas with the customizable Keep Out Zones.
Automatic removal dirt bag
The device comes with a Clean Base Automatic Dirt Disposal along with allergen lock bags. The device will empty itself for up to 60 days. To get rid of a dirty house, it uses four layers of allergen blocking materials in these allergen lock bags and successfully traps 99% of mold and pollen.
Technology
i7+ is a vacuum that comes with plenty of eye-catching features such as compatibility with modern technology, powerful suction, fantastic performance, and much more. The most significant technological features include:
Equipped with advanced hardware
Dual-multi surface rubber brush
Intelligently map the entire house using vSLAM navigation
Control with iRobot home app or Google or Alexa
Automatic dirt bag removes
Pros
Outstand navigation
Excellent cleaning performance
Able to map the entire house
Able to empty its own bin
Comes with a sleek design and modern design
Cons
How to connect Roomba i7+ to wifi and home app
You can control iRobot Roomba i7+ via the iRobot Home App, and this app allows you to control Roomba's functions through the Smartphone or tablet. This iRobot Home App is available for both Android and iOS.
Connecting Roomba i7+ with your phone and wifi is a near seamless process. It can connect faster than other Roomba models. i7+ is the latest version of Roomba by iRobot, and you do not need to face any issues with connectivity. Just ensure a strong wifi signal. Install the iRobot Home App and press 'go to wifi, and your Roomba will connect with the wifi.
How to connect iRobot Roomba i7+ to Alexa
Go to the iRobot Home App on the Smartphone or tablet. Locate your Roomba and pair it using Bluetooth; now follow the app's instructions. Once it is paired, go to the Alexa or Google Home and link the iRobot Home App together. Now your i7+ is connected with Alexa, and you can tell it to start cleaning.
Read next: iRobot Roomba 675 robot vacuum review
Frequently Asked Questions (FAQ)
How should often can I use my Roomba i7+?
How often you can run your i7+ only depend on your needs. If you have pets or kids, you can run this vacuum even every day.
What is the basic difference between Roomba i7 and i7+?
There is two basic difference between the Roomba i7 and i7+. The first one is that i7+ can automatically empty the dirt bin, and you have to do it manually for i7. The 2nd difference is that i7+ comes with an additional Clean Base Station, and you have to buy it separately for i7.
Can Roomba i7+ clean in the dark?
The Roomba i7+ comes with various cameras and sensors. They need some lights in the room where it will work.
Can it successfully clean long dog hair?
Yes. It works very well in removing long dog hair.
Can I use all of the features of i7+ without wifi?
The Roomba i7+ can work without connecting wifi, but you cannot enjoy all the features. The scheduling and imprint smart mapping need to be completed through the iRobot Home App, so you cannot use this feature without wifi.
Final verdict
The iRobot Roomba i7+ is a great choice for house cleaning and ideal for challenging areas and surfaces with plenty of obstacles. This device amazingly learns your home's layout and creates a map to provide the best performance. This solid performing robot vacuum makes its acceptability high by featuring with Clean Base Station and automatic dirt bin technology.
This vacuum is undoubtedly the best selection who have allergic and back issues. So, if you have some interest in a robot vacuum for running a deep cleaning of your house every day without touching even a broom, the Roomba i7+ will do the job effectively, quickly, and fairly well.
As an Amazon Associate I earn from qualifying purchases.