O-Cedar Easywring Rinseclean Microfiber Spin Mop Review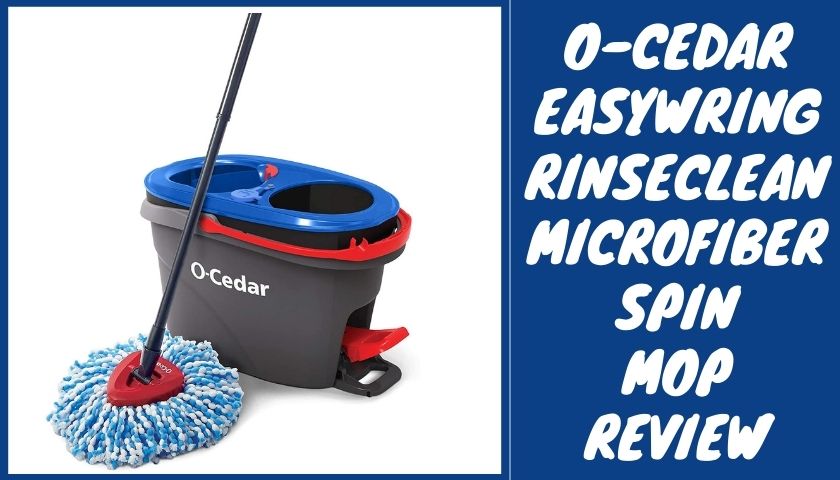 As an Amazon Associate I earn from qualifying purchases.
O-Cedar always brings the best mopping products for us. However, among all the mops, the EasyWring RinseClean Microfiber Spin Mop got the most attention and till now it is the best spin mop that you can find.
To let you know, this is an upgraded version of the O-Cedar Spin Mop. So in today's O-Cedar EasyWring RinseClean Microfiber Spin Mop Review, we will focus on the upgrades and the specifications that you will get from this amazing mop.
We can give you a spoiler that you are going to encounter an amazing mop that you will just love. As we cannot wait any longer to share our reviews and self-tested results, let's stop hovering around and get straight to the main context!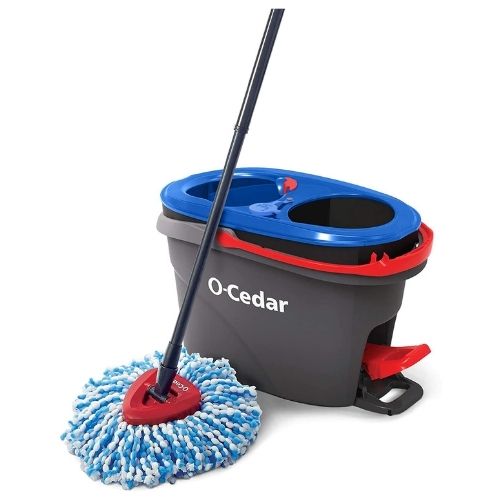 O-cedar Easywring Rinseclean Microfiber Spin Mop Review (Everything In One Place)
Key Specialities:
The remarkable O-Cedar machine washable microfiber mop head makes it easy to deal with.
Two different water tanks are included for separate and optimum cleaning.
Deals with any kind of dirt and absorb tough dirt and grime without much effort.
The built-in wringer helps you move it without putting in much effort.
Reaches every corner of the house with its exclusive triangular build.
The mop is machine washable so you don't have to hand wash it every time you use it.
The replaceable microfiber mop saves you from the hassle of repurchasing the whole mop.
Easy portability to wipe any surface, you can clean hardwood and any kind of floor.
One mop can help you for up to 3 months without any need for refilling.
The foot-activated spinning wringer lets you work hand-free comfortably.
The built mechanism adds up to durability.
The spinning motion rings out the excess water to keep your wooden or vinyl floors protected from water splashes.
The bucket does not feel overweight even with added water, the balance is handy for everyone.
Incredible Microfiber Quality
Once again, microfiber is the first thing that you need to put your attention to. If the microfiber doesn't come out to be of good quality, your mopping needs won't be fulfilled well. In fact, the whole purpose of cleaning will go in vain if such happens.
But as always O-cedar brings the best quality microfiber mops. So you will get the awesome quality microfiber head from this spinning mop which will make your cleaning a lot easier.
Easy To Move And Clean
How will you feel if the mop you are using feels stuck and hard to move? Well, you will never find this issue from this mop. The built quality is especially meant for easy movement. So no more hassle to reach every corner of your house! The 360-degree rotation lets you clean under the furniture and reaches every corner swiftly.
Machine Washable Microfiber Mop Makes It All Easy
Most of the spinning mops don't give the facility to machine wash the microfiber. But this one is unique. You can easily clean it in your washing machine. So it really lessens the hassle that you face in your regular mopping because hand washing the mop after every usage becomes really difficult at times.
Exclusive Water Control
For tiles and mosaics, it's easy to mop with excess water and it doesn't cause any difficulty. But if you have a vinyl or wood floor, excess water coming with the mop can cost you a lot, it can damage the floor and even leave a stain.
Perhaps, to meet your cleaning needs with every kind of floor, this mop has excessive water control. So, no matter what kind of floor you have, you can always keep it protected with this spinning mop. You will get to use the right amount of water in the mop every time you try to mop as it doesn't hold excessive water.
Separate Water Tanks For Clean And Dirty Water
When the mop comes with a single water tank, it becomes hard to replace the water after cleaning each room or dirty surface. This is really like adding up to your work which can be hectic. But this mop comes with separate water tanks which is like innovations in cleaning.
With the separated tanks, one of these can be used for keeping the clean water and the other one can be used for the dirty water. So you don't have to refill the water reservoir every time it gets dirty. Instead, you can clean the reservoir after being done with all the work.
Easy Portability Without Any Body Pain
It makes a good balance because of the mechanism. The foot paddle also reduces the amount of energy that you need to put in to move the whole bucket. So even when it's filled with water, the mechanism doesn't let you put much an effort into moving and working with it. As a result, you will be saved from the awful body pain that people get after mopping with any ordinary mops.
Enough Water Reservoir To Never Fall Short
Refilling, again and again, is painful. But the water reservoir here is like a blessing. You can clean your whole house with one bucket of clean water because it holds a lot of water. And here the separate water buckets help again!
Pros
Excellent for daily cleaning
Extended longevity
The microfiber is of impressive quality
Compatible with any kind of floors
Separate water tanks for dirty and clean water
Replaceable microfiber mop
Cons
Nothing in particular. Amazing mop on a budget!
Why Have We Chosen This One?
The main significance behind choosing this one was the microfiber quality. As we always give the top priority to the microfiber quality as the cleaning depends mostly on it, O-cedar has never disappointed us. Once again, being the best-known mop, this one served us with the awesome microfiber mop which is quite unthinkable at such a low price.
Moving forward to the cleaning compatibility, the handling of excess water, and the compatibility of cleaning any kind of surface added up to our interest. Even vinyl and wood floors can be cleaned using this. When we used it on our wooden floor, it cleaned every dirt in a single wipe without leaving any watermarks or splashes. Impressive!
As we also find replacing the mop after every few days troublesome, the refilling system of microfiber is another reason why we have picked this one. On top of that, the separate buckets used for dirty and clean water is an innovation that caught our attention drastically.
As O-cedar has brought this one as an upgraded mop, we feel that it has met every desire of modern cleaning and is a much better mop to hold on to. Overall, our experience was incredible with this mop and we wouldn't hesitate to call it the best one!
O-Cedar EasyWring VS O-Cedar EasyWring RinseClean | A Quick Comparison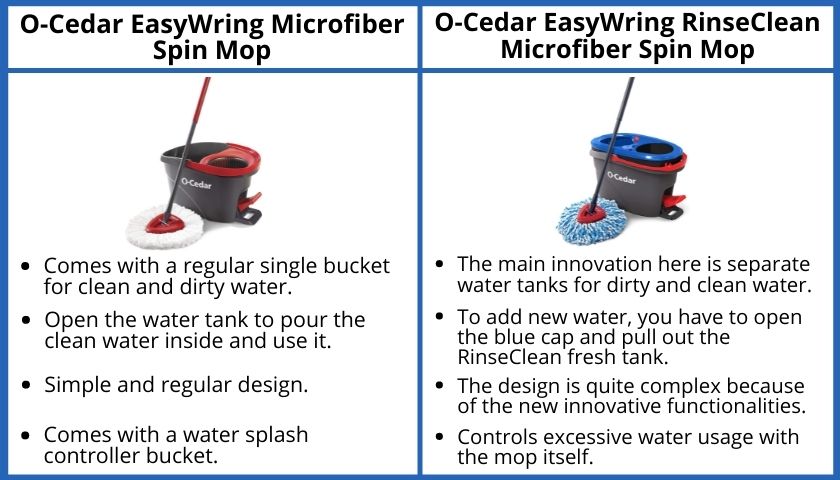 Read next: O-Cedar EasyWring microfiber spin mop review
Frequently Asked Questions (FAQ)
How long does O-Cedar Spin Mop last?
Although the durability of this household product depends on the quality and the usage, usually this mop lasts for about 3 months. Just like any other product, the mop will lose its lifespan eventually. But if you get a high-quality one, then the product might last longer than 3 months. O-cedar mop heads are easily replaceable so after every 3 months, you can replace the microfiber.
Can you clean floors with an O-Cedar spin mop?
Yes, any kind of floor can definitely be cleaned by an O-Cedar spin mop. This mop works excellently in cleaning wooden, vinyl, tiles, and mosaic floors alongside other surfaces as well. . So, so mopping the floor with an O-Cedar would be the perfect player in the field!
Is the O-Cedar mop good?
The O-Cedar mops are something that you would call better than anything else. They can easily and swiftly clean with their specialties of them in cleaning liquids. Also, you can just toss the head of the mop in the washer without any worries about them getting damaged.
Are o-cedar spin mop parts replaceable?
Yes, they are. You can go to the store and get the head refill, handle, head, or any other part without having a problem. Then you just have to take some guides online to replace them, or you can even do it without taking guides.
Wrapping Up
We are done with our tested O-Cedar EasyWring RinseClean Microfiber Spin Mop Review. O-cedar always stands out with the quality and performance. At a reasonable price, you will get to fulfill every cleaning need. We liked the mop a lot because of the innovative design. It is quite clear that O-cedar didn't follow the regular design and functionalities that usual mops offer.
Instead of going with the flow, they introduced a few incredible and unique features which are really helpful in daily cleaning. Among those, the separate bucket system for clean and dirty water seemed to be very helpful for us. So we would suggest you buy it if you want your cleaning to be more effortless than ever!
As an Amazon Associate I earn from qualifying purchases.