ChomChom Roller Pet Hair Remover Review | The Best Lint Brush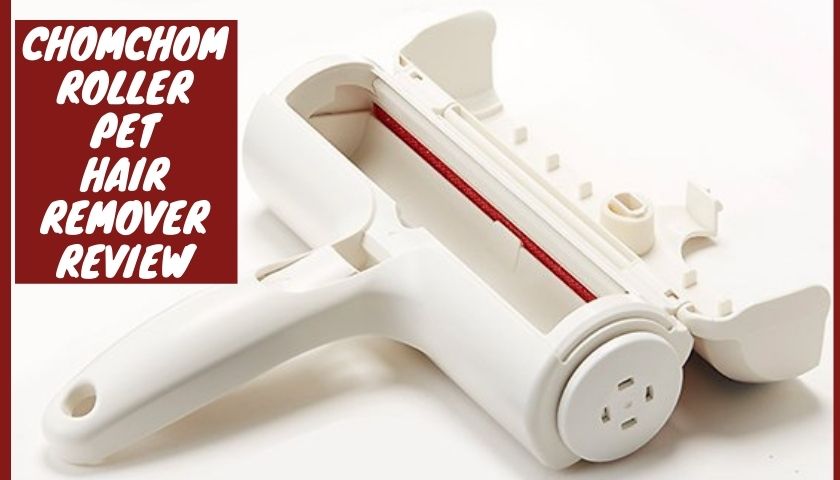 As an Amazon Associate I earn from qualifying purchases.
Cleaning the various surfaces of a home is like a never-end fight for the pet owners. You may own pets at home. If yes, then it's 100% confirmed that your pets leave hair wherever they go inside the home. It is tough to find the furs from the surface. The ChomChom Roller Pet Hair Remover can help you much to remove the furs.
The ChomChom pet hair remover is one of the best animal fur remover items found on the market. It is on the top list due to its ultimate design with tons of features. It comes in a simple design, but it can take off every fur from your carpet, couch, or even a blanket. If you don't know much about this product, our ChomChom Roller Pet Hair Remover review will help you learn about this.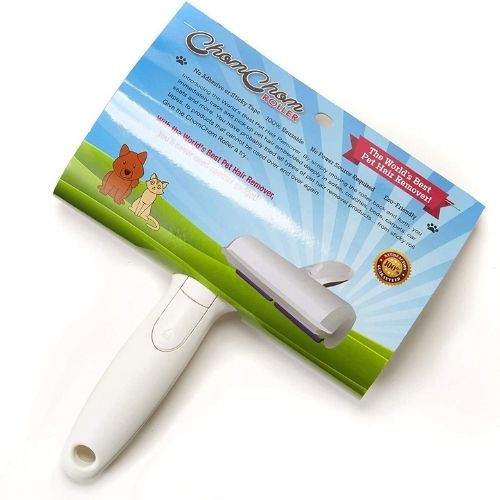 ChomChom Roller Pet Hair Remover Depth Review
Design
The ChomChom Roller comes in a compact design. Its exterior is beautifully designed, and you will get the hair remover in a cardboard shell. There is a handle in this T-shaped device to provide you with handling efficiency. You can roll back or forth the ChomChom hair remover easily due to its short-stroke fabric surface.
It can cover itself inside a red fuzzy material while flipping over. There are some rubber pieces which help it to do this. You will see a protruding rubber piece that prevents the complete rotation of the roller.
Just hit the "Eject" button to open its dirt compartment. You will get this button on the back part of the handle. Overall, it's a great pet hair remover. But the problem is, that you have to scoop out the dust, hair, and dirt from the dirt box manually.
Cleaning Performance
You will be wondering about the process of picking up the hair, dirt, and debris from the surface of this cleaner. You can use this item to clean several surface types, like couches, sofas, beds, carpets, blankets, comforters, etc.
For example, if you have a gray-colored pet and your couch is also gray, then the pet hair will remain hidden on the couch. If you run the ChomChom on that, you will see the dirt compartment is full of pet hairs. That means you don't need to worry about the hidden hairs on your surface. But the little problem is it could not be much helpful for all types of surfaces. It works fine on the taut pulled fabric. 
Portability
This cleaner is a bit larger than other lint rollers. But you can thank the manufacturer for its T-shaped frame because this frame made the roller easily portable. You can put this in your junk drawer or glove compartments.
As this roller is a little bit heavier than other traditional rollers, that's why; you should face a little bit of problem while carrying. But the positive side is, it is such an item which you won't carry all the time in your purse.
Power
Most of the cleaning rollers require an electric connection or battery to use. It's tough to get such pet hair removers that don't need electric power. Also, long cords attached to the roller create a hassle. But the ChomChom Roller is a great pet hair remover that doesn't need any electricity or batteries to operate. That's why; this hair remover is loved by pet owners.
Additional Parts
Additional parts are widespread for pet hair removers. Many pet owners are tired of attaching and detaching those parts. You can easily give up tension about this matter if you have a ChomChom pet hair remover. It doesn't come with any additional parts. So, you won't have to go through stress for attaching or detaching extra parts.
Like other machinery, the ChomChom is not 100% perfect. It has some lacking too. You can use this product to clean pet hairs from flat surfaces. But you won't get appropriate output while working on floors with it.
Affordable
Price is a must to consider while buying any item. The Chomchom roller per hair remover comes at an affordable price. Although it is wallet-friendly and it is highly featured to meet your cleaning requirement.
Competition
The biggest competitor of the ChomChom roller is other traditional lint rollers. But there are many differences between these items. Lint-rollers can easily remove hair from clothes. But it won't work well for cleaning a couch. On the other hand, ChomChom is an ultimate option for removing hair from clothing, furniture, blankets, and other vast areas.
Bissell Pet Hair removers can provide you with a less tedious approach. It can also provide you with a pretty good removal service, and the ChomChom Roller works the same. You can manually roll it front and back on your furniture.
Pros
No batteries required

Hassle-free operating process

Reusable & Sturdy

T-shaped design for easy handling

Efficient performer on different surfaces

Removes hidden pet hair from surfaces effectively

Best non-adhesive lint roller

Budget-friendly price range
Cons
It doesn't offer the same performance on all types of surfaces

A little bit heavier than its competitors
Related post: How to remove dog hair from your carpet
Frequently Asked Question (FAQ)
Does the ChomChom Roller work properly?
It is one of the best rollers to remove animal hair from any fabric and make that fresh. The ChomChom pet hair remover works excellent for cleaning couches or blankets and removing animal fur.
Can ChomChom roller remove human hair?
It can remove human hair also. But it could be tricky to remove long hairs.
How to clean the ChomChom roller?
Never use water directly to clean the brush surface. You can use a soft soaked towel to do this. Synthetic detergent also works well for cleaning the brush surface of the ChomChom roller.
Final Words
Pet parents always face problems with the left hair of their pets. Pet furs can be harmful sometimes. That's why; you should keep your carpet or another surface clean where your pet goes. The ChomChom Roller can be your ultimate solution to clean the pet hairs from any surface.
We have researched a lot on the ChomChom Roller Pet Hair Remover and found this product works well. You will know briefly about this roller here. If you follow this ChomChom Roller Pet Hair Remover review well, you can easily keep your carpet, couch, blanket, or other surfaces clean from the furs.
As an Amazon Associate I earn from qualifying purchases.