5 Effective Methods to Clean Laminate Floors Without Residue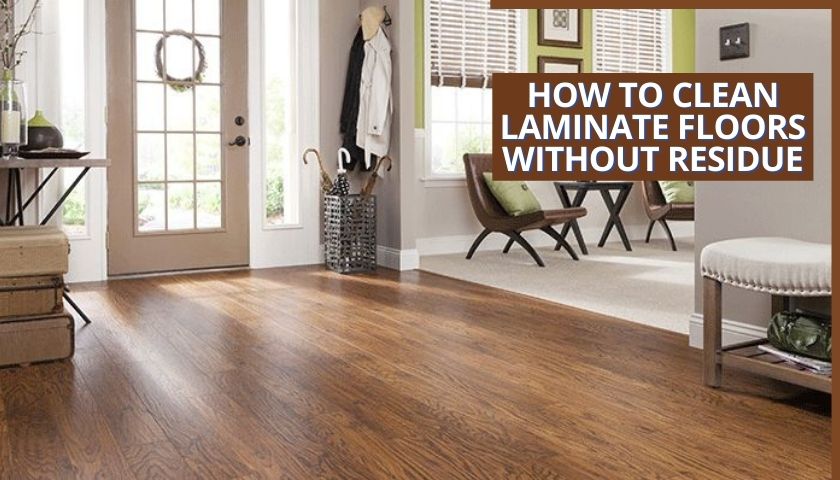 As an Amazon Associate I earn from qualifying purchases.
A laminate floor is a bit different from another type of floor. This type of floor comes sealed by the Manufacturer. That's why; the cleaning process of a laminate floor is a bit different. Most people clean floors but fail to clean them thoroughly. Without proper knowledge on how to clean laminate floors without residue, they never get an adequately cleaned floor surface.
Ian Minotti, a laminate floor cleaning expert, says, "Do not use any soap or abrasive cleaner or waxes or detergents, etc., to clean your laminate floor to make it long-lasting but clean and shiny."You should follow some rules while cleaning the floor.
How to Clean Laminate Floors Without Residue | 5 Effective Methods
Cleaning a laminate floor is a bit tricky. You cannot use all the cleaning ideas on it. When you clean the floor, you should follow some different rules from the other cleaning methods.


Method 01: Dry Dust Mop
A dry dust mop is an effective tool allowing you to clean the laminate floors without residue. Using it, cleaning a floor is much more comfortable than other methods.
Whenever you see a small spill of liquid, use the dry dust mop to clean it immediately. Never allow the liquid to stay on the floor for a prolonged period of time.
Regular cleaning of your floor using a dry dust mop will ensure less hassle when accomplishing in-depth cleaning.
Method 02: Microfiber Mops
This is the most efficient method for in-depth laminate floor cleaning, undoubtedly.
Microfiber mops consist of absorbent materials that reduce the usage of water. After using microfiber mops make sure to use dry microfiber for eliminating the remaining water.
Method 03: Vinegar
Vinegar is a versatile and natural solution for various purposes. You can use this as a great alternative to other harmful cleaning solutions. Though it is acidic and not appropriate for all floors, it can easily be used on laminate floors. Please follow the Manufacturer's instructions before using Vinegar on your floors.
You can make a safe cleaning solution for laminate floors easily at home. To do this,
Step 1: Pour 60ml white Vinegar (1/4 cup) into a spray bottle (32oz)
Step 2: Now, pour plain water into the bottle to fill it. Then shake the bottle well.
Step 3: Now, you can spray a minimum solution on the floor.
Step 4: Take a damp mop or cloth for removing the solution from the floor. Do it quickly. Otherwise, Vinegar will sit on the laminate and harm the floor.
Step 5: In the last step, take a gentle and absorbent cloth to dry the floor.
Method 04: Cleaning Solution
You can buy it from the market or use a homemade solution. A quality cleaning solution helps to remove all the dirt and debris from the surface quickly. Let's look at the cleaning process.
Step1: At first, clean the floor thoroughly. You can do it using a dry mop.
Step 2: Take the cleaning solution and spray it on a cloth or a mop pad.
Step 3: Use the cloth or mop in every corner of the floor. If you see the cloth or pad getting dirty, rinse it in the water or replace it.
Step 4: After you clean the whole floor, ensure proper drying.
Method 05: Hot Water
This is the safest method of cleaning the laminate floor because the chance of damage is less with hot water. However, it is advisable to follow this method periodically or when the floor gets visibly dirty.
Step 01: Take a bucket and fill it with water. It shouldn't be streaming hot, more than lukewarm is good enough.
Step 02: Soak a sponge mop into the hot water. Squeeze it perfectly so that it becomes mildly damp. Thoroughly mop the whole surface. When required, re-soak the mop and squeeze it well.
Step 03: Once the floor becomes barely moist, stop mopping and leave it to dry.
Maintenance Tips for Laminate flooring
If you want to get the best cleaning output for your floor with its long lifetime, you should know how to maintain laminate flooring. Here are some tips about it.
Read the instructions of the Manufacturer
It will help if you read the instructions of manufacturers before you start cleaning the floor. Different brands come with additional recommendations. It varies because of other materials.
Never let the stains sit up
Wipe up the spills quickly to avoid stains. It is the best solution for this. Liquids are the enemy of laminate floors and can damage the floor soon. So, you should minimize the use of liquids on the floor.
Carefully mop the floor after every two months
You should mop the floor after every two months. Damp mops are perfect for cleaning the laminate floors. You should wring out and make the mop completely dry in the case of a regular mop.
Do's and Don'ts of Caring for Laminate Flooring
As cleaning a laminate floor is a bit tricky, there are some "dos" and "Don'ts" about caring for it. Let's know what you should "Do" to care for your laminate flooring first.

Do's
Sweep the floor regularly. You can use any cleaning item to do this, such as a vacuum, broom, dust mop, etc. Dirt on the floor can reduce the shine. That's why; you should sweep it regularly.
Use a damp mop to remove all the stubborn and other spills. But you should make sure that it's just a little mop.
You should keep mats and rugs at all the entry points to the floor. These will help people to wipe dirt from their shoes or feet.
Never push furniture upon the floor while moving. Unless it leaves scratches on the floor, so, you should lift the table carefully to move from one place to another.
Don'ts
Never sand or refinish the floor
You should always avoid abrasive cleaners
Never put wax and polish on your floor
Do not use soap-based detergents
Be careful while using water for cleaning the floor. It will damage the floor
Never use such mops which consume a lot of water, such as string or sponge mops
Frequently asked Questions (FAQ)
How to make laminate floor cleaner at home?
It's very much easy to make laminate floor cleaner at home. Take 60 ml of white vinegar in a bottle. Then pour plain water into the bottle to fill it and shake the bottle well. Now you can use your homemade floor cleaner.
Can you use baking soda for cleaning the laminate floors?
Baking soda can work as a king for cleaning a laminate floor. Gregory, a cleaning expert, says, "The mixture of Baking soda and water is mildly abrasive and eco-friendly cleaner. You can apply this with a soft cloth to clean the floor. Take one tablespoon of soda for one cup of warm water, then stir it well before using."
Can I use pine sol on the laminate floor?
Yes, you can use pine sol for all kinds of finished hardwood and laminate floors. It can be used on other surfaces like ceramic tiles, cement, etc. also. Pine-sol is a universal and multi-purpose cleaner.
Final Words
If you don't know how to clean laminate floors correctly, you may harm the protective seals or even the floor. That's why; you should know the cleaning process completely. We have researched the topic well and found out the proper cleaning process for the laminate floor.
We hope these directions will help you to clean your floors without residue and reduce your stress.
As an Amazon Associate I earn from qualifying purchases.