Bissell Big Green Professional Carpet Cleaner Machine 86T3
As an Amazon Associate I earn from qualifying purchases.
Tired of cleaning your favorite carpet or hiring professionals to clean it for you? Well, The new Bissell Big Green Professional Carpet Cleaner Machine (86T3) got your back. The Big Green can deliver a prograde cleaning performance and outstand many industry-leading rental carpet cleaners.
Now with Bissell carpet cleaner, there is no need to worry about dirt or stains on your carpet. It achieves a whole new level of cleaning performance. Thanks to its powerful motors and large brush that can easily pull out deep-down dirt. The Big Green is made of super high-quality materials and with top-notch control checks.
Features of Bissell Big Green Professional Carpet Cleaner Machine 86T3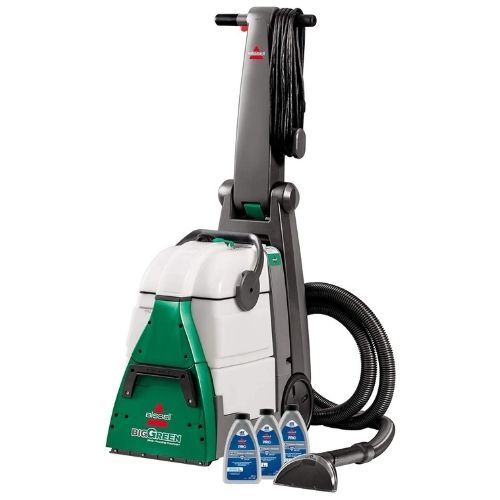 The Bissell Big Green Professional Carpet Cleaner has got a long feature list consisting of every feature that a modern cleaner must have to be a good carpet cleaner.
The motor is the heart of any electrical cleaning equipment. The Big Green has got a heavy-duty motor that can easily provide the required power to the machine and also it can outperform any other motor used in other cleaning machines by its power and performance.
The Big Green has got plenty of suction power. Thanks to its powerful motor. With its powerful suction, it can bring out dirt and debris from deep and also results in a fast drying time. it cleans on both forward and backward passes for efficient cleaning.
The cleaning brush is the main part that does the heavy cleaning work. For this reason, the Bissell has got Extra-large DirtlifterPowerbrush. Its powerful deep scrubbing action works on both grounded-in and embedded dirt making cleaning easy.
The Big Green comes with three 8 oz. trial size bottles of Bissell pro max clean+ protect Formula so you can first try their specialized cleaning solution and get the best results against tough and ground-in dirt and stains.
The Big Green has large tanks with a capacity of 1.75 gallons. Two tanks keep them clean and dirty water separated for easy cleanup. So more trips to the sink to change the water.
There will always be a tough stain on your carpet that is not possible to clean with normal cleaning. So to help you with this kind of situation the Bissell has got a 6-inch tough stain tool that is used to spray and scrub extra-tough spots like stairs, upholstery, and other soft surfaces also 9-foot long hose ensures you to reach those hard to reach spots and clean them effortlessly.
The Bissell Big Green with Bissell professional cleaning formula protects future stains with Scotchgard and removes colored stains like coffee or cola with oxy-based professional formula.
Don't strain your back while doing the cleaning. To help you with your cleaning process the Bissell has got an adjustable handle that lets you comfortably maneuver the giant and make cleaning easy.
The 25-feet long power cord ensures you to reach far away from the wall socket without using any extension cable and do hassle-free work.
Why you should choose Bissell Big Green?
You might think a good vacuum cleaner can easily clean a carpet for you but vacuuming can only remove dirt from the surface. A carpet needs to be cleaned deeply within fibers that's where the Big Green comes into play. With its powerful motor and DirtLifter power brush, it provides a deep wash and thorough cleaning to your carpet. The big green sprays the carpet with a cleaning solution. It helps the PowerBrush scrub and removes dirt from the surface.
Bissell is more expert in a floor-care job than any other manufacturer of home carpet cleaning machines. They are known for their high-quality standard ease of use, excellent performance, and longevity. Its pretreated formula can deliver you unmatched cleaning results from any other carpet cleaner.
How to use Bissell Big Green Professional Carpet Cleaner Machine 86T3
First vacuum the area you want to clean also consider pretreating any tough stains or messes.
Lift out the clean water tank and fill it with hot tap water and add to caps full of BISSELL solution.
Replace both water tanks ensuring the dirty water tank sits on top of the clean water tank.
Now, plugin and start the machine and take the handle.
Press the trigger and make one forward and one backward pass over the cleaning area again making one forward and backward pass over the area now releasing the trigger to suction up any excess dirty water.
Repeat the process until the whole area is cleaned.
Check on the flow meter to know when the clean water tanks need to be filled.
When done cleaning unplug the machine and rinse both tanks.
Place the tanks in their respective places and you're done.
Read next: Hoover Smartwash automatic carpet cleaner review
Frequently Asked Questions (FAQs)
Can Bissell Big Green deliver an equal job as professional carpet cleaning companies?
Yes, of course, The machine does a cleaning job equal to or maybe better than professionals.
Do I have to use a Bissell cleaning solution with this machine?
You can use any kind of non-foaming rug/carpet cleaning solution with this machine but to get the best results Bissell PROMAX Clean formula is recommended.
Can I clean my furniture with the Bissell Big Green?
Yes, you can. There are a hose and a cleaning tool attached to the top of the machine you can use to clean your furniture.
Will it remove pet urine stains/vomit stains?
The Bissell Big Green will not only remove pet urine stains but also will remove any bad odor coming from the mess.
Does the machine heat water?
No, the Bissell Big Green uses powerful suction and brushing that is enough for cleaning carpets much faster than any other steam cleaner that's why it doesn't need any water heater.
Final Words
If you are looking for an excellent professional-grade carpet cleaner then The Bissell Big Green Professional Carpet Cleaner Machine(86T3) might be the right choice for you. As it can deliver professional-grade cleaning for your carpet and its industry-standard build quality. It will ensure a long-lasting work life to get the most out of your money.
As an Amazon Associate I earn from qualifying purchases.