Bio Clean Hard Water Stain Remover । Get a Spotless Shower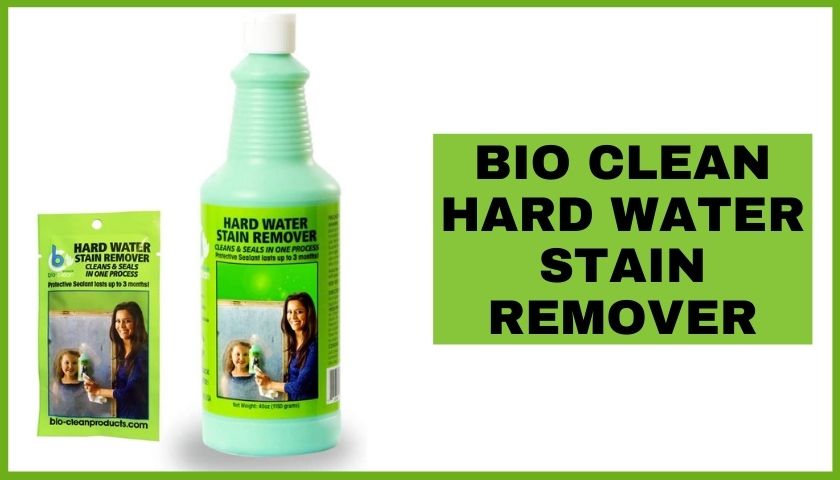 As an Amazon Associate I earn from qualifying purchases.
Everyone loves a clean shower and bathtub. But over time, the bathroom collects hard water stains, rust, and soap scum. These messes are real tough to clean, mostly the hard-to-clean areas. That's why you must try a reliable product like Bio clean hard water stain remover.
Bio clean hard water stain remover delivers professional-grade cleaning to the hard-to-clean surfaces. It works on most hard stains that spot in the shower and bathtub. In the Bio clean hard water stain remover review, you will be aware of its applying process and effectiveness.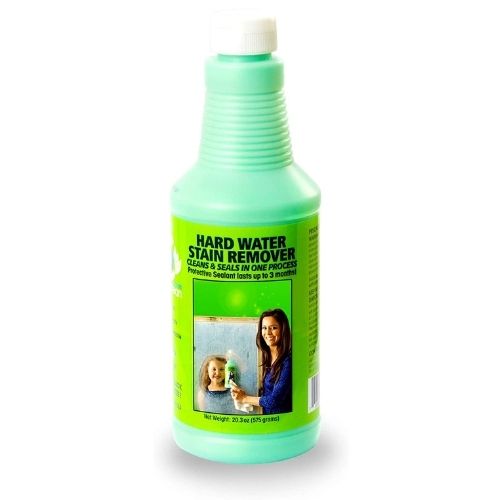 Bio Clean Hard Water Stain Remover Review
Bio clean stain remover is the safest and easiest way to restore stained surfaces. It actually works on multiple hard messes like water-mineral stains, calcium, oxidation, soap scum, bluing, rust, limescale, mold, mildew, salt spray, paint, and so on. This remover delivers superior performance than any other product.
After applying the Bio clean, you will get a spotless surface with a smooth touch. Bring your stained areas back to life with the stain remover. You can use the product on various surfaces like glass shower doors, bathtubs, shower pans, fiberglass tubs, fiberglass showers, basins, and windows. Besides the shower area, you can use the product on brick, concrete, tile, fireplace glass cleaner, pool stains, grout, and auto glass stains.
About Bio Clean
Bio clean stain remover comes in a container of 20.3 oz and there is also a scrubbing addition available. So you can choose the preferable one. However, the bottle has a pretty wide mouth as the remover is a thick solvent that may be hard to pour from a small opening. It looks like a green glorious gel and is wrapped with the brand's traditional label.
By name of Bio clean, it seems eco-friendly but the brand did not enclose complete ingredients, maybe for its privacy policy. From the original website, we have come to know the product contains non-acidic, non-abrasive ingredients and also no harmful chemicals. This cleaner is safer than many other harsh cleaners. But be careful while applying, avoid skin and eye contact as it causes irritation or damage.
Effectiveness
Bio Clean hard water stain remover effectively cleans all the stains stuff from the shower and other things. After cleaning with the product, the glass remains spotless for weeks and months. So considering the price with effectiveness, it is really worthy.
Many powerful cleaners have a strong fragrance which is very irritating. There are no harsh chemicals or strong fragrances in the stain remover. After applying the remover, you will feel a mild mint fragrance that is not overpowering and give a fresh feel.
Pros
Affordable price

Mild and minty fragrance

Cleans all types of watermarks and hard stains on the shower and pool

The adhesive formula spreads well on the hard surfaces

Removes cloudiness from the glass

After one application, it resists watermarks for weeks
Cons
Need strength to rub

Soft surfaces can get scratches
How to Use Bio Clean Hard Stain Remover?
As we mentioned earlier, the Bio Clean stain remover is a thick solvent. So you need to use a paper towel or cloth to bring the gel out of the bottle. The paper towel works well but the microfiber is the best for the grip and it is easier to use. When you bring out the gel, start scrubbing the potential surface. If the gel speeds well, add some more gel and apply to the whole area. Thus, you can remove cloudiness from the shower, glass, and other surfaces.
How to use bio clean in the shower?
Using Bio clean hard water stain remover, you can make your bathroom shiny again. It eliminates the cloudiness like magic. You can apply all the surfaces of your shower like doors, tub, basin, and other handles where you see rust, watermarks, or lines.
Applying the remover is straightforward. Take a rag and pour a generous amount of Bio Clean hard water stain remover. Now start rubbing the gel over the glass doors, tubs, and all. When you feel the gel is less, loaded with more remover. First, it feels a little adhesive but, don't ever mix any water. It is sweaty equity, though.
In the label manual, there is no suggestion of a rubbing pattern, so you can apply your own style, we prefer circular motions. However, don't use hard bristles to scrub the surface, as you don't want scratches on the surfaces. After rubbing all the surface, rinse the rag and wipe the remover with a damp rag. You may require to imitate the procedure of rinsing and wiping.
Many also rinse the gel with water, actually, it is a quick process. But the microfiber cloth does a great job. On your first test, you will see a clean and shiny appearance. All stains will go after one application with light scrubbing. The near rollers and around the handle are all spotless.
Still, if you see cloudiness on the glass doors, apply again with more muscle power and you will see a noticeable difference on the glass. When you use the remover one fiberglass shower and tab, you can remove all the water or other stains.
Bio clean warns not to use the remover on the plastic surface, so before applying it on the delicate surface, always be cautious. You can apply it to a hidden spot to try. Overall, the cleaning performance of the remover is extremely impressive and satisfying.
Read next: How to clean glass shower doors
Frequently Asked Questions (FAQ)
What is the best product to remove hard water stains?
Usually, the shower and tubs collect a lot of hard water stains. Sometimes, it gets impossible to clean hard-to-reach areas without professionals. If you look for the best stain remover, the Bio Clean hard water stain remover is superior to all the cleaners. It is effective and works like a magic.
What are the ingredients in bio clean hard water stain remover?
Bio Clean formula is made of eco-friendly ingredients. But the brand doesn't disclose the ingredients fully. From an unofficial source, we have come to know, that it has sulfonic acid, silica flour, paraffin sulfonate, and dodecylbenzene.
Can hard water stains be permanent?
Hard water stains are very difficult to discard from the surface. After much scrubbing and rubbing, these stains don't come off until you call the professionals. If you want to remove them, the only solution is the Bio Clean hard water stain remover. It smoothly cleans the hard stains leaving a spotless surface.
Can I get shower glass crystal clear?
Water and mineral residues on the shower glass are a regular offense. If you do not clean the glass, it becomes cloudy over time. So the best solution to make your glass clear crystal is to use the Bio Clean hard water stain remover.
Final Words
Bio Clean hard water cleaner is a powerful adhesive gel that gives you professional-like cleaning. You can make your bathroom spotless and shiny with this product. This remover also works great on tough stains, including water and soap residues. Though it is sweaty to apply the adhesive gel on the wide door and tubs, you can get a clear and polished look.
As an Amazon Associate I earn from qualifying purchases.