How to Use a Pumice Stone to Clean the Toilet & Shower?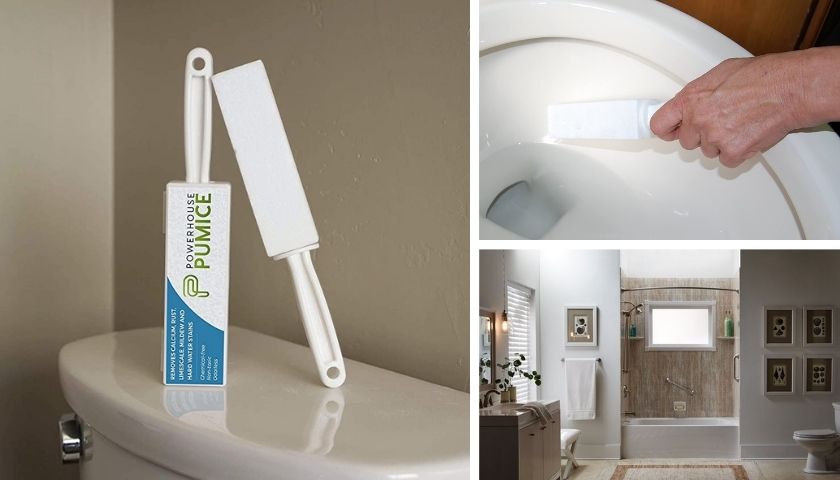 As an Amazon Associate I earn from qualifying purchases.
Pumice stone is a form of adhesive stone which is made with a mixture of lava and water. This stone is widely used in spas, but it is also an efficient tool to sprinkle your toilet and shower. Cleaning toilets and showers is a kind of unpleasant job, and it gets worse when there are stubborn stains, rings in the waterline, and mineral build-up.
Pumice stone is the only way to get rid of this problem. It is an inexpensive yet effective way to clean stubborn stains from the toilet and shower. In this method, you don't need to use harsh chemicals, just water, and some scrubbing. It's not that simple; there is a proper way to use the stone. Here, you will get to comprehend how to use a pumice stone to clean the toilet and shower.


What Is The Pumice Stone?
Pumice is a volcanic stone that is very blonde, soft, and porous. It comes in various shapes, like a bar or bar sticks. Especially pumice stone which is used for toilet cleaning comes with a plastic handle for easy navigation. The handle also makes a good grip while cleaning. Cleaning with a pumice stone is 100% eco-friendly, non-toxic, and odorless. Its price is also inexpensive and lasts longer.
How To Use Pumice Stone To Clean Toilet?
People have been widely using the pumice stone for toilet cleaning. It effectively cleans the porcelain toilets without scratching them. The stone is hard enough to scrape the deposits yet tender than the porcelain toilet. When you scrub the toilet with the stone, it leaves an adhesive paste of small particles and pumice dust. No additional chemical is needed for cleaning.
Below we will give complete guidance on how you will start and finish the cleaning process:
Step 1: Wet the toilet and the stone
When you are cleaning the toilet with a pumice stone, rinse the toilet surface thoroughly. You also need to soak the stone in water for a few minutes. It would be better if you rinse the stone in warm water. Never scrub the toilet with dry stone, or it won't work properly, and there is a high chance of scratching the surface.
Step 2: Wear gloves
Must wear gloves on your hand for your protection. If the pumice stone has a longer handle, then you may not wear gloves. But always maintaining protection is the first priority. However, take a bucket of clean water beside you or use the toilet water for scrubbing.
Step 3: Scrub the toilet
Start scrubbing with the pumice stone. Directly apply the stains and water lines with enough force. Give strength in a circular or back and forth motion while scrubbing. After some scrubbing, gray residue will be gathered on the surface, which is actually a paste of pumice stone and water. Don't wash the formed paste quickly. Continue scrubbing with the paste for a better reaction.
Step 4: Rinse and observe the progress
After a few minutes of scrubbing, rinse with water to see how much you have removed the stains. If you are satisfied with the surface cleansing, then move to the other part. But whenever you start scrubbing the next areas, rinse them properly and keep rinsing frequently.
Step 5: Flush
When you are all done with scrubbing, then flush the toilet and wash away all the debris from the bowl. If you still see stains, then scrub again.

Warning:
Pumice stone is great for porcelain toilet cleaning, but do not use it if the toilet is made of marble, plastic, fiberglass, or laminated; because the rough skin of the stone can make a permanent scratch on the surface. Moreover, if you apply dry stone on a dry porcelain toilet, it can scratch permanently.
Many porcelain toilets have plastic seats, which should not be used with a pumice stone. If you don't find out the core material, then apply the inconspicuous area before going for the entire procedure. Don't use the pumice stone for regular usage. Use when there are stubborn stains and debris.
How To Use Pumice Stone To Clean Shower?
You can utilize a pumice stone to clean the shower area. It helps to sprinkle the bathtub, tiles, sink, tubs, and other stuff well. Porcelain and ceramic stuff are eligible for this washing. You will get 20% more dense cleaning with this pumice stone than with a regular wash. Here you need to follow the same rule as cleaning the toilet. Here are the steps:
Rinse the whole shower area with water as well as the stone.

You must wear gloves at this stage as you may scrub with your hands. It will be more convenient if you use a bar pumice stone rather than a handle one. It is easy to scrub the bathtub and tiles with a bar and to use your hand.

Start scrubbing from the bathtub, divided it into small parts, and continue scrubbing. Every time while scrubbing, rinse the area and the stone frequently.

Press down with gentle pressure on the tough stains.

Rinse and check what the progress is.

When one part is done, start scrubbing the next part.

After scrubbing all the parts, rinse the shower area properly.
Warning:
Don't use the pumice stone on marble tiles and bathtubs. Moreover, there are restrictions on fiberglass bathtubs, glass shower doors, and stainless steel appliances.
Frequently Asked Questions (FAQs)
Will a pumice stone scratch a toilet?
Scratching on a toilet depends on the material. A pumice stone leaves permanent scratches on fiberglass, marble, plastic, and laminate toilets. It is suitable for porcelain toilets, but if you use a dry pumice stone on the dry toilet, it still scratches the surface. So make sure whenever you are cleaning the porcelain toilet, you should rinse both the toilet and stone.
Will a pumice stone scratch glass?
Yes, a pumice stone scratch glass. So if you are cleaning a glass shower door, don't use the pumice stone. Although the glass has stubborn water lines or debris, then you can use only the stained area. But you need to apply some soap or detergent to the glass to eliminate stains.
Do pumice stones hold bacteria?
Pumice stone needs to dry after use. Some of them have attached string that helps to dry in a better way. If you leave the stone damp for a longer time, it can build up bacteria and mold, which is not safe for you. It would be better if you dry it after washing.
Can you use a pumice stone on the porcelain sink?
Pumice stone is suitable for porcelain surfaces. Bathtubs sink, and toilets, which are made of porcelain, can be washed with a pumice stone. But be sure you wet the surfaces thoroughly before using the pumice stone.
How many times can you use a pumice stone to clean the toilet and shower?
As pumice stone is a rock-like material, daily usage of a pumice stone can damage the surface. If you are using the stone for cleaning the toilet and shower, you can use it once a week. It will sprinkle your toilet and shower. Using it daily can damage the finishes. However, if the toilet has stubborn stains or water lines, you can use it twice a week.
Final Words
Pumice stone is a useful piece for home cleaning. With the stone, it is so easy to scrape the dirt and debris from the toilet and shower. You can effortlessly manipulate it and get a spotless bathroom in a few minutes. It is as simple as you erase pencil lines from paper. You can consume it not only for toilet and shower but also for baked-on BBQ grills, rust tools, removing grime from gardening tools, and other surfaces.
As an Amazon Associate I earn from qualifying purchases.