House Smells Like Rotten Eggs | Why & How to Get Rid of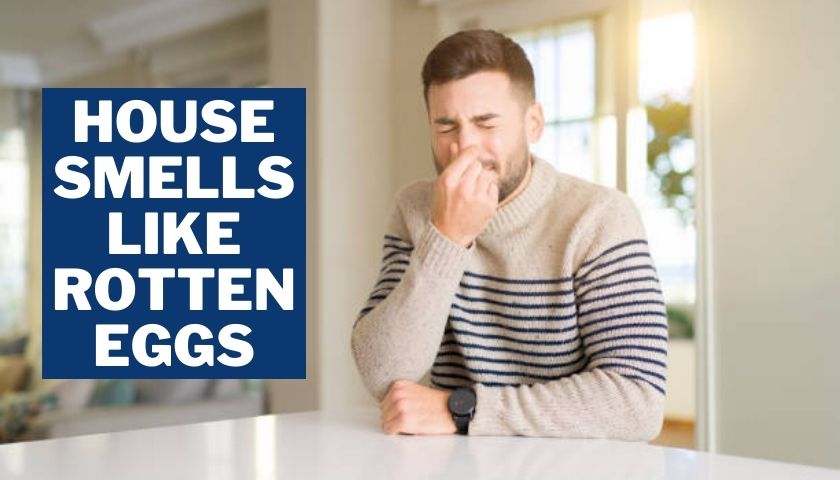 As an Amazon Associate I earn from qualifying purchases.
Among the various household problems, one often occurring problem is a terrible smell. Sometimes it becomes dangerous if the source of the bad smell is not safe. Have you ever got smelled like rotten eggs?
Maybe yes, please inspect your pantry looking for rotten eggs because eggs may not be the source of this smell. It may be an incident of gas leaking or bad plumbing.



Gas leaking can be dangerous even if it becomes explosive if you do not fix the problem immediately. Well, if you feel this ugly smell at night, just find the source and take precautions instantly. In this context, we will discuss this sensitive household issue "why your house smells like rotten eggs and how can you get rid of it."
Why does my house smell like rotten eggs?
As we already said, the rotten eggs odor in the house is undoubtedly alarming as it is often caused by natural gas leaking. There are a few other reasons also to rotten egg smells like defective plumbing. Let us see how you determine the source of the smell and what steps you should take for it.
The smell of running tap
If you smell such an irritating odor at your home, try to find out the source first. If you detect the smell only when you turn on the faucet, then there is nothing alarming. The smell that comes from the sink only when you turn on the faucet is called sewer gas.
A limited amount of gas leak is safe for everyone, but if you inhale a large amount of gas, it can be harmful.
If you can make sure that the sewer gas comes from the open faucet, it means you may have a broken drainpipe, and it needs to fix as soon as possible.
Gas furnace
Do you have installed a gas furnace at your home? If you smell rotten eggs odor, check the gas furnace immediately. A leak in the gas furnace is a hazardous incident. Before you can identify the actual gas leaking scenario by smell, it can spread all over and almost cover your basement.



The worst thing about gas leaking is that it could lead to an explosion if it is trapped in the furnace.
Gas fireplace
A gas fireplace can be another source of rotten egg odor. To make sure, check the fireplace if anyone left the gas on accidentally. Along with the smell, an open gas line also makes a whooshing sound. So, try to notice something, if you find such a smell along with a sound, just leave your house immediately. It can be dangerous for you.
Gas stoves
Gas stoves are another source that is responsible for most gas-leaking incidents. Often people forget to turn off the burners or the oven. If you smell rotten egg odor, check if the knobs of the stove open; if not, and still, feel the smell then just leave away from your house quickly and call your plumber.
Read next: How to make the house smell good
How do get rid of the rotten egg smell in the house
In the case of a bad smell in the house, it is essential to find out the sources. Once you find out the source of the rotten egg smell, it will be easy to fix. Here are a few effective ways to get rid of rotten eggs sell in the house.

Inspect your pantry
The most obvious reason for the rotten egg smell in the house is that rotten eggs are actually in your kitchen. Often eggs or other leftover food are rotten in the fridge or pantry and spread odor all over the house.



Inspect your pantry and fridge first to search for the source of the smell. If you find such things in your pantry, just throw away the rotten food/egg and take other food out from the fridge or pantry. Use a multi-purpose cleaner and wipe out the surface to remove germs and smell.
Repair gas line
We have already learned that most of the rotten egg smell is related to a gas line issue. Gas can be leaked from the furnace, stove, or water heater. If your gas is odorless, then there is no way but to be over-cautious. Leave your home immediately and call a professional. Repairing a gas line without practical knowledge can be dangerous.
As a precaution, you can install a gas alarm in your house to detect these kinds of odorless gas leaking. It is best to run a thorough check by a professional on all of your gas lines every year to prevent any hazardous issues. They will inspect the gas lines and fix if there are any cracks so that any dangerous incident cannot occur in the future.
Check the unused bathroom
If you find out rotten egg smell in your house and have an unused bathroom, do not forget to check its plumbing. Sometimes, a damaged drain pipe can create sewer gas that smells like a rotten egg.
There is a u-shaped pipe called a p trap under the tub or sink. This p trap usually holds some water, which protects sewer gas from entering inside. If you do not use a tub or sink for a long time, it dried up, and sewer gas flows into the house.
It is very simple to fix this problem, just run some water in the tub or sink for a few minutes only to allow the p trap to hold some water in it. The rotten egg problem is solved.
Repair sewer line
If all the above-listed sources and cleaning methods fail to remove the house's odor, you should finally check the drainpipe. Often, a drainpipe has broken down inside, which invites sewer gasses to your home.
If you find such a smell stronger outside than the inside, you should call a plumber to fix this problem. Because repairing an internal broken drainpipe need some specific tools and an experienced plumber.
Related post: How to keep house smelling good with pets
Frequently Asked Questions (FAQ)
Which gas has a rotten egg smell?
Hydrogen Sulfide gas smells like rotten eggs, which can be detected at low levels.
What do you do if you smell rotten eggs?
First, check your gas lines if there is any gas leak or not. If yes, then call the gas company immediately to fix it. If not, then open the faucet of your sink and ensure that there is any plumbing problem. Try to fix it yourself; otherwise, call the plumber.
Is the rotten egg smell in the house dangerous?
Yes, if the source of the smell is gas leaking, then it can cause a home fire.
How do you find a sewer gas leak in your house?
If your internal drainage system has any problem or any plumbing issue, the sewer gas comes in the open faucet, running water, sink pipe, etc.
Does carbon monoxide smell like rotten eggs?
No. Carbon Monoxide is a colorless and odorless gas. So, to detect a gas leak, install an alarm in your house.
Wrapping up
Though any bad smell in the house is intolerable but smells like rotten eggs can be dangerous. So, whenever you feel such a smell, try to find out the source without wasting time. Take the initiative to fix the problem as soon as you find out about it.
Because if the cause of the odor is a gas leak, then due to a lack of your caution, big accidents and even explosions can happen. So, be careful; you and your family stay safe.
As an Amazon Associate I earn from qualifying purchases.